Create your own top page freely.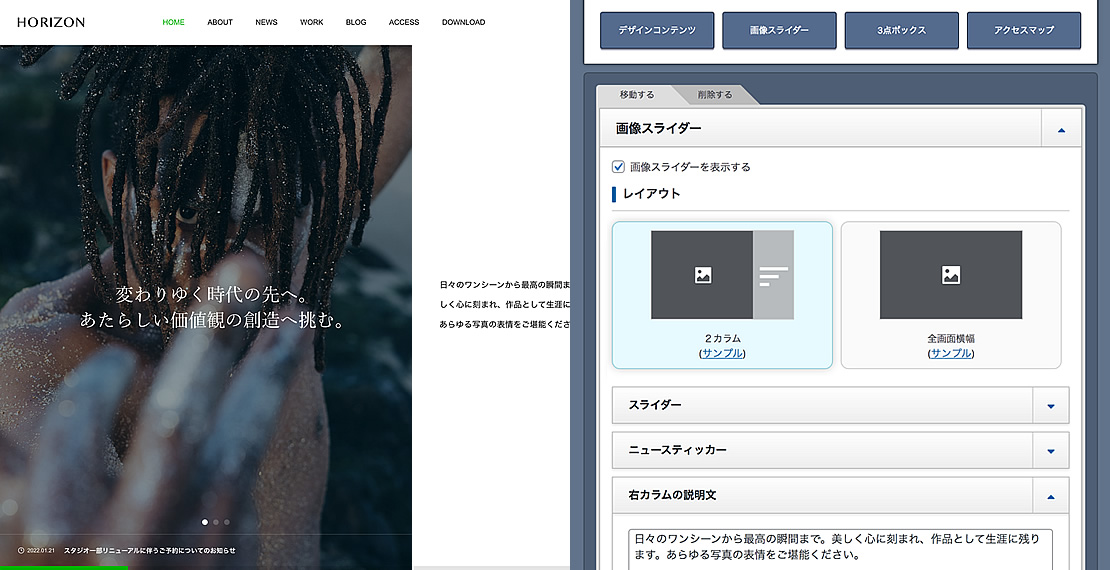 With "HORIZON," even those new to horizontal scrolling sites can easily create a beautiful site. In addition, it is possible to freely add content.
You can choose from the following five types of contents and build your own layout just like building LEGO blocks. You can also change the order and choose to show or hide them. HTML code can also be used in "Free Space".
Slider / Design Content / 3 boxes / Map / Free Space
You can create a horizontal scrolling site as if you were writing an article. This theme will give your site a sophisticated look that is a step ahead of its time.
Can be used for a wide range of genres.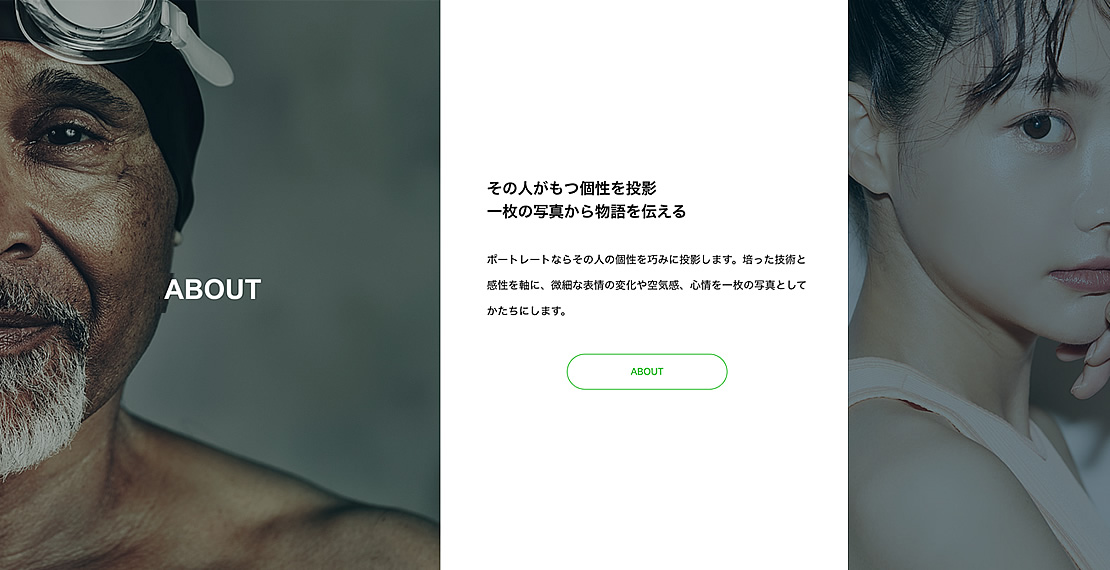 "HORIZON" does not limit the purpose of a horizontal scrolling site. Rather, we would like to see it used in all genres. The reason for this is that you can practically use horizontal/vertical scrolling in different situations.
For example, the top and some sub pages scroll horizontally, but blog and news scroll vertically. On pages, you can choose either way. All pages on mobile phone scroll vertically.
You can use vertical scrolling in situations where it is convenient. In other words, the essence of this theme is that it takes only the best aspects of horizontal scrolling. It can be used for portfolios and will also be effective as a corporate site for companies.
Make full use of it vertically and horizontally.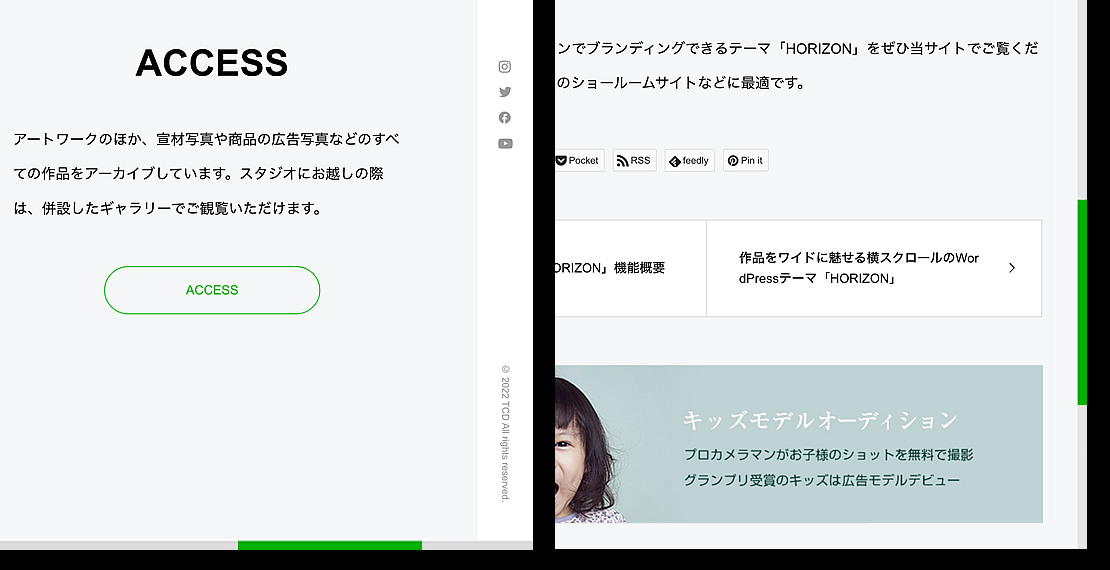 "HORIZON" uses vertical and horizontal scrolling depending on the purpose and use of the page. Here are some examples below:
・Blog (vertical)
・News (vertical)
・Page (vertical)
・Page (horizontal)
・Gallery (horizontal)
Blog and news are for vertical scrolling only because they are intended to convey information quickly. Galleries are for horizontal scrolling only because they are intended to entertain users with stories.
By taking full advantage of its features, all sub pages will look great.
An artistic page with various photos.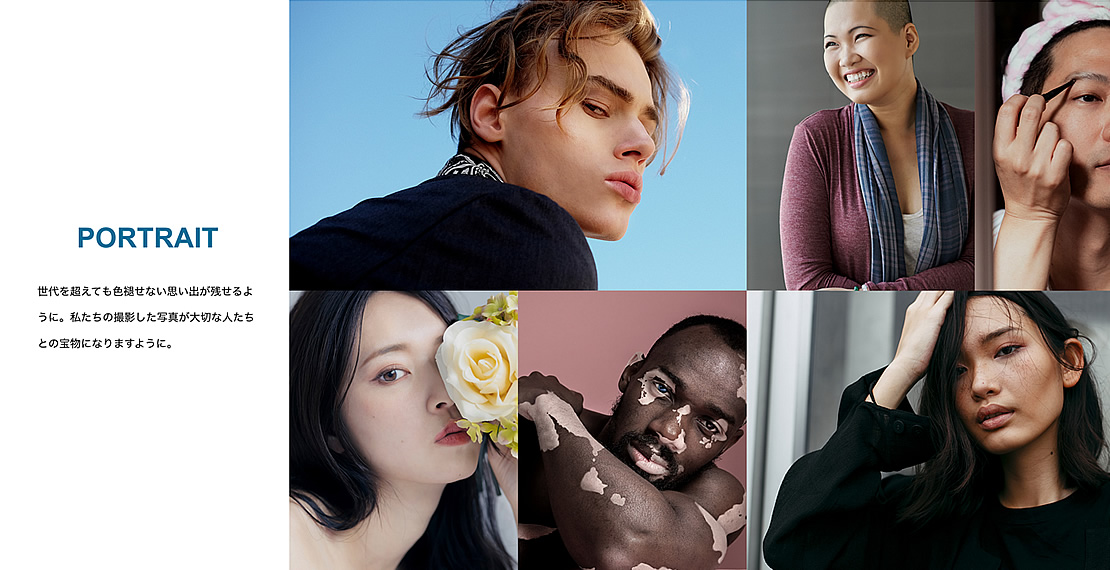 This theme has a custom post type "Gallery" that can be used as a service introduction or achievement page. Like the followings.
The page structure is a combination of multiple sizes of photos, and the creation process is simple. Just click on the area where you want to put the image and upload it.
Galleries are a great way to visually promote your services and achievements. Simply introducing your wonderful services in this fashionable way can differentiate you from others.
All the effects are beautifully in harmony.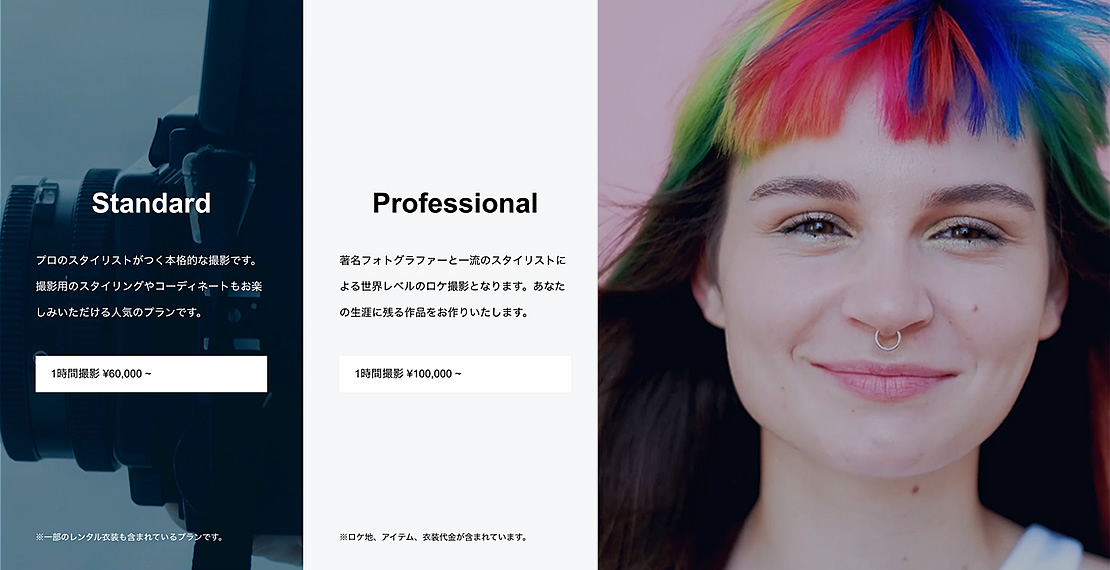 "Natural, yet sophisticated."
When using animation on a website, the above should be kept in mind. The use of flashy effects makes it difficult to create overall harmony. Many websites tend to give the impression of trying too much and are somewhat tacky.
"HORIZON" uses video, parallax, and other "movements" in various places, but all of them are designed to look natural. This is because we are particular about margins and movements down to the detail.
Create LP easily and quickly.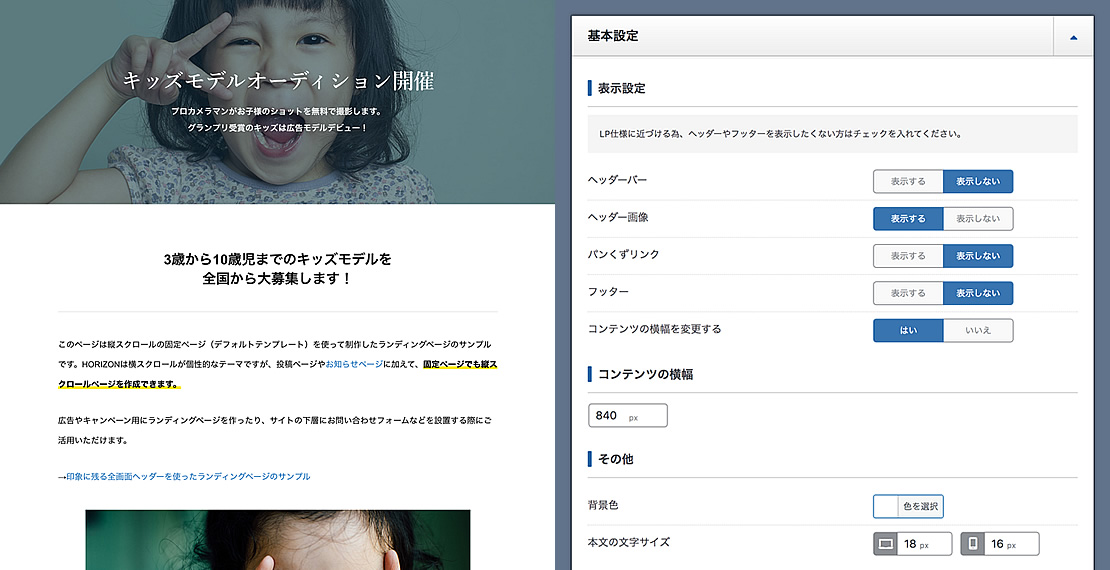 Landing pages are necessary to announce events, seminars, and free trial products. With "HORIZON", the following LP can be written smoothly.
LP can be created with either vertical or horizontal scrolling.(Example of horizontal scrolling) It is much faster and cheaper than using an LP creation service. It is also effective from the SEO perspective.
Make a cool website easily with the theme options.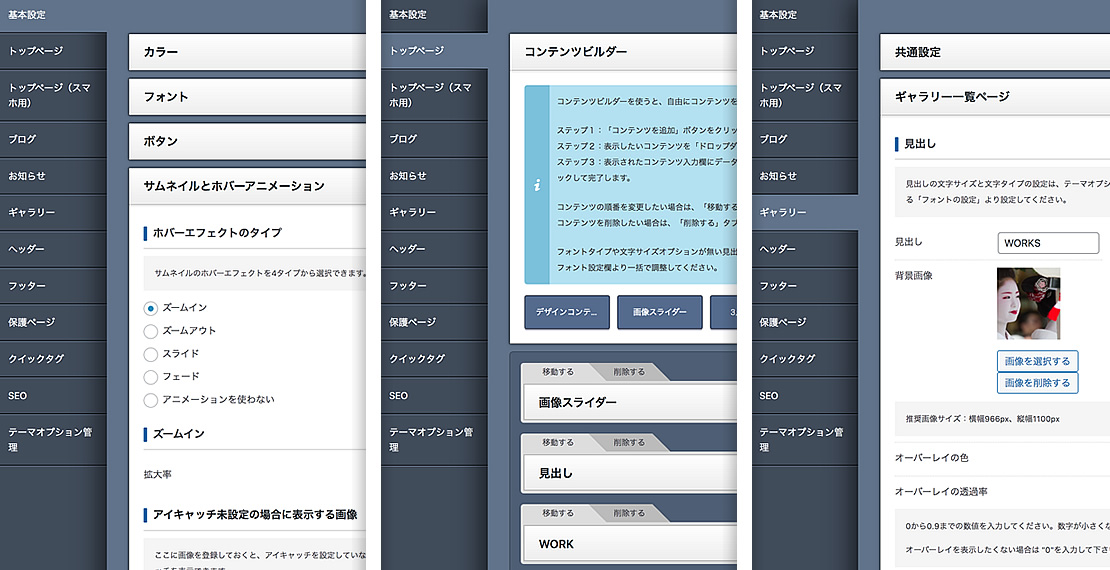 Many people think that website creation is difficult for beginners.
As long as you have a PC and can install WordPress, you are able to create a site like the demo site.
TCD theme has a unique feature called Theme Options that allows even beginners to create a site easily. It allow you to set all kinds of contents such as colors, fonts, images, etc. You can design the top page to your own taste without specialized knowledge of HTML or CSS.
It may take some time at first, but once you get used to it, you will be able to create several sophisticated sites easily. Have fun creating your site with TCD.
Beautiful coding for good SEO results.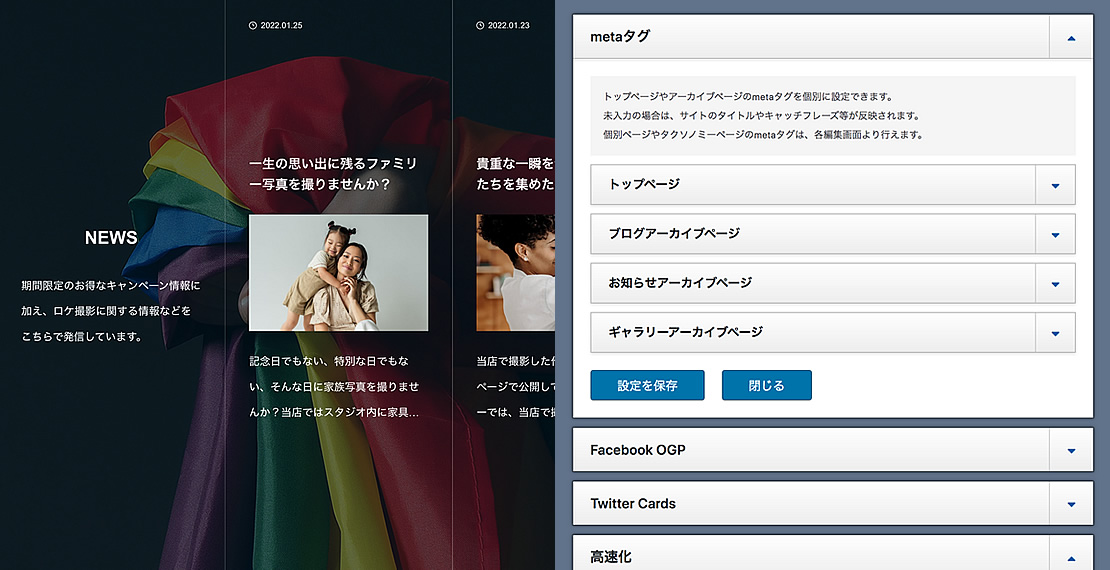 TCD themes are developed by coding professionals with beautiful code; the code output from "HORIZON" will give good results to search engines.
WordPress is also said to be strong in SEO. This site also uses WordPress and we have been getting high rankings for many keywords.
The reason is that pages such as blog and news play a role in attracting customers. Although many freelancers are now focusing on attracting customers to social media, it has many problems such as concentration of popularity, etc.
The point is attracting customers outside of social media. That is what makes sustainable operations possible. SEO is one of them, and the combination of "WordPress + TCD" is the best choice.
Memorable
Smartphone Design
It is now a standard practice to put effort into a smartphone site. The first view and top page are especially important. But how many beautiful smartphone sites are there in the world?
HORIZON's smartphone site looks quite different from its PC site. First, it scrolls vertically instead of horizontally. As you can see from the top of the demo site, a wide variety of effects are combined with a slider, images, parallax, and video. The design is sophisticated even with such a wide variety of effects. It is so naturally balanced that you don't even notice that video or parallax is being used.
Every detail has been calculated to make this kind of smartphone site possible. Please take advantage of this artistic WordPress theme.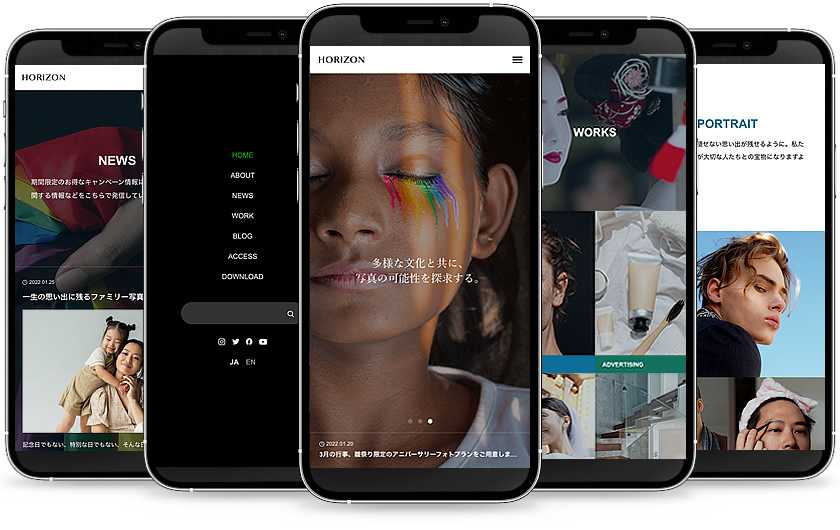 The advanced features of TCD theme support your website.
Horizontal scrolling
Responsive design (PC, tablet, mini-tablet, smartphone)
3 types of headers: image slider, video and Youtube
Header bar that can display alerts
Top Page – Content Builder
Standard font (selectable from Arial, San Serif, and Times New Roman)
New smartphone footer bar
Custom CSS
Custom Scripts
Custom color settings (accents, text, hover colors, etc.)
Hover effect settings (zoom, slide, fade)
Size adjustment of registered featured images (regenerate thumbnails)
Breadcrumb list with microdata format structured markup applied
Selective display of author names and social media buttons
LP create function
Custom post type "News"
Custom post type "Gallery"
404 page customization
Designed protection page
4 types of social media buttons (Twitter, Facebook, Instagram, YouTube)
SEO settings (meta tags, OGP, speed up)
Multilingual support for the management screen (Japanese, English)
Theme options management to complete the initial setup
Google map custom pin marker with logo setting
Logo upload function (header, footer, mobile)
Loading (logo, headline, animation)
New quick tags (compatible with Gutenberg)
WordPress theme "HORIZON"(tcd093)
・A set of WordPress theme
・Download site (instruction manual, Q&A)
33,800 yen(tax included)
※If you use this product for build third party website, you will need to purchase a extended license of this product.
※You can download the product from My Page after payment by credit card or PayPal.
※By making a payment, you are deemed to have agreed to the Terms of Use.
※You will receive our free newsletter at your registered email address.
Required Environment
WordPress 5.X or higher and PHP version 7.4 or higher are required for the server environment.
For WordPress installation, please refer to here
IE is no longer supported due to the transition to Microsoft Edge.
※Please read the Terms of Use before clicking the purchase button.