You can freely create a top page. Get your own cool original restaurant page.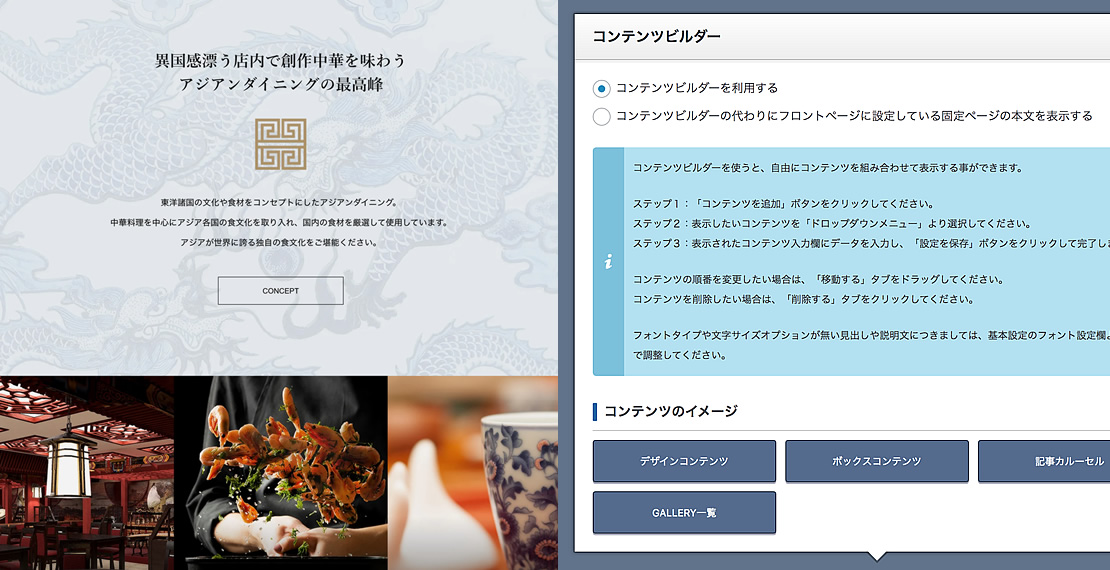 The top page of TENJIKU allows you to freely display any content you like.
With TCD's unique content builder, you can reorder the contents and choose to show or hide them. You can also use the free space to create your own content. For the header, a variety of display types are available, including video (MP4, YouTube) and image slider.
In addition, different contents can be set for smartphones and PC. Therefore, it is possible to separate the amount of information on the PC from that on the smartphone and keep it simple.
Perfect first impression. Beautiful drawer menu from captivating loading.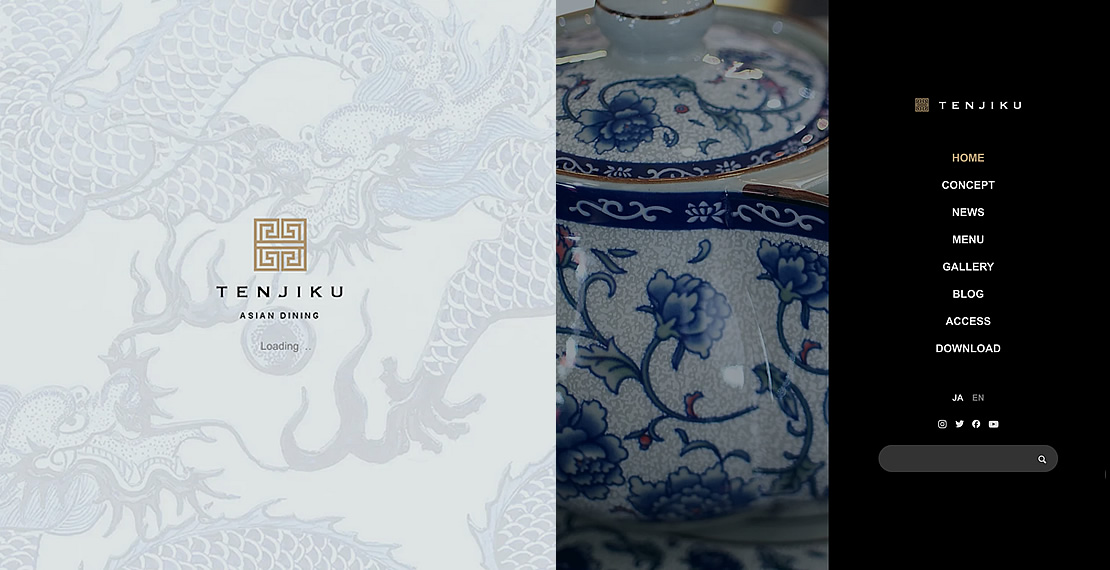 In order to capture the attention of visitors, the impact of the first impression is extremely important. This is because if you don't arouse their interest at the first sight, the probability that they will close your website will increase. Therefore, it is strategically important to know how to present your website in the first view.
In TENJIKU, everything is dynamic, from loading to header sliders to the drawer menu.
In particular, the drawer menu is different from the previous menus. On the left side of the right menu, photos are shown like a video. This is a deliberate attempt to create a sense of story in the background. As you can see, there are many exciting features all around.
Show your food and restaurant photos on the official website in a different way than on the SNS.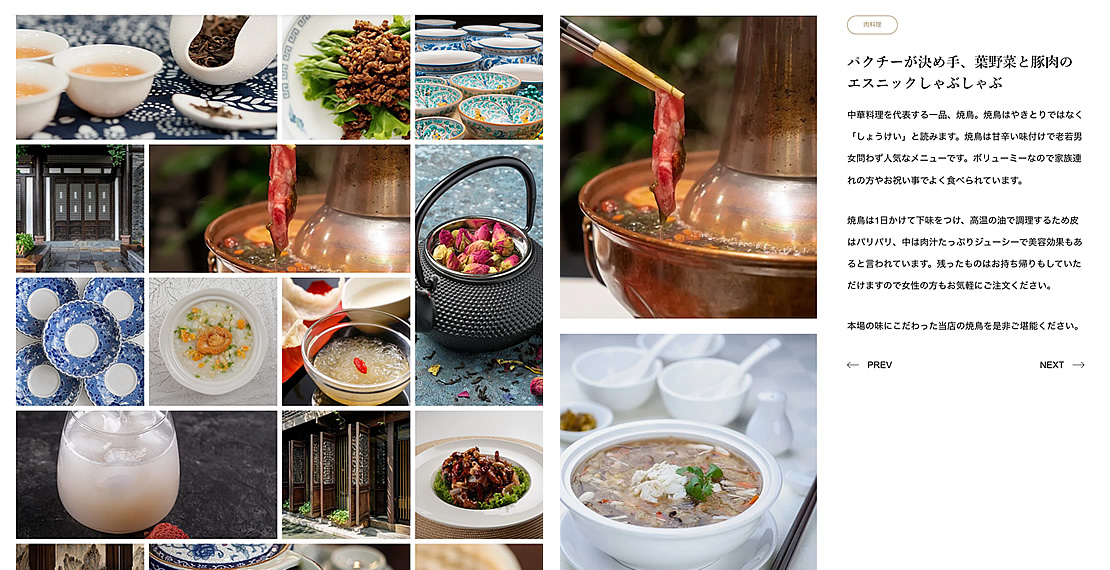 Photos of your restaurant and food are powerful promotional tools. Many people make the decision to visit a restaurant based on the photos.
TENJIKU's gallery page allows you to display your photos beautifully. It would be perfect for a luxurious restaurant.
・Gallery of the restaurant and food
・Gallery Detail Page
TENJIKU's gallery pages make it easy to show off your photo-centric content in a beautiful way. If you can create a page like this for a restaurant website, it will be a great differentiator.
It is easy to create attractive and easy to understand food menu pages. These pages are essential for restaurants.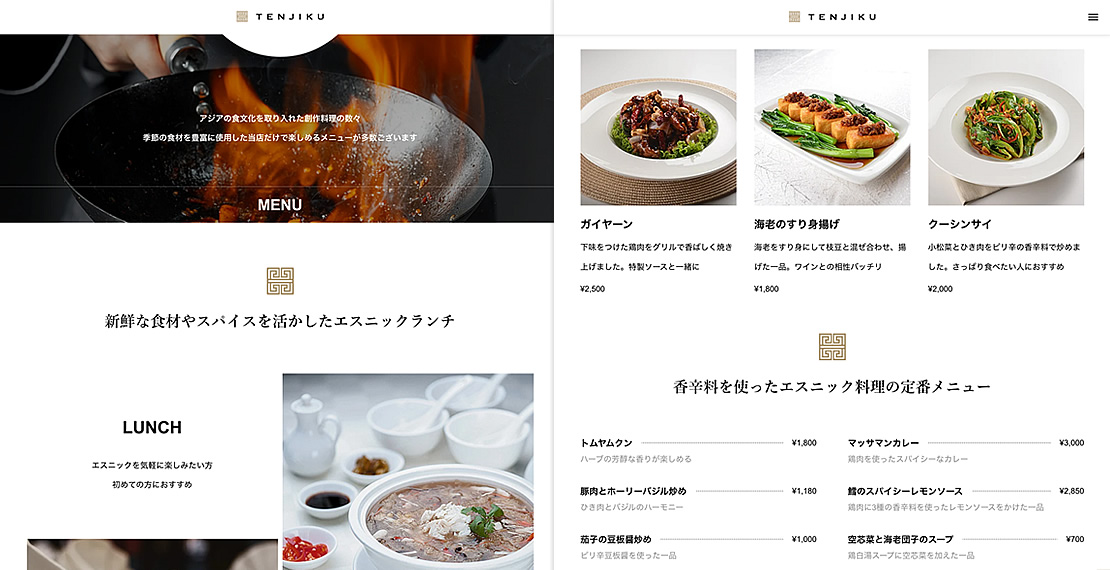 With TENJIKU, you can easily create menu pages for dishes and courses. For example, you can create a design like this page (dinner menu).
Recently, many restaurants are offering menus that can be read by camera barcodes, but with TENJIKU, you can create a page that is easy to read on a smartphone. In addition, this menu page has a parent page (see below).
・Parent page of the menu
The parent page can be integrated with different menu pages, such as one for lunch and one for dinner. This is also useful if you want to have separate pages for different courses, such as sukiyaki and shabu-shabu. This will guide the user in a clear way.
You can intuitively create LP that contribute to attracting events and increasing repeat customers.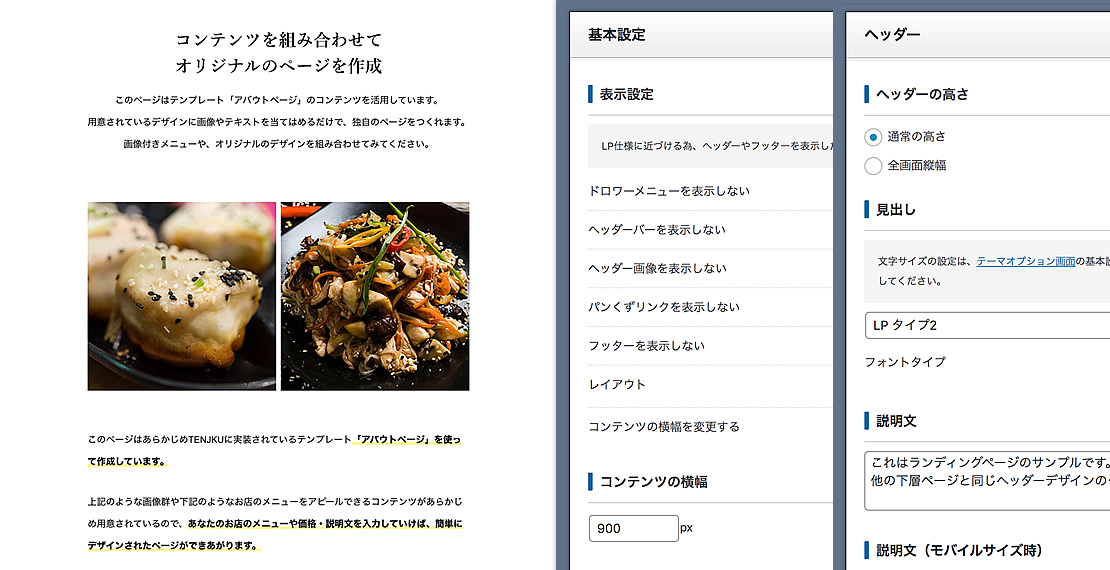 TENJIKU's ability to create Landing Page is very useful. This is because you can create LP with a high degree of freedom. The system allows you to customize each page with unnecessary content, such as hiding breadcrumb lists and footers.
For example, in the demo, we created four types of Landing pages.
・Landing Page 1
・Landing Page 2
・Landing Page 3
・Landing Page 4
You can freely use different Landing pages for different purposes, so that you can create the best page for advertising and the best page for announcing events for repeat customers.
Implement quick tags and CSS to make writing articles more fun. Play around with various decorations.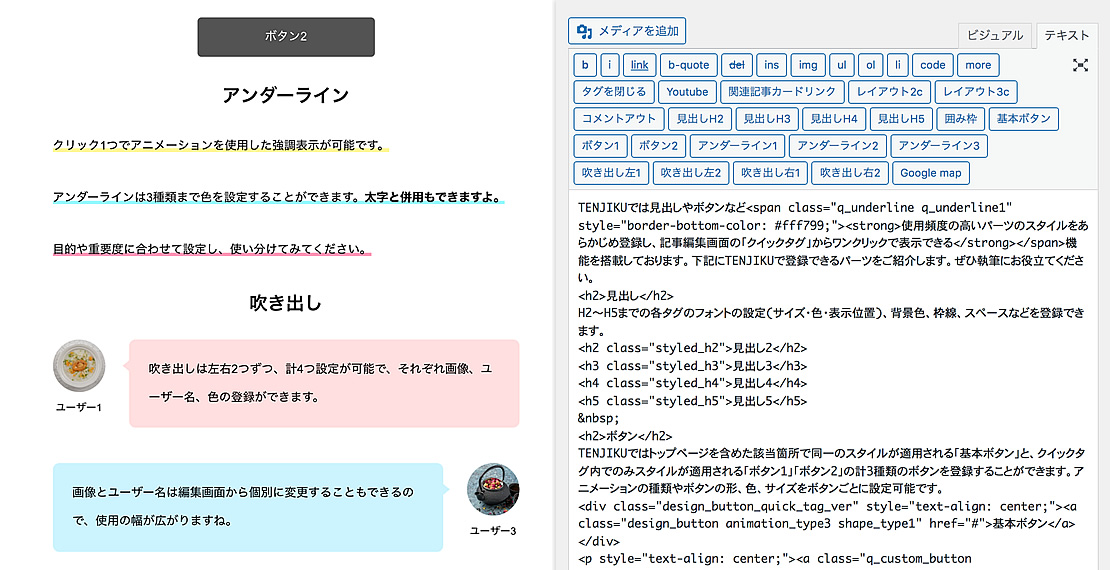 All TCD themes come with a wide variety of article decorations. For example, underlines and speech balloons can be displayed by simply clicking on the quick tags.
・List of quick tag decorations
・Useful CSS implemented in TCD
You can write articles more conveniently by using the CSS that is set from the beginning. For example, you can adjust the margins between lines of text to be 30px here and 40px there, in increments of 5px.
One of the strengths of TCD is that you can make detailed adjustments in writing articles in this way.
Well-designed animations and hovers movements contribute to the creation of invisible values and brands.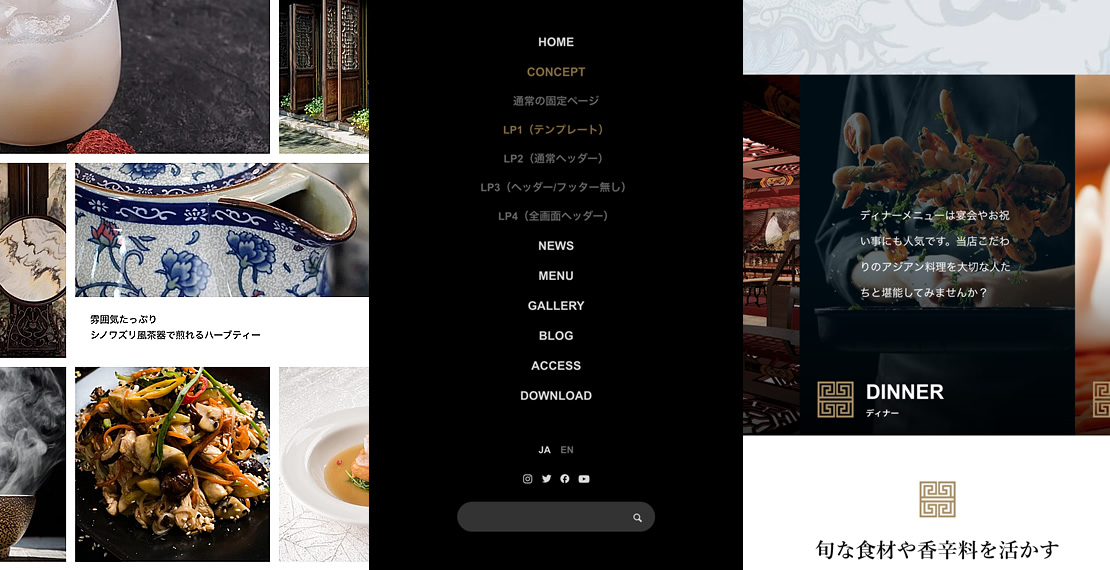 A large percentage of the impression of a website is created by "actions" such as animations and hovers. Whether this gimmick is pleasant or not, it makes a big difference in the impression.
For example, if a site has too much movement, the user may get tired. The speed of movement is also important. If it is a little slower than the optimal speed, the site will look lame. A perfect balance of movement is very important.
TENJIKU incorporates a variety of movements such as parallax and sliders, and the design is both well-balanced and new, and users who see a site created with TENJIKU are sure to be fascinated.
TCD's unique functions make site creation faster and more convenient.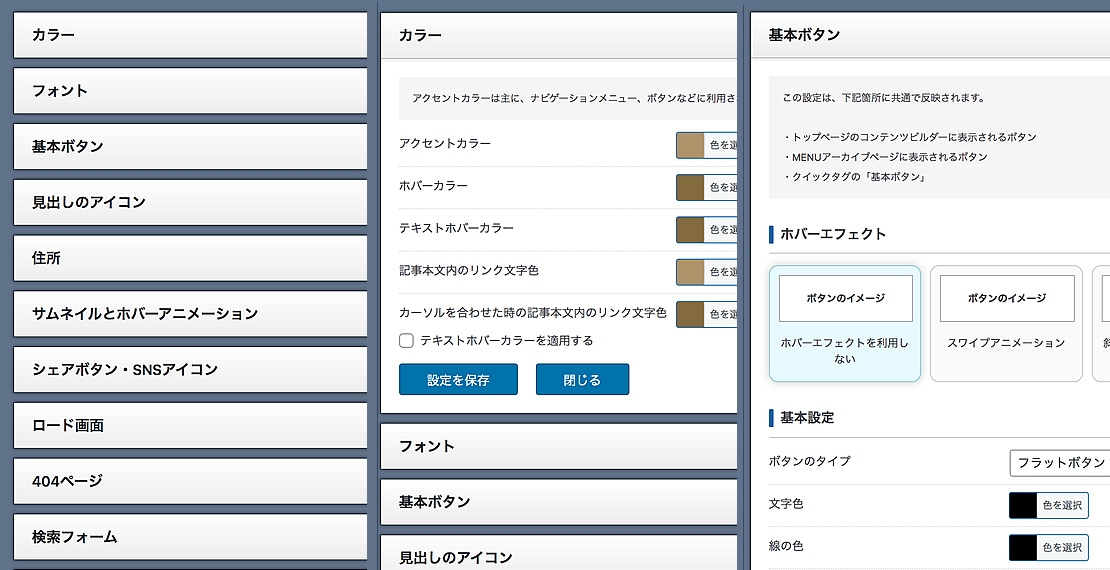 Even for such a large restaurant site, the TCD theme option makes it easy for anyone to complete the website.
No customization is required. This is because you can freely add content, change fonts and colors from the admin panel. All the customization you need is packed in here.
Rather, we believe that the most beautiful websites can be created within the scope of the settings provided, so we would like you to create your website with as little customization as possible. If this is the case, we can create a large scale restaurant website in a very short time.
Take Out Your Phone and Have a Look.
What You See There Is Beauty.
The majority of restaurant websites are for smartphone users. Therefore, the key issue is how to make it attractive on a smartphone.
Everything about TENJIKU's smartphone site is perfect. Please actually take out your phone and check it out. You will notice that the contents displayed and the various catchphrases are different.
That's because TENJIKU allows you to separate the contents of the top page and other important sections into PC and smartphone. As a result, TENJIKU can be viewed on any device with perfect hospitality.
Please use TENJIKU to create the best restaurant website.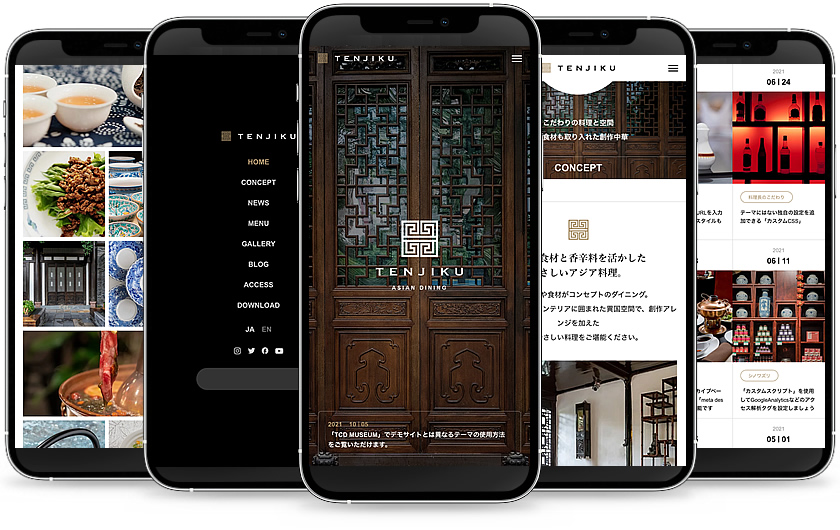 The advanced features of TCD theme support your website.
Responsive Design (PC, tablet, mini tablet, smartphone)
Three types of header with image slider, video, and Youtube
Header bar that can display alerts
Top page – content builder
Standard font (selectable from Arial, San Serif, and Times New Roman)
Story style drawer menu
New smartphone footer bar
Custom CSS
Custom Scripts
Custom color function (accent, text, hover color, etc.)
Hover effect settings (zoom, slide, fade)
Adjust the size of registered eye catching images(regenerate thumbnails)
Breadcrumbs list with structured markup in microdata format
Date, contributor name, comment, and SNS button display function
LP creation function
Custom Post Type "Gallery"
Custom Post Type "Menu"
Custom Post Type "News"
Customization function for 404 page
Designed protection page effective for member acquisition
4 types of SNS buttons (Twitter, Facebook, Instagram, YouTube)
SEO settings (meta tags, OGP, speedup)
Multilingual support for admin screen (Japanese, English)
Theme options management to complete all initial settings after installation
Google Map custom pin markers that allow you to set your logo
Logo upload function (header, footer, mobile)
Load screen settings (logo, tagline, animation, and 3 other types)
New quick tags (Compatible with Gutenberg)
WordPress theme "TENJIKU"(tcd091)
・A set of WordPress theme
・Download site (instruction manual, Q&A)
33,800 yen(tax included)
※If you use this product for build third party website, you will need to purchase a extended license of this product.
※You can download the product from My Page after payment by credit card or PayPal.
※By making a payment, you are deemed to have agreed to the Terms of Use.
※You will receive our free newsletter at your registered email address.
Required Environment
WordPress 5.X or higher and PHP version 7.4 or higher are required for the server environment.
For WordPress installation, please refer to here
IE support has been discontinued due to the transition to Microsoft Edge.
※Please read the Terms of Use before clicking the purchase button.