Promote your own products with FALCON. Increase your sales with successful branding.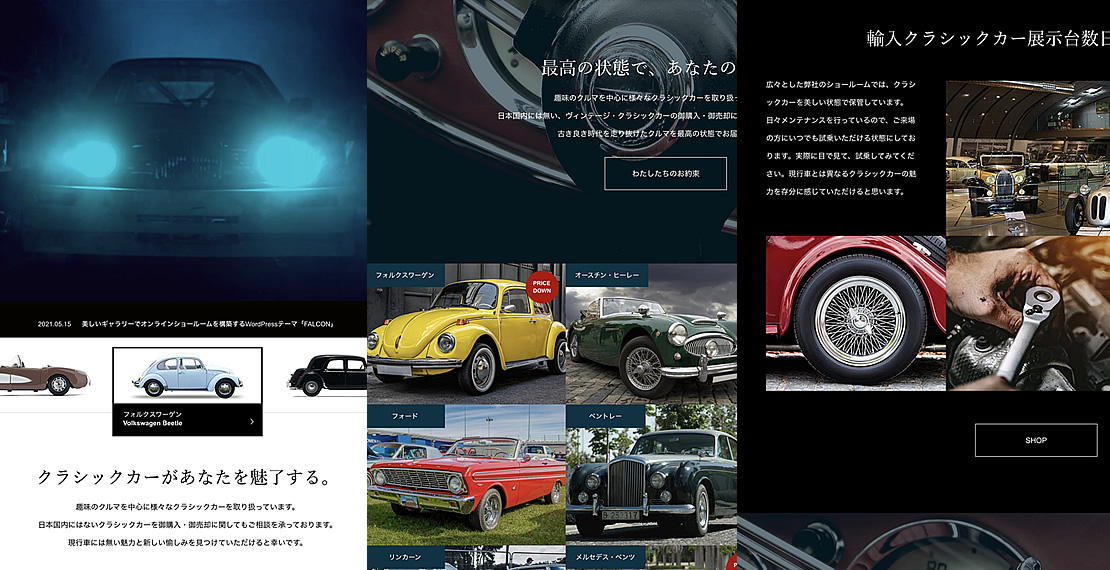 Giving the impression of being "cool" at first glance is the most powerful weapon.
A variety of attractive contents stimulate the desire to buy and lead the visitors to visit the store. There are link buttons that connect to each lower level, and a fixed bar is displayed on the side, which is also a smart way to guide visitors.
"FALCON" will help you tell people how great your product is. Make your visitors fall in love with your site.
Create a visual image of the story and win the user's heart with the first impression.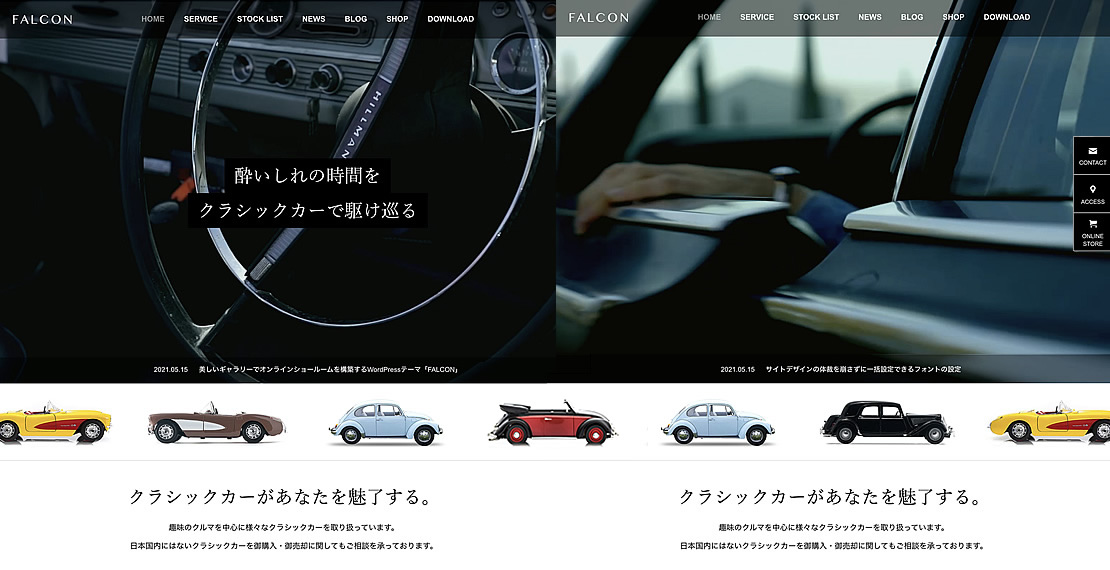 There are many disappointing websites that lose opportunities at the first view. For example, there is too much content or the size is too tight. If the site is not grabbed at first, potential customers will close the site immediately and go elsewhere.
It will grab the user's attention from the moment they open the screen. It's a first view that makes you imagine a bright story ahead.
If you install this theme, you will be able to create a vibrant website.
"Showroom page" to evolve your products. Your products will become more attractive.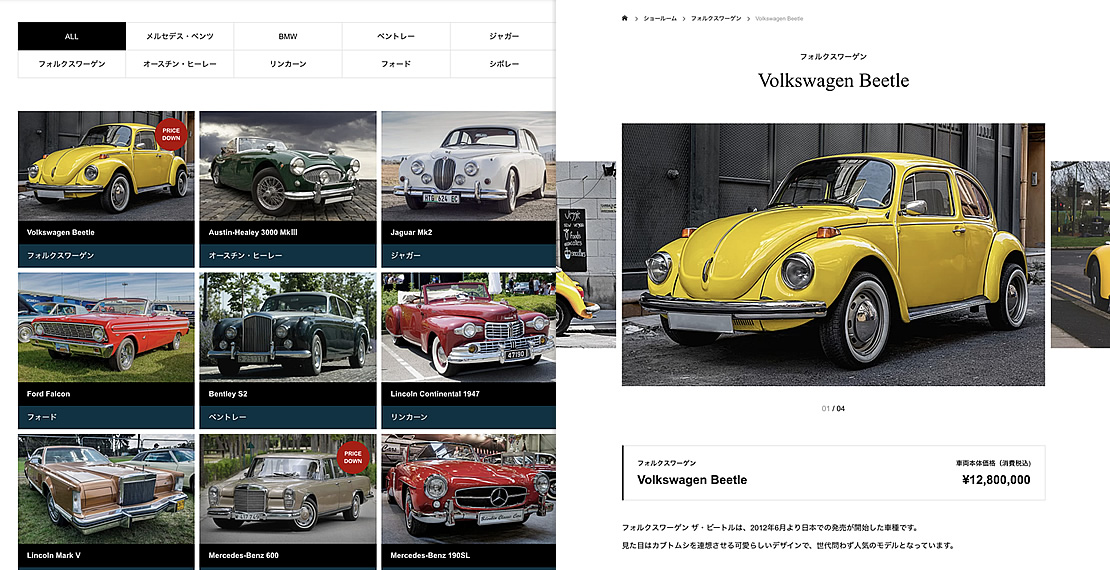 The direction of the product will determine whether or not the product will be appealing on the Internet. You need to think of the right way to make your product look good.
We will never copy Amazon's style of presentation, because Amazon's strength lies in the world's largest selection of products and prices, so they do not aim to make each product attractive.
Every product is the mainstay and special. It is important to convey the essential appeal of the products to the customers who need them. "FALCON" provides a "showroom" to highlight your products.
・Showroom
・Product Detail Page
We have packaged the process of attracting customers through blogs. You can concentrate on creating contents.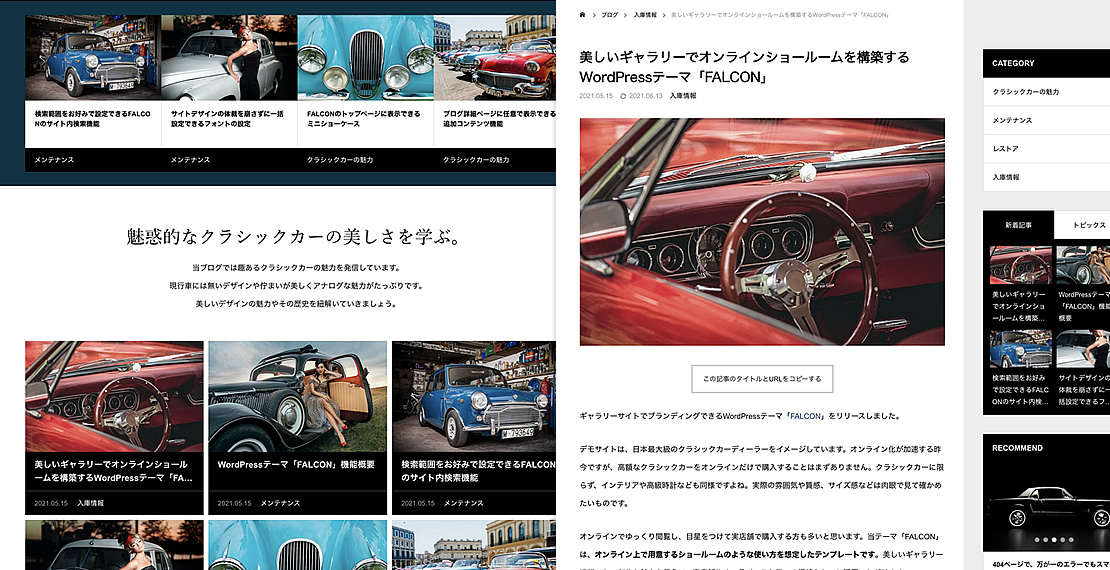 In order to reach a wide range of new customers, it is essential to create content through blog posts. This is because those contents will be hit by search engines and SNS, which will bring in new visitors.
It has a blog on the lower level page, which serves as a customer-attracting system.
・Blog List Page
・Blog Post Page
The more you write, the more customers you will have and the more sales you will be able to generate by creating a natural flow of traffic to your store from the side and footer bars.
There are all the pages you need to run a store site. Secure structure for long-term use.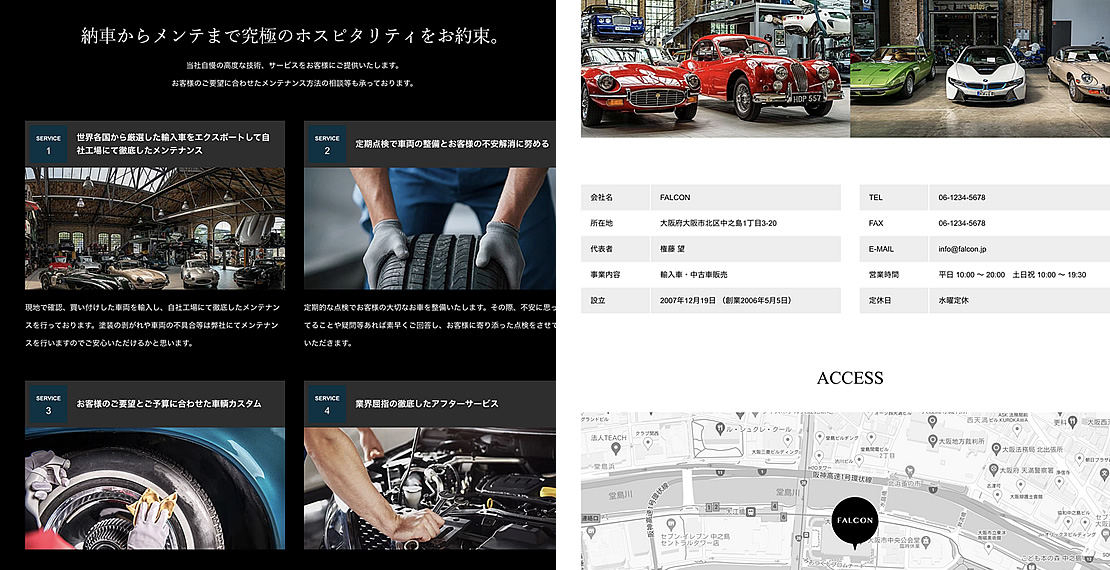 With FALCON, you have everything you need to manage your store website.
For example, you can easily create an about page or an access page like the below:
・Service
・Store & Access
Not only the top page, but every page, including blogs and pages, can be created in a stylish way.
You will get a package with all the pages you need at the best cost performance.
You can create beautiful landing pages. It is also flexible and can be converted to a sales page.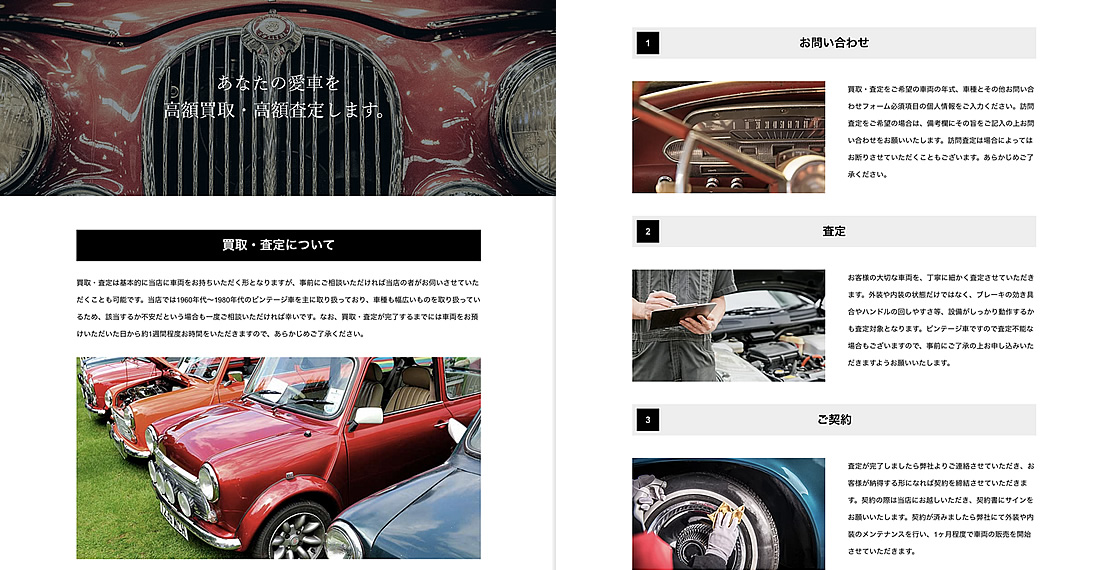 The landing page creation feature is one of the most popular features among TCD users. The reason is that it is easy to create highly practical LP.
For example, the following landing page can be created without any technical knowledge.
・Landing Page 1
・Landing Page 2
You can choose to show or hide the global menu, footer, and logo, change the height of the header, and other customizations that are useful when actually creating an LP. Of course, you can also use it for other purposes.
The design, practicality, and flexibility are all overwhelmingly excellent.
The highly functional TCD theme option makes it easy to create and customize your site.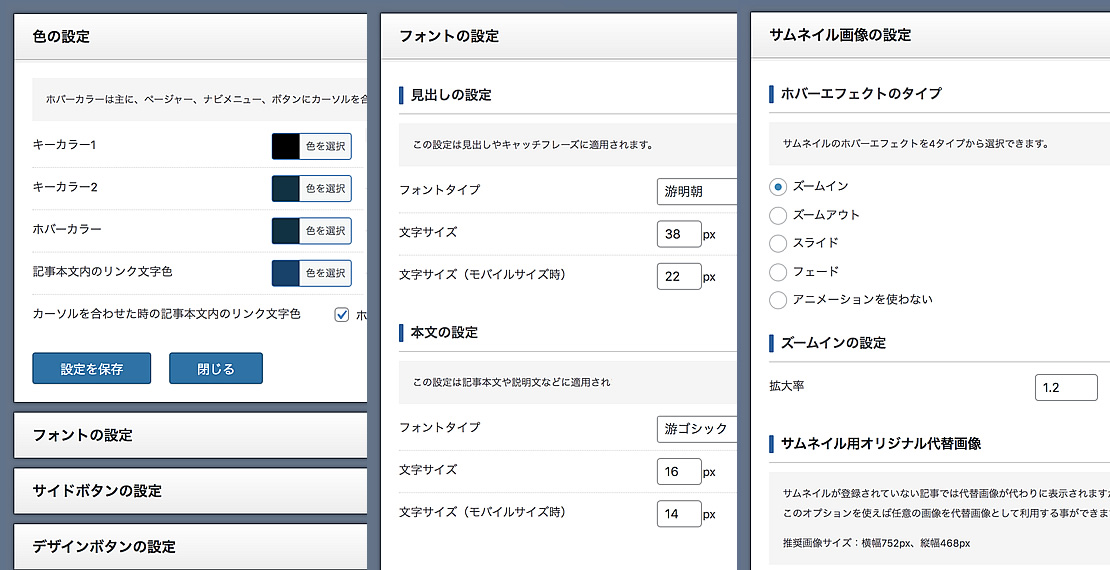 Creating a website requires a lot of expertise, money, and time. The TCD theme option is a solution to all those costs at once.
The "TCD Theme Options" have been developed to allow anyone to make the necessary customizations. For example, you can change the colors and adjust the contents of the top page.
You can have fun creating a site without any technical knowledge with it. And if you want to make changes yourself later, you can do it right away. Of course, you can also revert the settings. The more times you make changes to your site, the better it will be. For that, you need the TCD theme option.
Create a site with impact and attention to detail on all devices, including smartphones.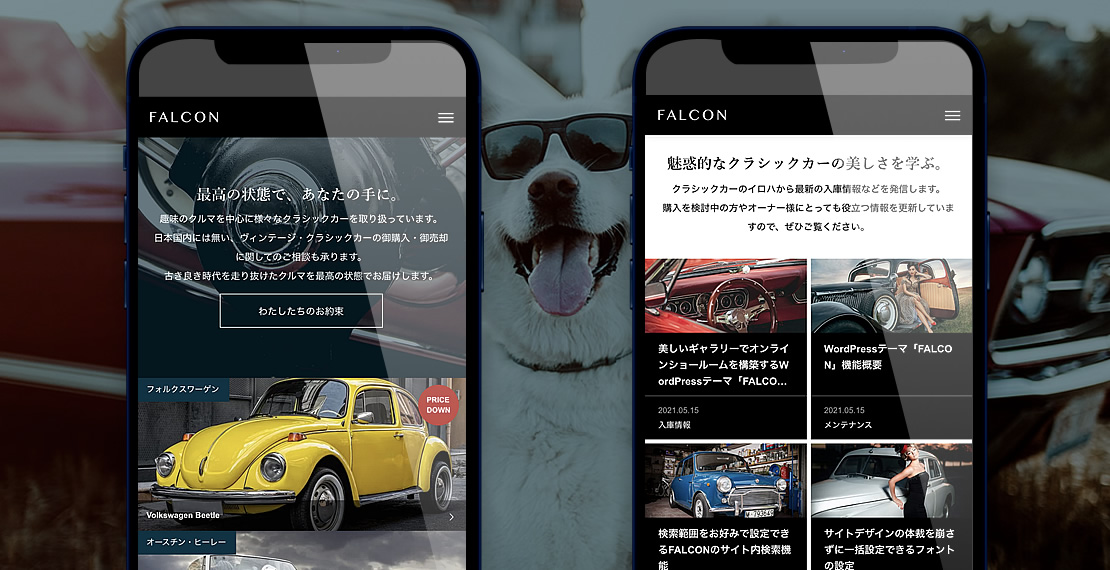 It is essential that your website displays beautifully not only on computers but also on smartphones and tablets. In fact, the key to success is how well you can resonate with users on smartphones.
It has adopted the specification to display different contents on the top page and other important parts of the website for PC and smartphone (the same contents can be displayed). This prevents the same photos and text from being displayed on devices with widely different screen sizes, which would result in an imbalance and ruin the presentation and appeal of the website.
Make the best smartphone site.
Let's Create a Website
That Makes People Excited
And Want to Visit It.
A website or homepage is not just a decoration. Website is the "main" and SNS is the "sub".
If you only update your Instagram, you are relying on influencers (luck) and even if you do well, you will only get short term results. Therefore, making your main website strong is the key to success in web marketing in the future.
"FALCON" has been developed with a focus on making your products look attractive.
We want you to create a system that will attract many customers to your store.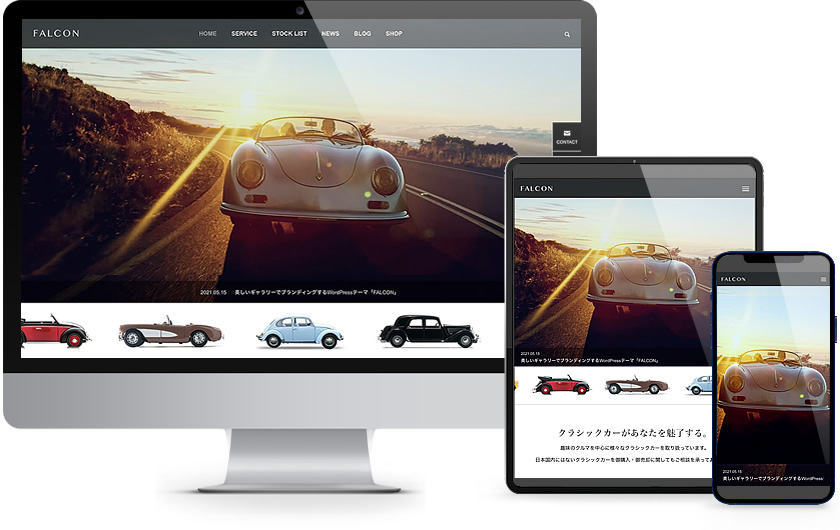 The advanced features of TCD theme support your website.
Responsive design (PC, tablet, mini tablet, smartphone)
Top Page Header (Image Slider, Video, Youtube)
Top page – content builder
Standard font (selectable from Arial, San Serif, and Times New Roman)
Global Menu
New Smartphone Footer Bar
Logo upload function (header, footer, mobile)
Loading settings (logo, tagline, animation, and 3 other types)
Custom CSS
Custom Scripts
Custom color function (main, sub, text, on hover)
Facebook OGP and Twitter Cards function
Adjust the size of registered eye catching images(regenerate thumbnails)
"Meta title" and "meta description" can be set for each page
Date, category, tag, contributor name and comment display function
Header bar that can display alerts
Custom post type "News"
Custom Post Type "Showroom"
LP creation function
Hover effect settings (zoom, slide, fade)
Customization function for 404 page
Designed protection page effective for member acquisition
4 types of SNS buttons (Twitter, Facebook, Instagram, YouTube)
Faster speed settings (Emoji loading, code optimization)
Multilingual support for admin screen (Japanese, English)
Breadcrumbs list with structured markup in microdata format
Theme option management to complete the initial settings
Google Maps custom pin markers that can be configured with your logo
New quick tags (Compatible with Gutenberg)
WordPress theme "FALCON"(tcd089)
・A set of WordPress theme
・Download site (instruction manual, Q&A)
32,800 yen(tax included)
※If you use this product for build third party website, you will need to purchase a extended license of this product.
※You can download the product from My Page after payment by credit card or PayPal.
※By making a payment, you are deemed to have agreed to the Terms of Use.
※You will receive our free newsletter at your registered email address.
Required Environment
WordPress 5.X or higher and PHP version 7.2 or higher are required for the server environment.
For WordPress installation, please refer to here
IE support has been discontinued due to the transition to Microsoft Edge.
※Please read the Terms of Use before clicking the purchase button.