With a magnificent top page reminiscent of a cutting-edge company. It will drastically change your corporate image.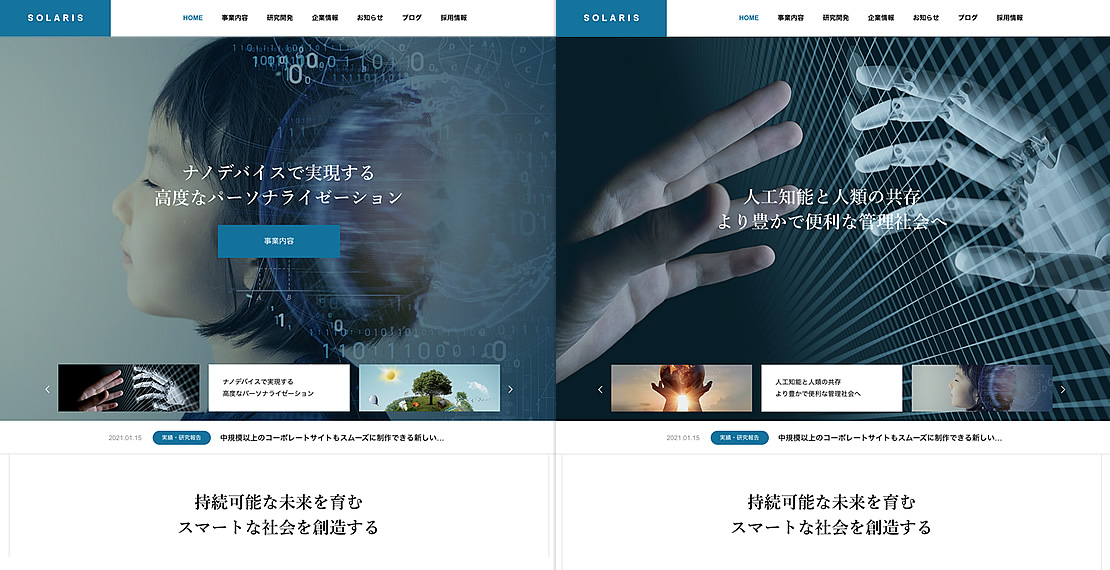 It is designed so that anyone can create a high quality corporate website like those of large corporations and cutting-edge technology companies. The power of the top page is unmatched by any other WordPress theme on the market.
After attracting the viewer with the full-size hero header, the contents are displayed one after another. The point is parallax. It blends into the design so well that you don't even notice it's parallax.
With all the contents exquisitely balanced with a sense of unity, your corporate image will surely change drastically after installing "SOLARIS".
Please include a nice tagline and build a great corporate website.
Why are demo pages so exciting? It's because mind-blowing gimmicks entertain people.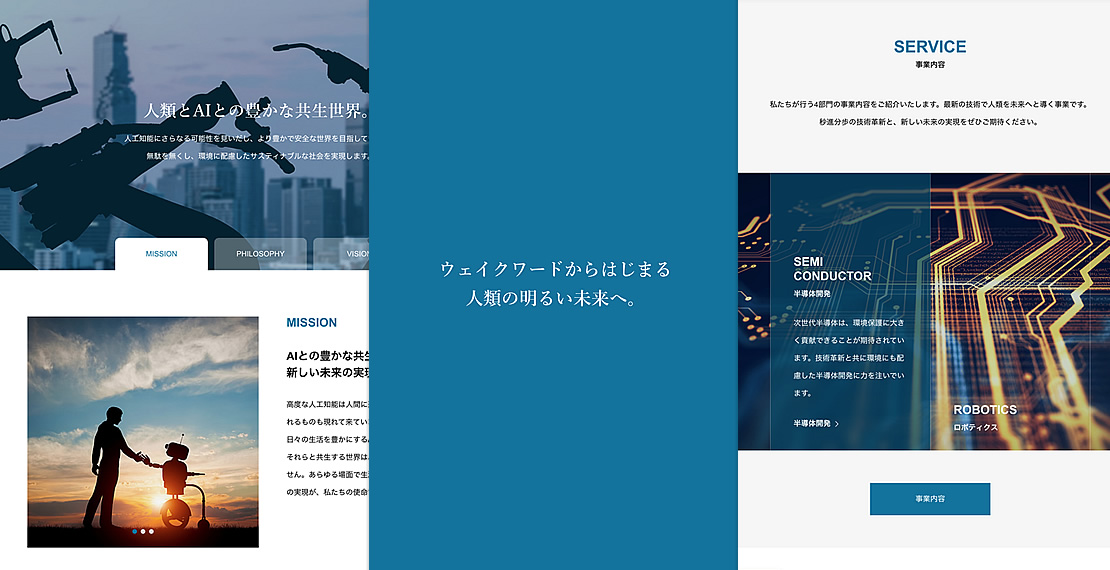 The reason why TCD's demo pages draw people in and excite them is because they are designed with the viewer's perception in mind. From top to bottom, there is a good balance of playfulness.
Hero header that draws the viewer in
Fade animation developed to look the most beautiful
A four-part menu with a background that changes on mouse hover
Parallax effects placed at the perfect time
Size & margin for each content for perfect balance
On the other hand, a WordPress theme that makes your eyes flicker is one where all the parts are wild and there is no concept of balance. With this theme, you can raise the value of your site.
Make your business overwhelming. Create a service page that is different from those of other companies.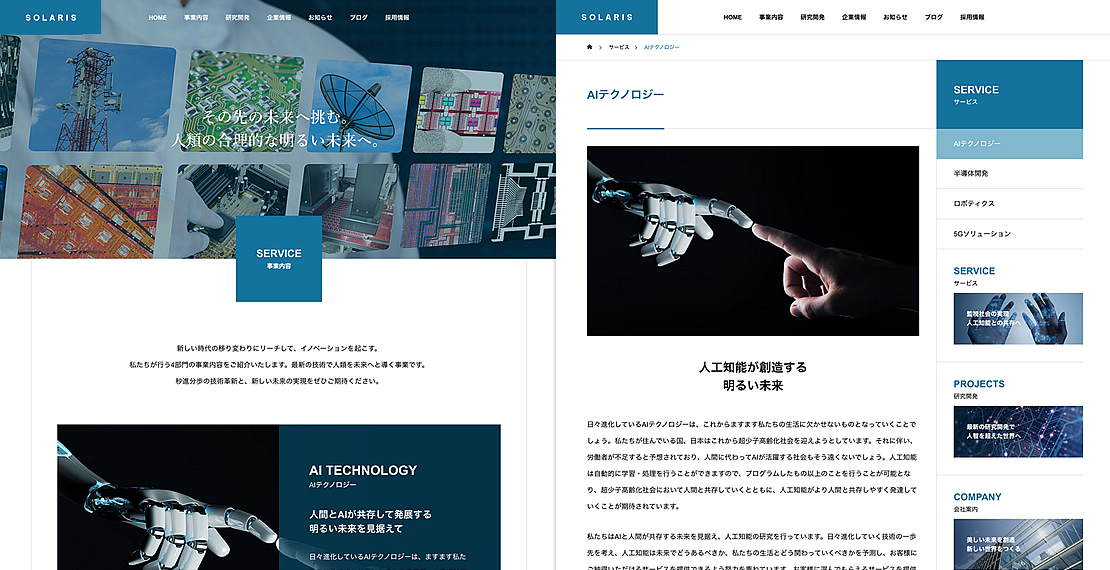 A corporate website needs to impress people with how great your services are. SOLARIS, which also focuses on the business introduction page, can give the impression that your company is contributing to society.
This service page allows you to apply a key color overlay on one side of the photo introducing your business. The specifications are designed to allow anyone to tighten up the photo and make your service more attractive.
We hope that you will use this theme to create a "box (corporate website)" that will help your company grow and expand its business internationally.
The About page is important for sales. That's why you can't leave anything out.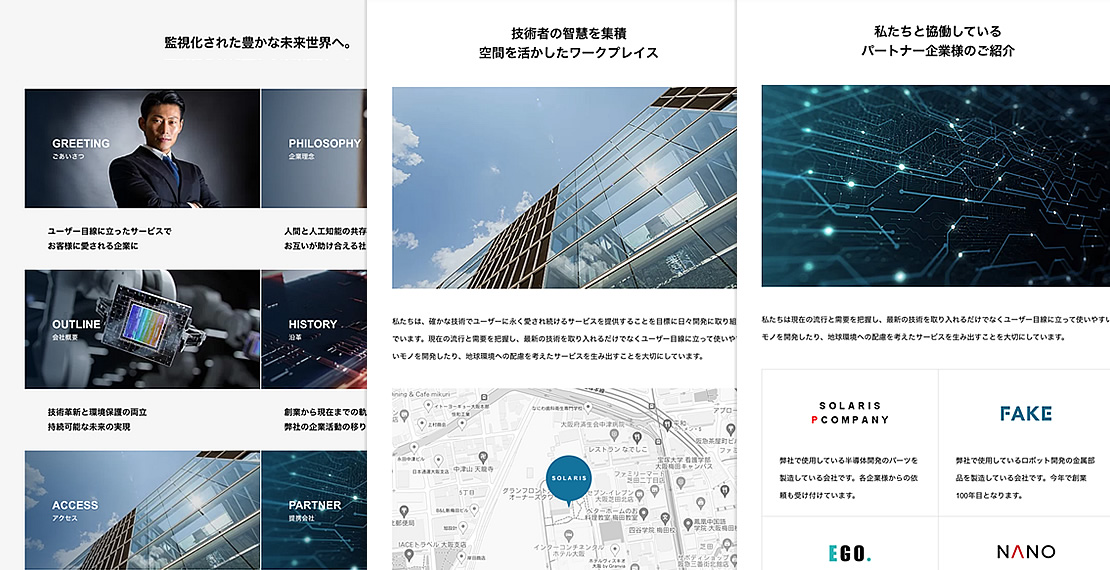 If you are going to do business on the Internet, such as running an EC site or an app, the credibility of the company is important. For example, when a new user is shopping at an online store, most users will check the "company profile" to see if the company is trustworthy. Therefore, it is important to have the following pages.
This includes information about the company profile, greeting, and the company history. The design and structure of this theme is designed to enhance the credibility of your company.
This is the place for companies to present their research, development, events, etc., to build up a fan base.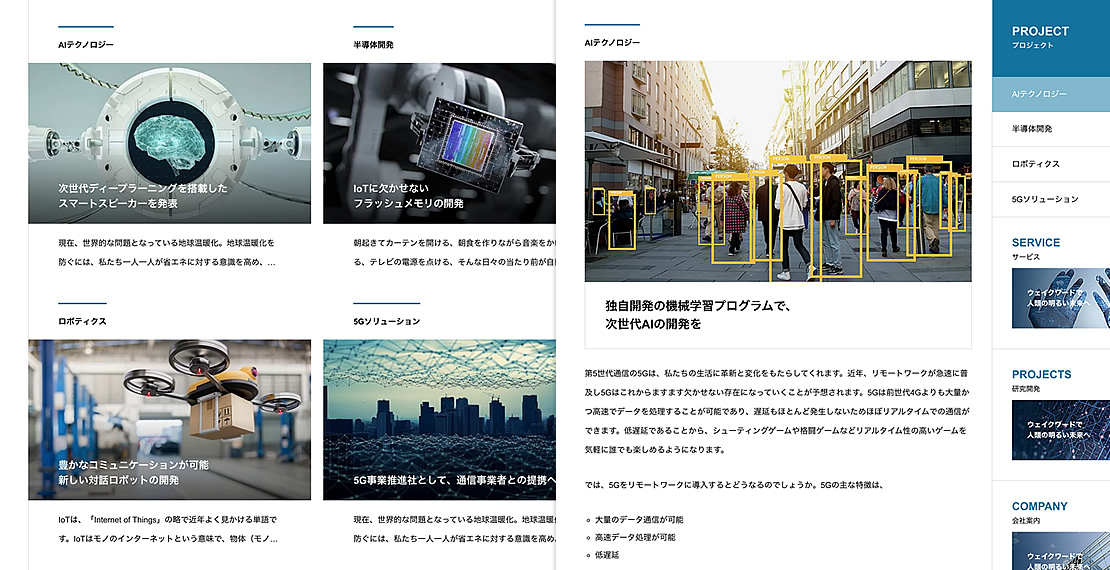 We have prepared a place to present what your company is doing on a daily basis. This is the best place to show off your company as a developing company.
・Parent Category
・Child Category
・Category
As mentioned above, deep hierarchies can be supported and information can be segmented in detail, so users can browse only the information they need.
A corporate website is not a site that directly generates sales. However, it does have an indirect impact on the user's trust and interest. This can lead to increased corporate credibility and even corporate value.
Blog, News, and IR; organized information dissemination builds corporate archives and assets.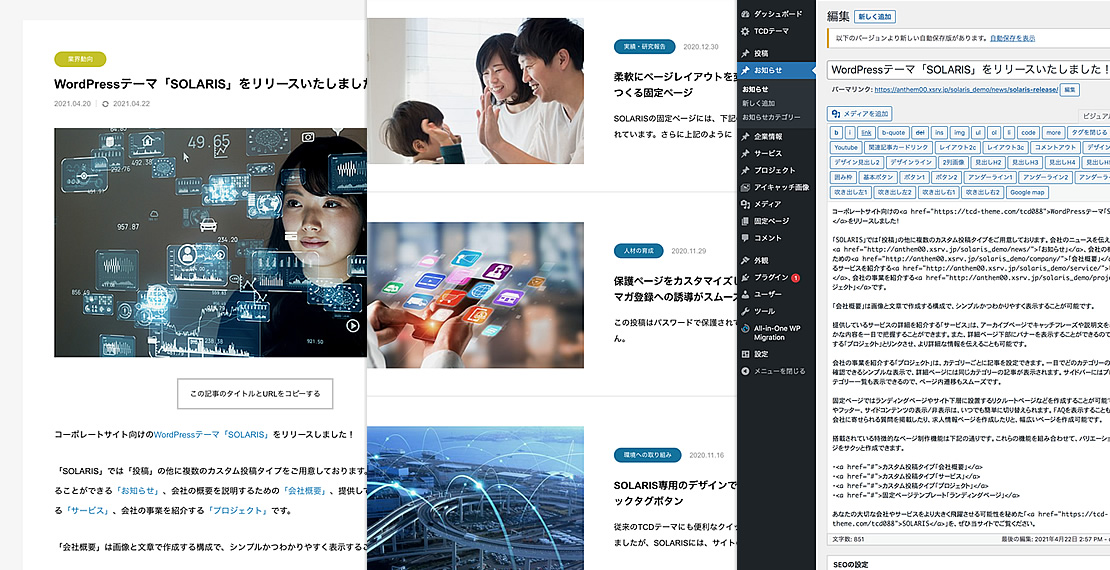 Information that is organized will be valuable as an archive. It becomes an asset that attracts customers in the long term.
If you publish your columns and daily records in a "blog," it will be difficult for users to read, and the number of views will not increase.
The same goes for a corporate website. What if "useful information" is posted followed by "long vacation notices"? Unorganized information is not an asset, and all the effort you put into posting it will be wasted.
This theme is designed to allow you to categorize your articles in detail, such as "Blog", "News", "Project", "Service", etc., according to the actual situation of your company, so that each page can play its own role.
The TCD theme option is implemented to make it easy to create a website. No technical knowledge is required.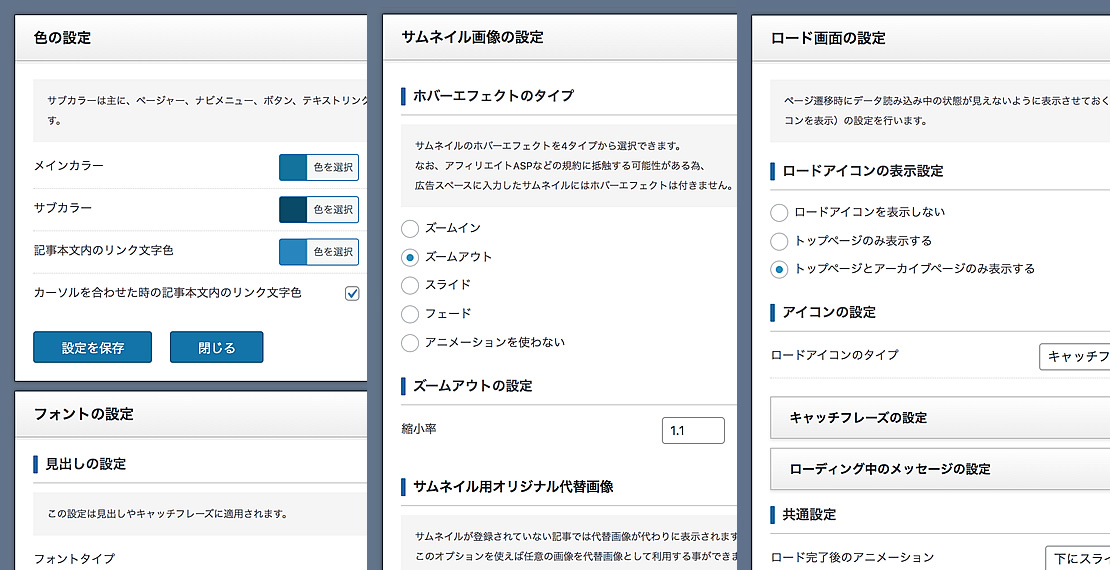 Creating a website requires a lot of expertise, money, and time. The TCD theme option is a solution to all those costs at once.
The "TCD Theme Options" have been developed to allow anyone to make the necessary customizations. For example, you can change the colors or make changes to the top page.
You can have fun creating a site without any technical knowledge with it. And if you want to make changes yourself later, you can do it right away. Of course, you can also revert the settings. The more times you make changes to your site, the better it will be. For that, you need the TCD theme option.
Designs and animations that display beautifully on all devices, including smartphones.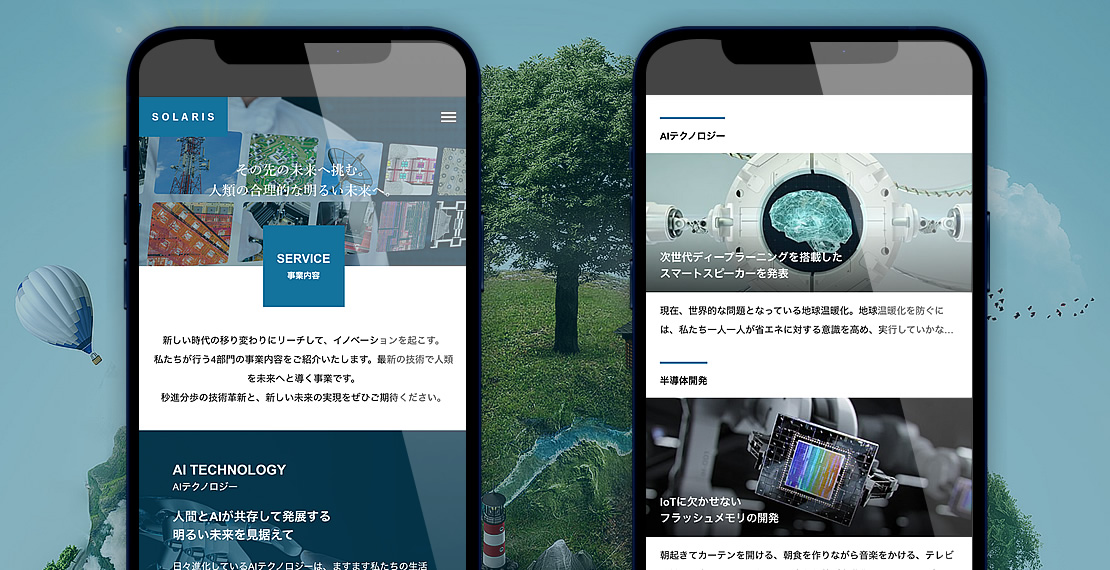 It is essential that your website displays beautifully not only on PC but also on smartphones and tablets. In fact, the key to success is how well you can resonate with users on smartphones.
"SOLARIS" has adopted the specification of displaying different contents on the top page and other important parts of the website for PC and smartphone (the same contents can be displayed). For example, the top page can have different catchphrases and descriptions for PC and smartphone. Putting the same photos and text on different devices with very different screen sizes will prevent you from losing the balance and ruining the presentation and appeal of your website.
Make the best smartphone site you can.
Make Your Corporate Website World-Standard.
Corporate websites in Japan have adopted a "cramped layout" that has remained unchanged for the past 10 or 15 years. However, overseas, even venture companies are emphasizing dynamic layouts to resonate with users.
Our WordPress theme "SOLARIS" has been developed with the aim of solving all these problems at once and bringing it to the world standard. The important thing is to move people's hearts.
Build a one-of-a-kind corporate website that will leave your competitors behind.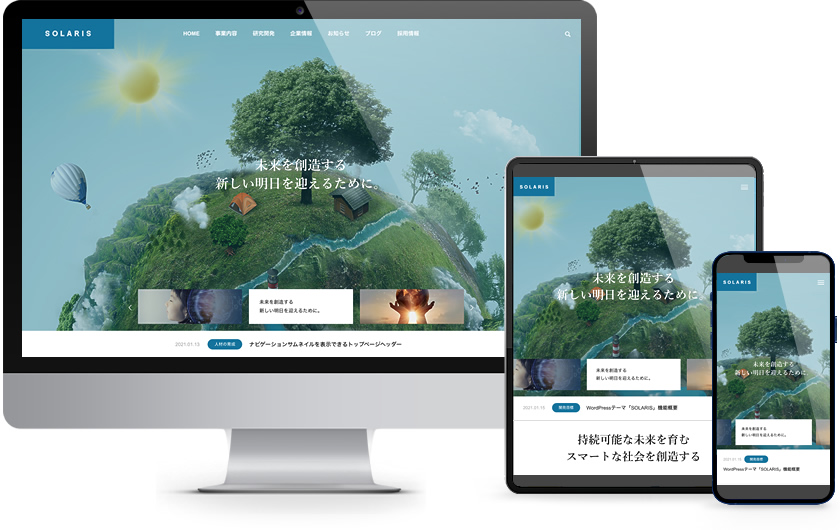 The advanced features of TCD theme support your website.
Responsive design (PC, tablet, mini tablet, smartphone)
Top page header (image slider, video, Youtube)
Standard font (selectable from Arial, San Serif, and Times New Roman)
Global Menu
New smartphone footer bar
Logo upload function (header, footer, mobile)
Loading settings (logo, tagline, animation, and 3 other types)
Custom CSS
Custom Scripts
Custom color function (main, sub, text, on hover)
Facebook OGP and Twitter Cards function
4 types of SNS buttons (Twitter, Facebook, Instagram, YouTube)
Adjust the size of registered eye catching images(regenerate thumbnails)
"Meta title" and "meta description" can be set for each page
Date, category, tag, contributor name and comment display function
New quick tags (compatible with Gutenberg )
Header bar that can display alerts
Custom Post Type "News"
Custom Post Type "Company Information"
Custom Post Type "Service"
Custom Post Type "Project"
Hover Effect Settings (Zoom, Slide, Fade)
Parallax Effect
Customization feature for 404 page
Designed protected page effective for membership acquisition
Page show/hide selection function (logo, menu, header, footer, etc.)
High speed setting (Emoji loading, code optimization)
Multi-language support for administration screen (Japanese, English)
Breadcrumbs list with microdata format structured markup applied
Theme option management to complete the initial settings
Google Maps custom pin markers that can be configured with logos
WordPress theme "SOLARIS"(tcd088)
・A set of WordPress theme
・Download site (instruction manual, Q&A)
39,800 yen(tax included)
※If you use this product for build third party website, you will need to purchase a extended license of this product.
※You can download the product from My Page after payment by credit card or PayPal.
※By making a payment, you are deemed to have agreed to the Terms of Use.
※You will receive our free newsletter at your registered email address.
Required Environment
WordPress 5.X or higher and PHP version 7.2 or higher are required for the server environment.
For WordPress installation, please refer to here
IE support has been discontinued due to the transition to Microsoft Edge.
※Please read the Terms of Use before clicking the purchase button.