With a magnificent top page reminiscent of a cutting-edge company. It will drastically change your corporate image.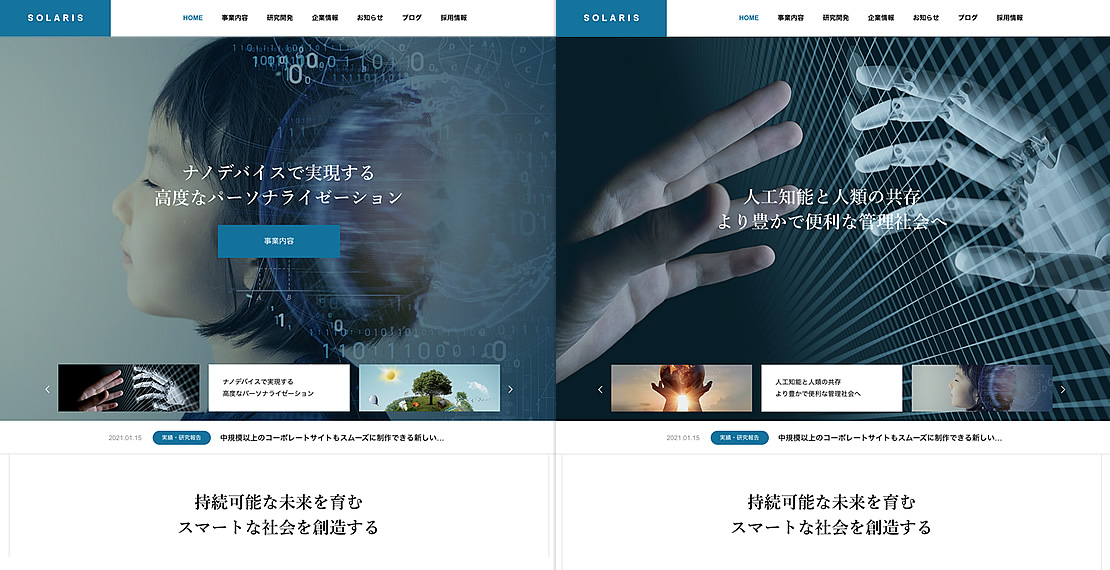 It is designed so that anyone can create a high quality corporate website like those of large corporations and cutting-edge technology companies. The power of the top page is unmatched by any other WordPress theme on the market.
After attracting the viewer with the full-size hero header, the contents are displayed one after another. The point is parallax. It blends into the design so well that you don't even notice it's parallax.
With all the contents exquisitely balanced with a sense of unity, your corporate image will surely change drastically after installing "SOLARIS".
Please include a nice tagline and build a great corporate website.
Why are demo pages so exciting? It's because mind-blowing gimmicks entertain people.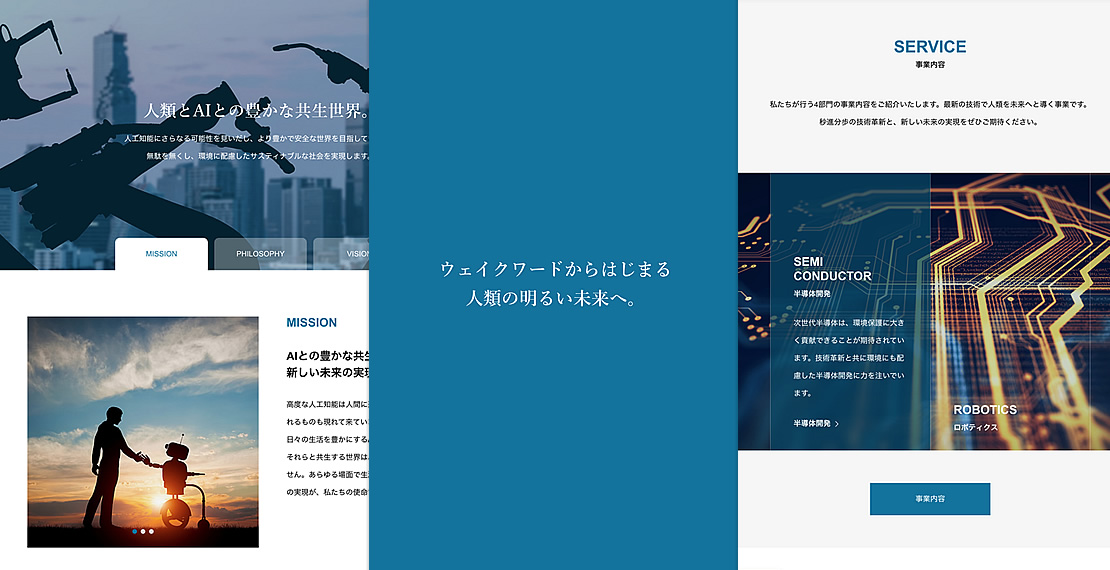 The reason why TCD's demo pages draw people in and excite them is because they are designed with the viewer's perception in mind. From top to bottom, there is a good balance of playfulness.
Hero header that draws the viewer in
Fade animation developed to look the most beautiful
A four-part menu with a background that changes on mouse hover
Parallax effects placed at the perfect time
Size & margin for each content for perfect balance
On the other hand, a WordPress theme that makes your eyes flicker is one where all the parts are wild and there is no concept of balance. With this theme, you can raise the value of your site.
Make your business overwhelming. Create a service page that is different from those of other companies.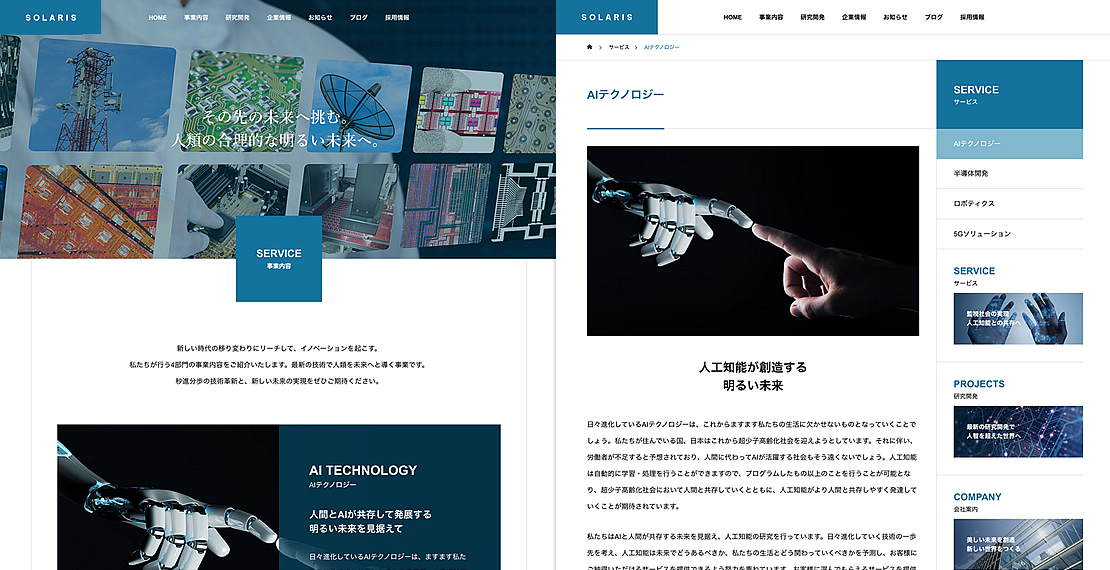 A corporate website needs to impress people with how great your services are. SOLARIS, which also focuses on the business introduction page, can give the impression that your company is contributing to society.
This service page allows you to apply a key color overlay on one side of the photo introducing your business. The specifications are designed to allow anyone to tighten up the photo and make your service more attractive.
We hope that you will use this theme to create a "box (corporate website)" that will help your company grow and expand its business internationally.
The About page is important for sales. That's why you can't leave anything out.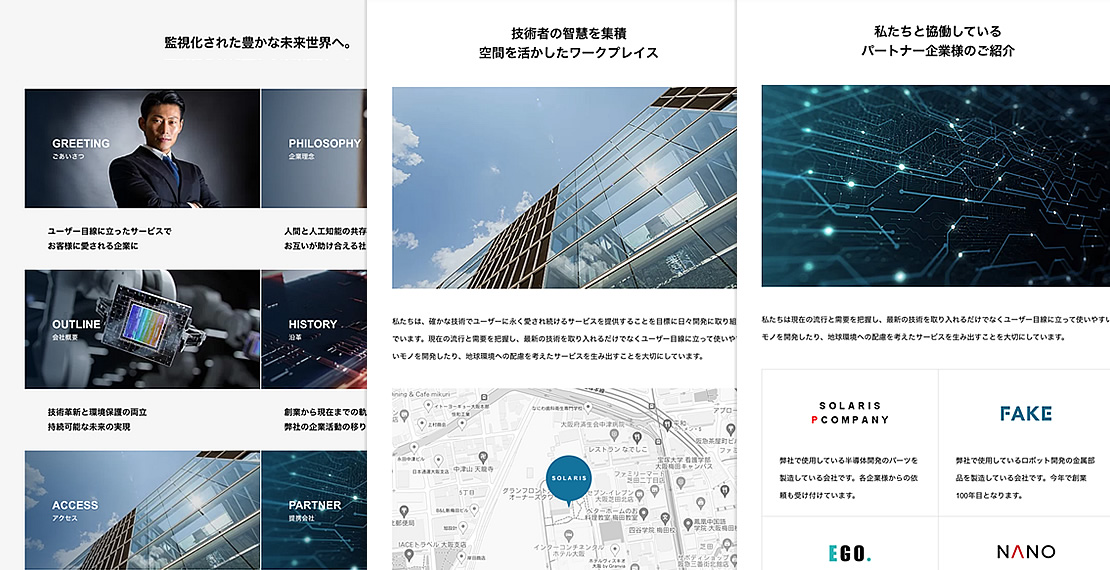 If you are going to do business on the Internet, such as running an EC site or an app, the credibility of the company is important. For example, when a new user is shopping at an online store, most users will check the "company profile" to see if the company is trustworthy. Therefore, it is important to have the following pages.
This includes information about the company profile, greeting, and the company history. The design and structure of this theme is designed to enhance the credibility of your company.
This is the place for companies to present their research, development, events, etc., to build up a fan base.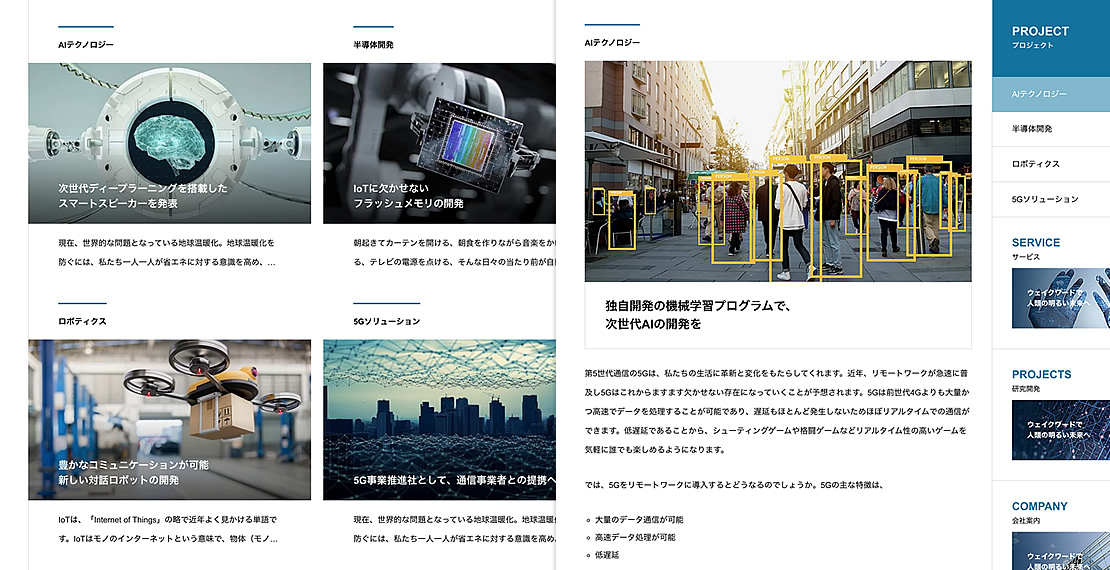 We have prepared a place to present what your company is doing on a daily basis. This is the best place to show off your company as a developing company.
上記のように深い階層にも対応し、情報を細かくセグメントできるため、ユーザーは必要な情報だけを閲覧していくことができます。
コーポレートサイトは直接売上を上げるサイトではありません。しかし、ユーザーの信用や興味に影響があるため、間接的には影響しているのです。「発表の場」が最大限に活かされることで、企業の信用、さらには企業価値の引き上げにも繋がります。
ブログ・お知らせ・IR。整理された情報発信が、企業のアーカイブと資産を構築する。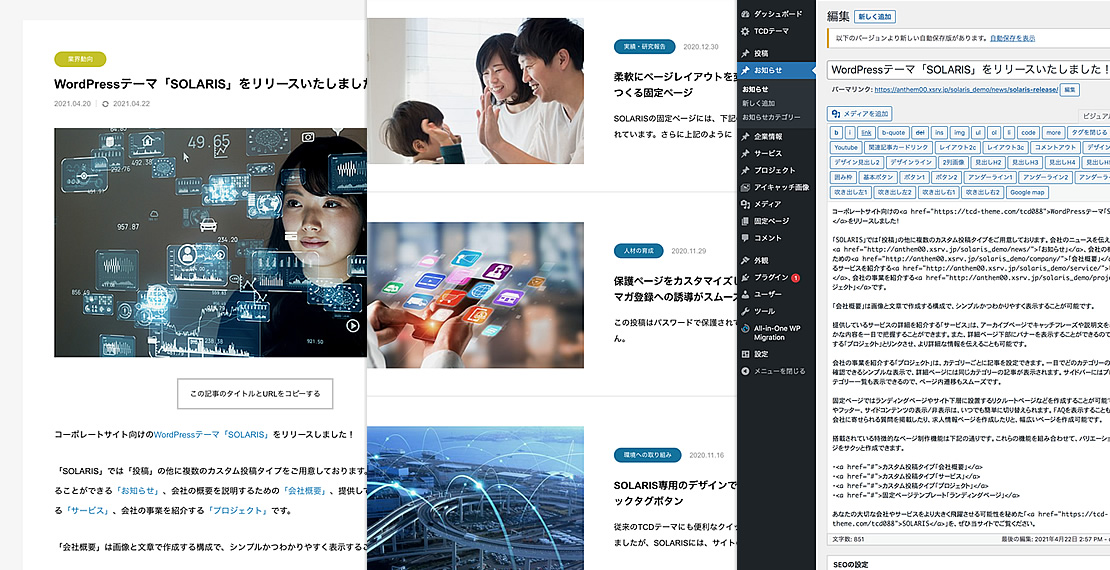 情報は整理されているからアーカイブとして価値がつきます。長期的に集客をもたらす資産となるのです。
コラムと日常の雑記などを「ブログ」にゴチャ混ぜ状態で公開すると、ユーザーは見づらいためも閲覧数は伸びません。SEO面も不利です。
企業サイトも同じで、「役立つ情報」の次の日は「長期休暇のお知らせ」が投稿されていればどうでしょうか?整理されていない情報は資産にならないため、せっかくの投稿が無駄になってしまいます。
当テーマでは、企業の実情に合わせて、「ブログ」「お知らせ」「プロジェクト」「サービス」など細かく記事を分類できる仕様になっています、これによって、それぞれのページが本来の役割を果たすようになるでしょう。
これほどのWebサイトでも簡単に作成できる「TCDテーマオプション」を実装。更新も専門知識は不要。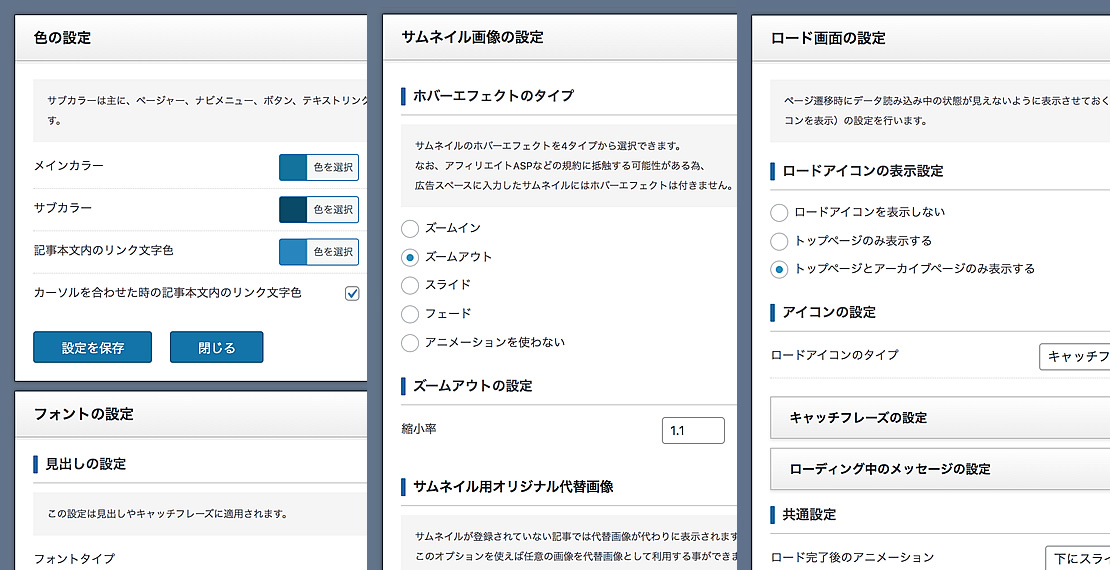 Webサイトを1つ作るには、専門的な知識・お金・時間などが必要です。それらのコストを一気に解決するのが「TCDテーマオプション」です。
「TCDテーマオプション」は必要なカスタマイズを誰でもできるように開発されたものです。例えば「色はどうする?」「トップページのココにこんなコンテンツを入れたい」などを実現する機能です。
これがあれば、専門的な知識がなくても楽しくサイトを作れますし、後で自分で変更したいと思ってもすぐに実行できます。もちろん設定を戻すことも可能。サイトは天塩にかけて何度も変更を加えるほど良くなっていくものです。それにはTCDテーマオプションが必要です。
スマホを含めたあらゆるデバイスで美しく表示されるデザイン・アニメーション。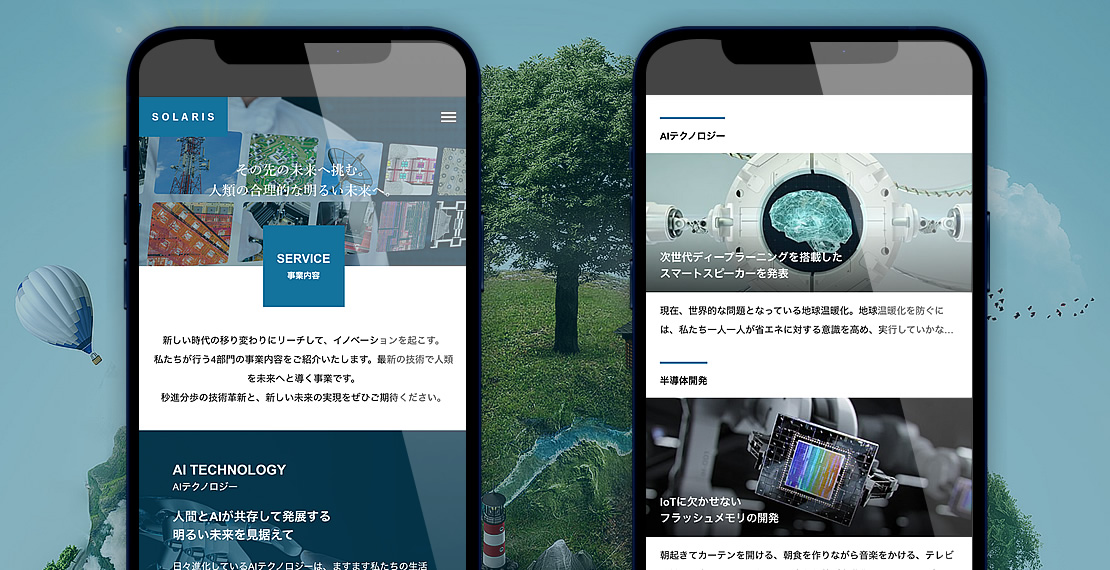 パソコンだけでなくスマホ・タブレットでも美しく表示されることはこの時代には必須です。むしろスマホでどれだけユーザーの心に響かせるかが勝負になると言っても過言ではないでしょう。
「SOLARIS」ではPCとスマホのトップページやその他重要箇所では別コンテンツがを表示する仕様を採用しています(同コンテンツの表示も可)。例えば、トップページはPCとスマホで別のキャッチコピーや説明文を入れることが可能です。画面サイズが大きく違うデバイスで同じ写真やテキストを入れるとバランスを崩し、せっかくの演出・訴求が台無しになることを防ぎます。
最高のスマホサイトを作ってください。
企業サイトを世界水準へ。
国内の企業サイトは、大企業のものでも10年・15年前から変わらない「窮屈なレイアウト」が採用されています。しかしながら、海外ではAppleなどを始め、ベンチャー企業でもダイナミックなレイアウトでユーザーの心を響かせることを重視しています。
当WordPressテーマ「SOLARIS」ではそうした諸問題を一気に解決し、世界水準へと引き上げることを目的に開発されています。重要なのは「人の心を動かすこと」です。
ライバルを置き去りにするほどの唯一無二の企業サイトを構築してください。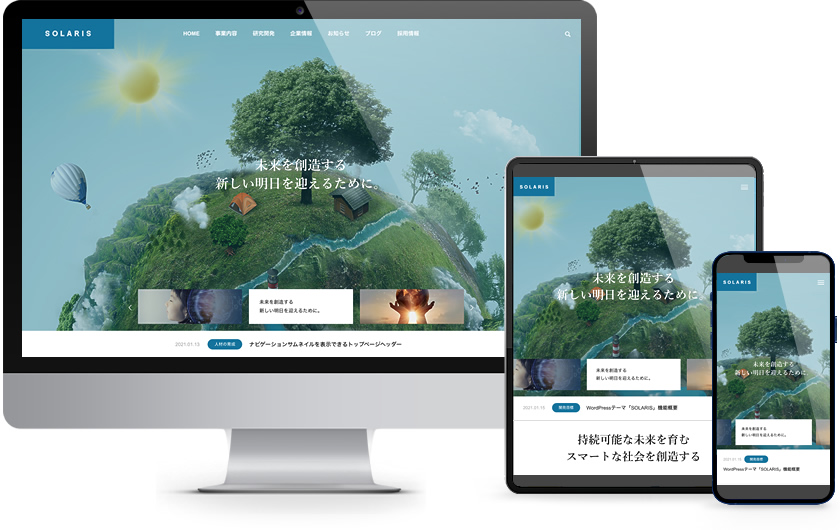 The advanced features of TCD theme support your website.
Responsive design (PC, tablet, mini tablet, smartphone)
Top page header (image slider, video, Youtube)
Standard font (selectable from Arial, San Serif, and Times New Roman)
Global Menu
New smartphone footer bar
Logo upload function (header, footer, mobile)
Loading settings (logo, tagline, animation, and 3 other types)
Custom CSS
Custom Scripts
Custom color function (main, sub, text, on hover)
Facebook OGP and Twitter Cards function
4 types of SNS buttons (Twitter, Facebook, Instagram, YouTube)
Adjust the size of registered eye catching images(regenerate thumbnails)
"Meta title" and "meta description" can be set for each page
Date, category, tag, contributor name and comment display function
New quick tags (compatible with Gutenberg )
Header bar that can display alerts
Custom Post Type "News"
Custom Post Type "Company Information"
Custom Post Type "Service"
Custom Post Type "Project"
Hover Effect Settings (Zoom, Slide, Fade)
Parallax Effect
Customization feature for 404 page
Designed protected page effective for membership acquisition
Page show/hide selection function (logo, menu, header, footer, etc.)
High speed setting (Emoji loading, code optimization)
Multi-language support for administration screen (Japanese, English)
Breadcrumbs list with microdata format structured markup applied
Theme option management to complete the initial settings
Google Maps custom pin markers that can be configured with logos
WordPress theme "SOLARIS"(tcd088)
・A set of WordPress theme
・Download site (instruction manual, Q&A)
39,800 yen(tax included)
※If you use this product for build third party website, you will need to purchase a extended license of this product.
※You can download the product from My Page after payment by credit card or PayPal.
※By making a payment, you are deemed to have agreed to the Terms of Use.
※You will receive our free newsletter at your registered email address.
Required Environment
WordPress 5.X or higher and PHP version 7.2 or higher are required for the server environment.
For WordPress installation, please refer to here
IE support has been discontinued due to the transition to Microsoft Edge.
※Please read the Terms of Use before clicking the purchase button.