A landing page-type top page that attracts users. Highly flexible UI supports site creation.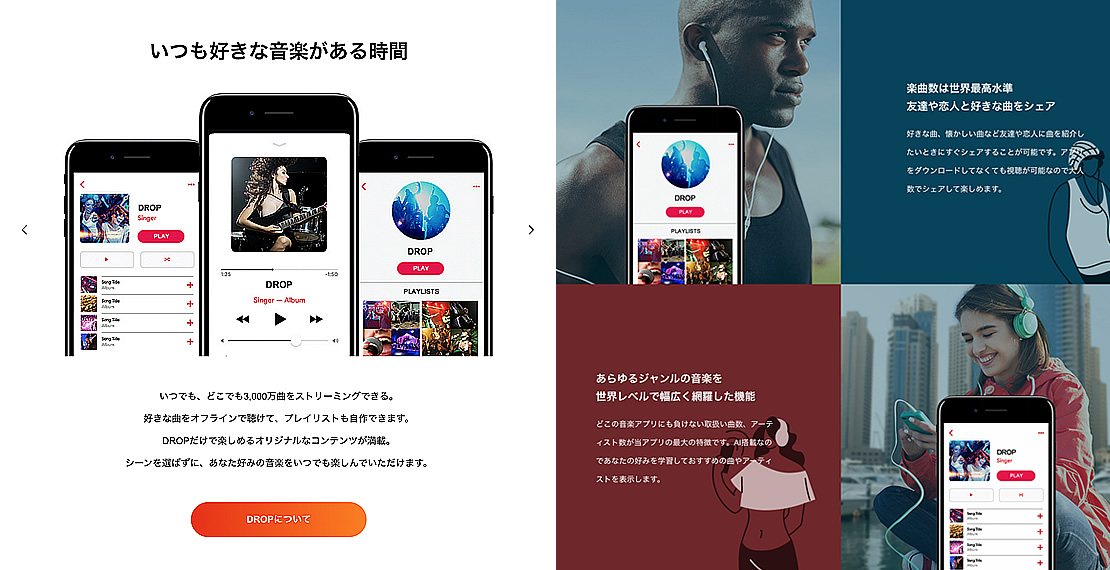 The top page of "DROP" can be used as a landing page. It has the best contents for selling your apps and web services.
You can create high-level Landing page with a high degree of flexibility. For example, the necessary content for LP such as plan, review, and FAQ are already included. Of course, you can choose to show or hide the content and change the order freely.
In order to increase users, you need to sway their emotions with attractive services. As you can see from the demo, DROP has a strong first impression impact to move the heart.
DROP will accelerate your business.
High performance graphs and charts to visually express performance appeals and sales trends.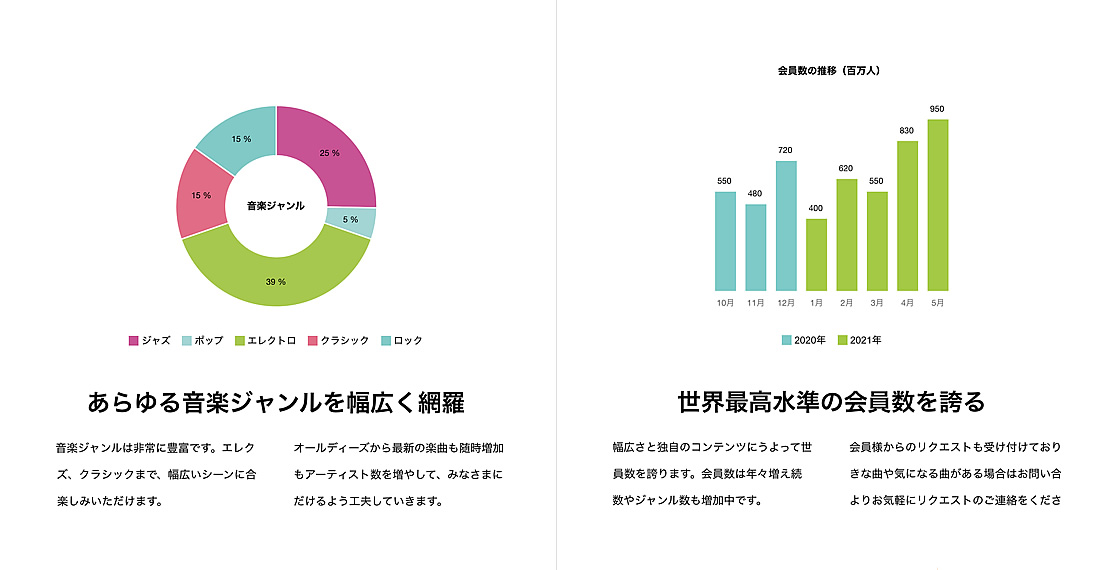 This theme implements a highly functional graph and chart function. You can use it on the top page and pages.
There are four types of charts to choose from: Pie Chart, Bar Chart (Vertical), Bar Chart (Horizontal), and Line Chart. You can enter numerical values to automatically generate graphs and tables (which can be hidden).
・Examples: Top page, Company Profile
By effectively using charts, you can increase the sales appeal of your data. Feel free to use it for trends in the number of users and downloads, performance highlights, etc.
Make full use of review and interview pages to make the service more attractive and popular.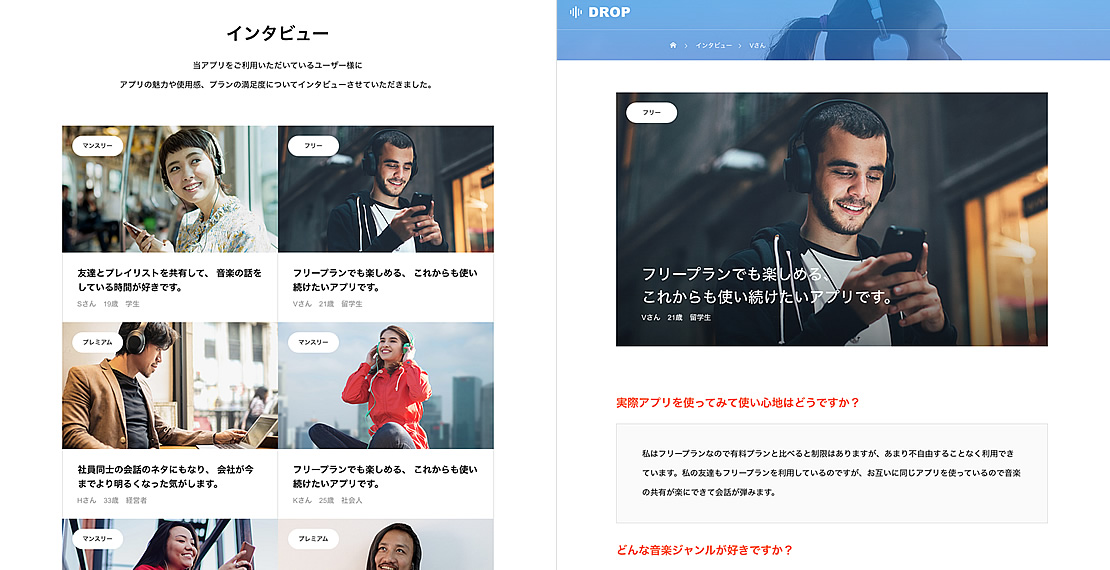 The real voices of your customers are powerful content that can help you promote your products. It is essential for the success of a business.
DROP makes creating interview and review content as easy as writing a blog.
・Interview page
・List of interviews and reviews
It can be a great power to move your business forward, so please make use of DROP's interview page.
It is a highly functional and useful page that can be used to create sales, plans, and even landing pages.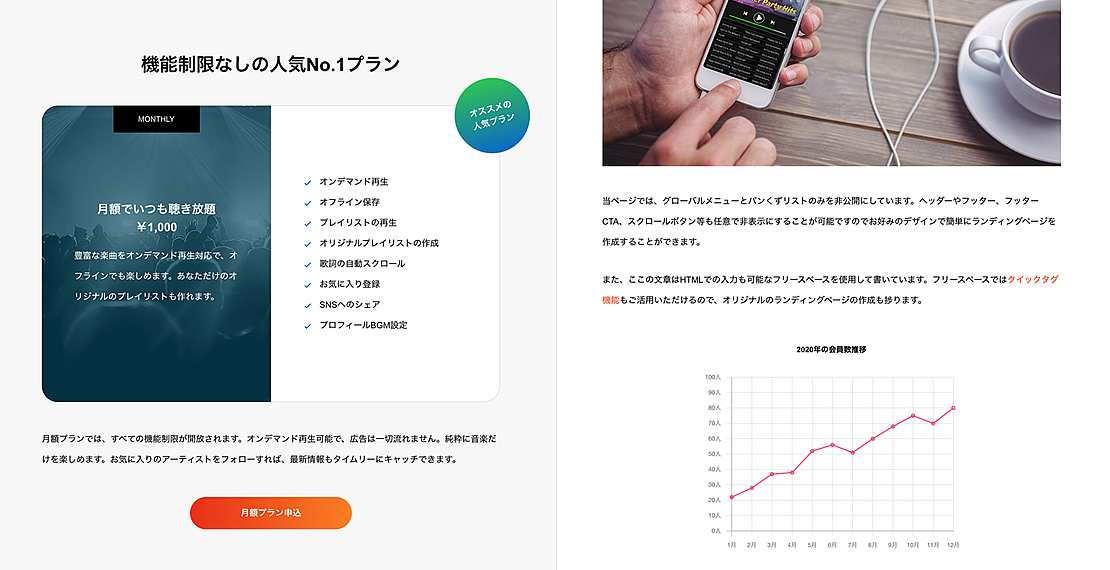 It's easy to build advanced sales plans and landing pages with a lower level page. DROP's pages can be used to guide you from the top to the lower level, or to create sales pages for advertising with an eye to increasing sales.
You can choose to show or hide the header, footer, menu, breadcrumb list, and other content on the pages, so you can freely build pages as your needs.
Contributes to SEO with valuable blog & news pages and a thick site structure.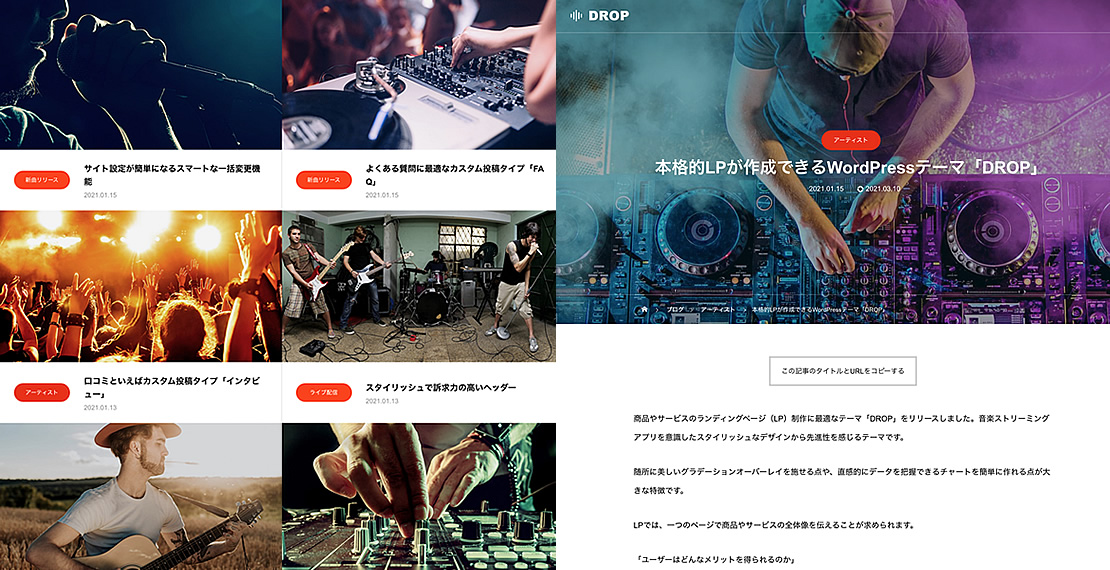 There is something special about every article page on DROP.
Why? Two reasons are that it has a dynamic header for all articles and a design that removes everything unnecessary, including the sidebar.
By making even ordinary articles look special, it raises the value of all pages. This is very beneficial to your web strategy. This is because the strength of the Internet is its "archive," and this accumulation creates a stable and long-term ability to attract customers.
Use the blog page to build a strong business.
Cool action. Parallax and fade animations increase the value of your site.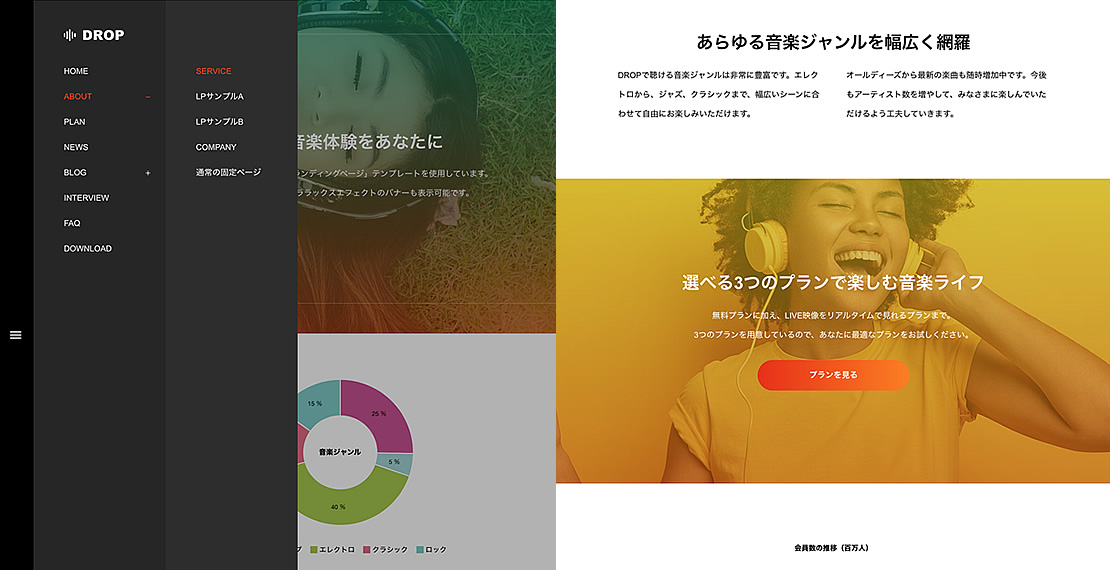 Changing the movement of a website can make a big difference in the impression and comfort it gives to users. The sophistication of a website depends on its movement.
DROP takes care of the movement (animation) part on every page from top to bottom. The speed, timing, and order are all finely calculated to make this happen.
If the movement is uncouth, it will create a tacky image by itself, which may directly affect the image of your business brand.
If you use DROP, you don't have to worry about that.
The TCD theme option allows for all kinds of initial settings, including color, font, and layout settings.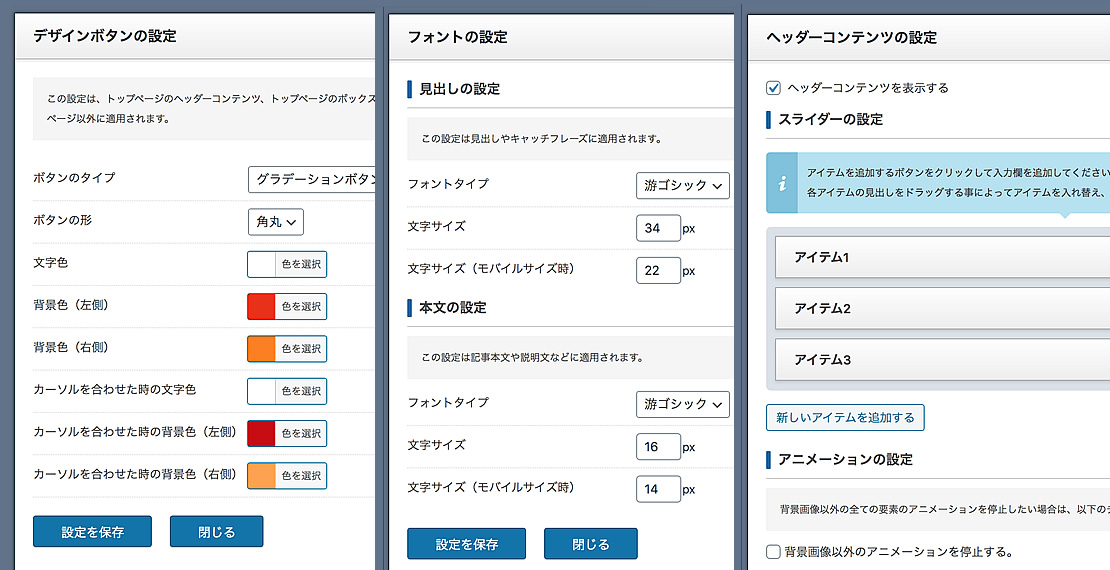 In general, building a website requires expertise, money and time. The "TCD theme option" is the solution to those problems.
It allows you to set the colors, fonts, layout, SNS settings, and where to put your content.
In the past, many beginner users have created websites with TCD. This has been made possible by a magical tool "TCD Theme Options".
Smooth animations on a smartphone will have the same impact as on a PC screen.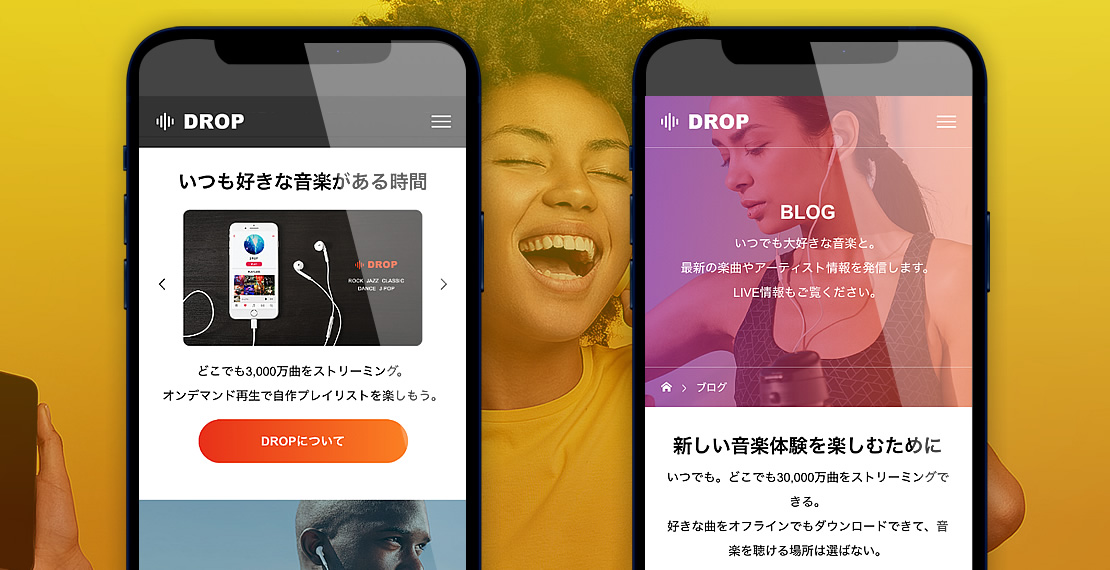 Before purchasing, please check the demo site on your actual smartphone. We want you to actually experience the comfort of the product by viewing it on the actual device.
The animations, image sizes, and margins are all calculated to the perfect degree of precision.
Also, for important sections such as the top page, you can set different contents for PC and smartphone. You can set photos and catchphrases that are just the right size to be viewed on a smartphone.
A Smart WordPress Theme Will
Make Your Business a Success.
Your website's impression will surely change dramatically. Because "DROP" is smart.
Build a beautiful, cutting-edge landing page and accelerate your start-up business.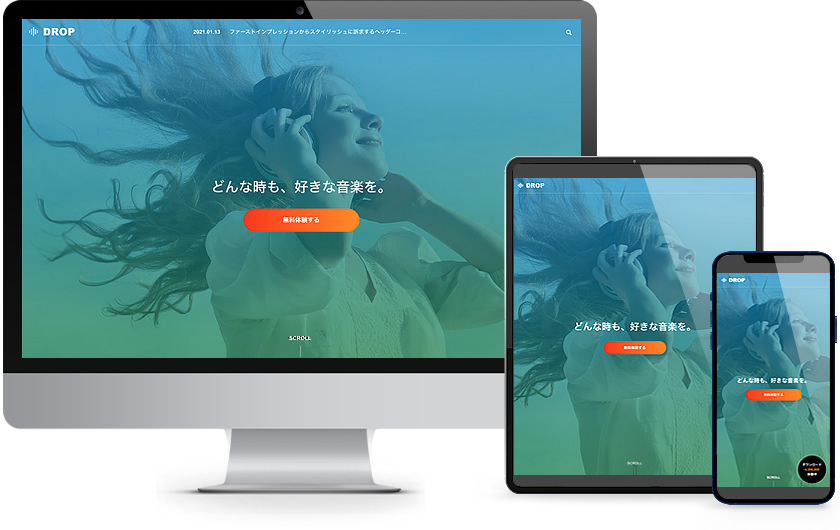 The advanced features of TCD theme support your website.
Responsive design (PC, tablet, mini tablet, smartphone)
Top page header (image slider, video, Youtube)
Header bar that can display alerts
Standard font (selectable from Arial, San Serif, and Times New Roman)
Global menu and drawer menu
New smartphone footer bar
Logo upload function (header, footer, mobile)
Loading settings (logo, tagline, animation, and 3 other types)
Custom CSS
Custom Scripts
Favicon setting
Custom color function (main, sub, text, hover, link)
Facebook OGP and Twitter Cards function
4 types of SNS buttons (Twitter, Facebook, Instagram, YouTube)
Adjust the size of registered eye catching images(regenerate thumbnails)
"Meta title" and "meta description" can be set for each page
Date, category, tag, contributor name and comment display function
New quick tags (Gutenberg compatible)
Google Map custom pin marker with logo setting
Chart functions (circle, horizontal bar, vertical bar, line chart)
Custom post type "NEWS"
Custom post type "FAQ"
Custom post type "Interview"
Custom post type "Review"
Hover Effect Settings (Zoom, Slide, Fade)
Parallax Effect
Customization function for 404 page
Designed protection page effective for member acquisition
CTA (footer, under article)
CTA measurement function
Native ad insertion function
Page template " Default"
Page template " Landing page"
Speedup settings (Emoji loading and code optimization)
Multi-language support for administration screen (Japanese, English)
Breadcrumbs list with microdata format structured markup applied
Theme option management to complete the initial settings
WordPress theme "DROP"(tcd087)
・A set of WordPress theme
・Download site (instruction manual, Q&A)
32,800 yen(tax included)
※If you use this product for build third party website, you will need to purchase a extended license of this product.
※You can download the product from My Page after payment by credit card or PayPal.
※By making a payment, you are deemed to have agreed to the Terms of Use.
※You will receive our free newsletter at your registered email address.
Required Environment
WordPress 5.X or higher and PHP version 7.2 or higher are required for the server environment.
For WordPress installation, please refer to here
IE support has been discontinued due to the transition to Microsoft Edge.
※Please read the Terms of Use before clicking the purchase button.