A wonderful blog design that can be changed in a variety of layouts.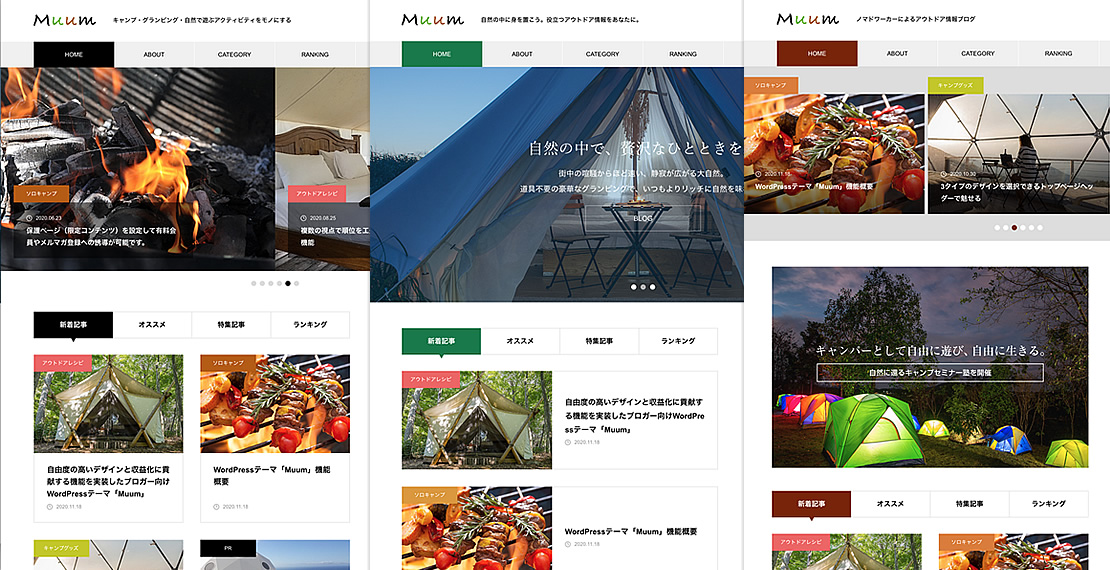 The WordPress theme "Muum" is a playful blog building template.
You can choose from three types of header designs and move the left and right side of the site bar. The header can be changed at any time to display a high impact eye catcher or a carousel, depending on your mood.
You can also have a free space (*see Demo C) under the header. You can use this space to promote your services or newsletter registration.
You can also change the loading screen to show the logo, and many other things with a single WordPress theme.
There are a lot of tricks such as attractive mega menus and hover action.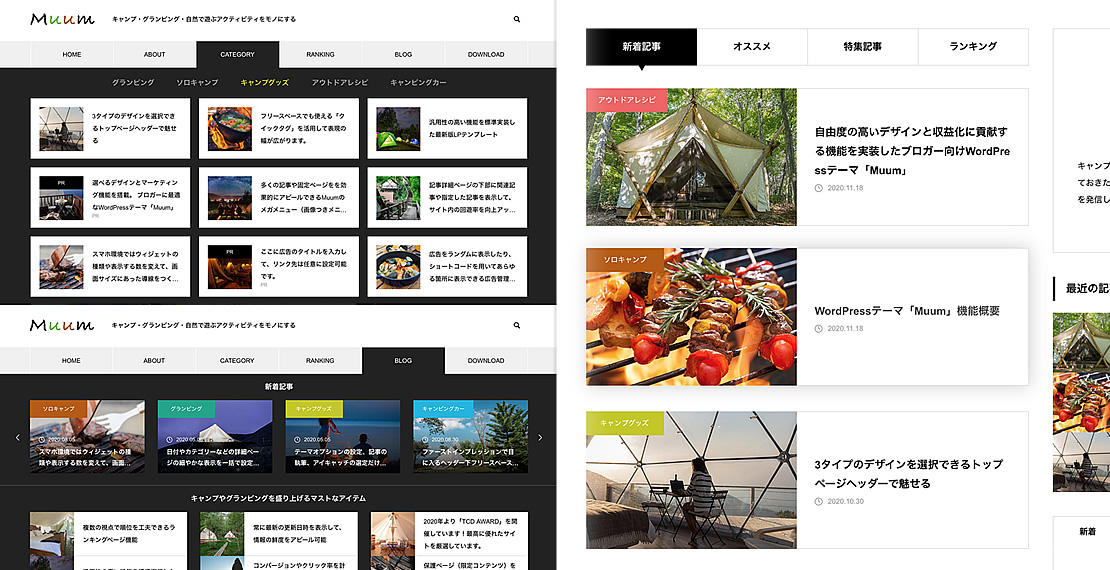 When you are running a media, it is very important to have a beautiful and comfortable look and feel. Muum is perfect in this respect.
The same goes for the mouse hover action. When you mouse over an article card in the archive, it floats up faintly and the eye catcher will expand. This delicate balance is what makes the user feel comfortable.
A well-calculated design makes a website pleasing to the user.
A variety of page designs and Landing Page template to support your marketing after operation.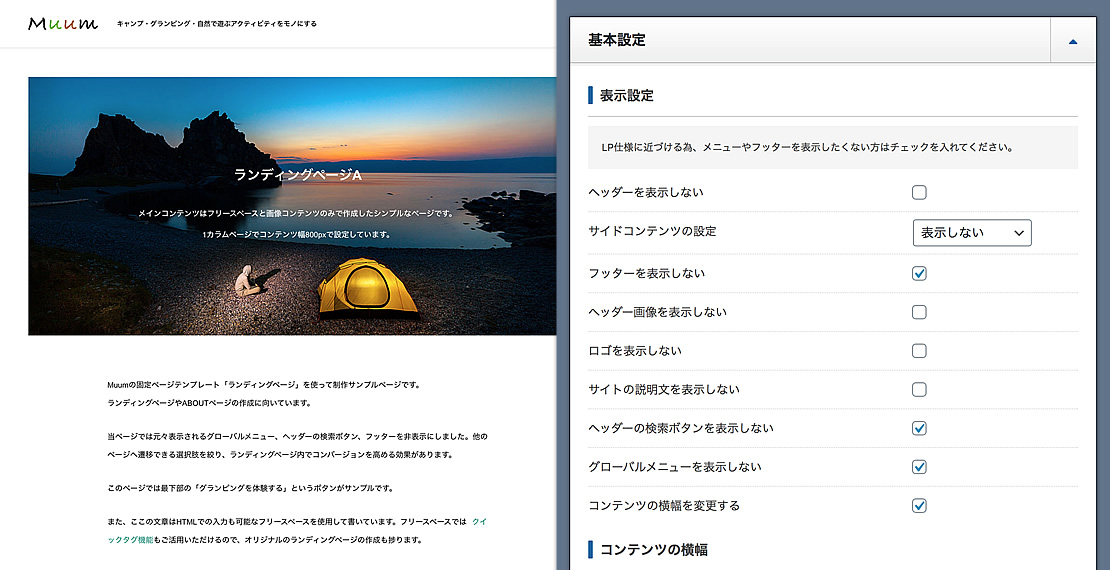 With Muum, you can create pages with a variety of layouts. For example, you can create a wide variety of LP as shown below.
・Landing Page (with logo, no menu, no footer, width 800 px)
・Landing Page (no logo, no menu, full width header, 900 px)
・Landing Page (with logo and menu, footer, 2 columns, width 740px)
It has the ability to create pages that allow you to select two columns, full-width headers, and the choice of displaying logos and menus. Moreover, since you can write with the WordPress editor, you can create advanced pages as if you were writing a blog.
Expand sales with a highly functional CTA that can measure impressions and conversion rates.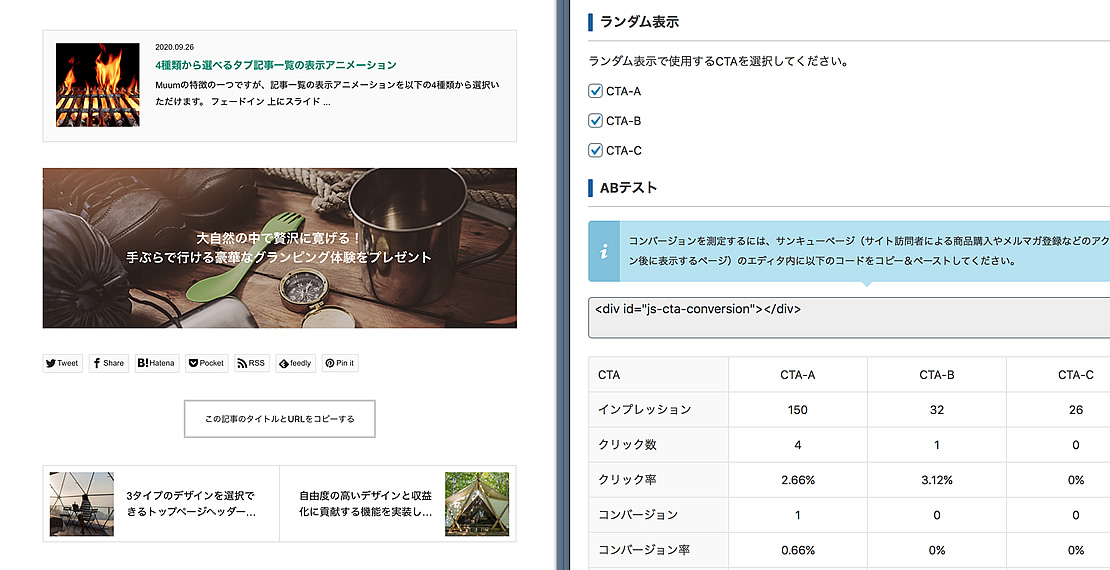 We have implemented a function to measure in detail the number of impressions, clicks, and conversions from CTA (banner ads) set in the blog.
There are two types of CTA: one that is always displayed at the bottom of the blog, and one that is naturally displayed at the bottom of the post. It is also possible to display only one of them.
This will greatly increase the number of leads you have to advertise your services. Multiple ads can be displayed & measured randomly, and AB testing is done automatically within WordPress.
All you have to do is leave the successful ad.
Use this revolutionary tool to increase your sales.
Display "native ad" at any interval. Increase your profitability with natural affiliate ad.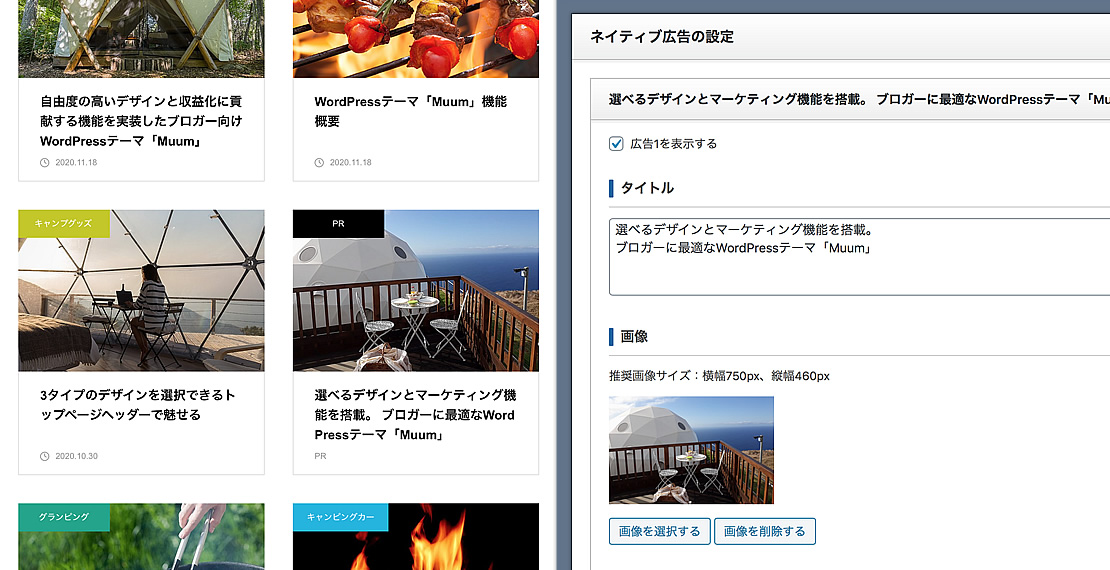 We have implemented a "native ad" feature that allows you to increase your revenue by placing ad between articles. Native ad is a natural way to monetize your business without having to make a sales pitch.
Multiple ads can be displayed randomly or set at any equal interval, so you can expose your users to a variety of ads without boring them. The ad space can be used to promote your products, or to help monetize your affiliate program.
This will contribute to raising the overall profitability of the media.
Make blogging more fun. Stylish balloons, buttons, and Google Maps can be used easily.

Muum provides a variety of quick tags to help you write articles comfortably. With the quick tags, you can use decorations for your articles with just one click.
For example, a wide variety of tags such as headlines, enclosures, article card links, Google maps, etc. are available. In addition, balloon, button, and underline settings can be changed in detail, including color, from the theme options.
Quick tags make your articles easier to read. Please use them to improve the quality of your articles.
Perfect for viewing on a mobile phone. Easy to use mobile website that works as comfortably as an app.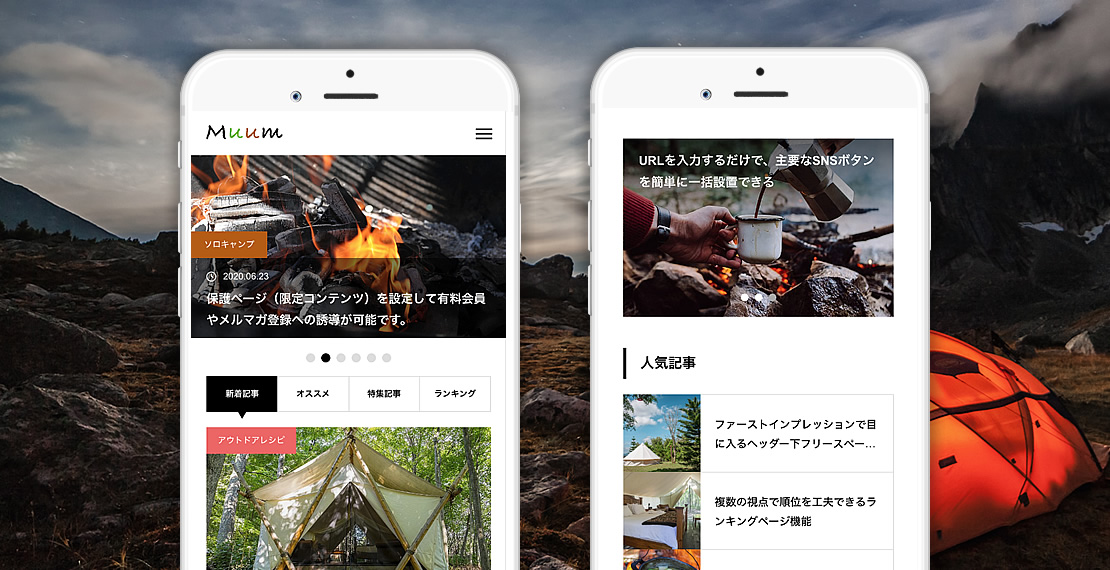 Simply reducing the width of the content to fit the screen size of the device is not enough to make it beautiful. This is because it will result in a site with a strange balance.
The secret behind the popularity of TCD's mobile design is simple. It's because we take the time and effort to create mobile design from scratch, not just make them responsive.
You can set different content for the top page and other important parts of the site for PC and smartphone. In other words, you can set different images and catchphrases. This will make your site look exceptional on a smartphone.
The blog is highly functional and can be easily customized with the TCD theme option.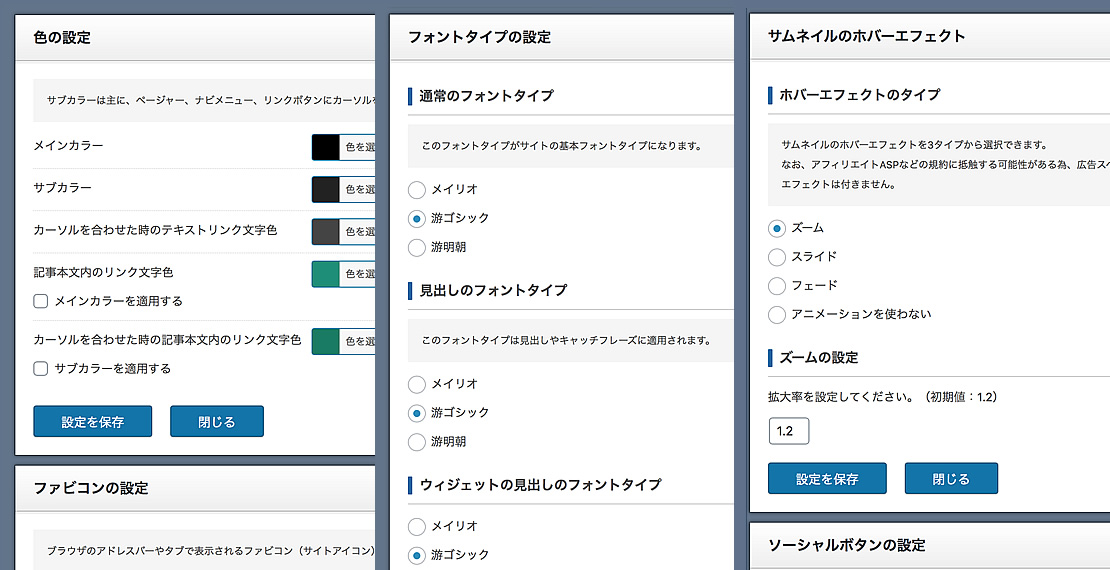 TCD comes with unique theme option feature. This makes it easy to customize your WordPress site; even staff with no expertise in HTML, CSS can do all the initial setup and construction.
For example, simple customization such as replacing images and catchphrases, changing colors and font sizes, etc. can be done from the theme options.
Updating and management tasks can be completed in-house. There is no need to outsource the management to an external production company.
Make the Best Blog With the Low Cost!
Blogging is a way to earn advertising revenue and a way to attract customers to enhance your online sales.
It's still an indispensable tool for online domination.
Therefore, blog can also survive the rapid online shift by adapting to modern marketing.
With Muum, you can create a sophisticated blog that stands out from the rest.
The advanced features of TCD theme support your website.
Top page header (image slider, video, Youtube)
Drawer menu
Header bar for displaying alerts
Theme options management to complete all initial settings after installation
Standard font (selectable from Arial, San Serif, and Times New Roman)
Following and fixed display function of global menu (PC/Smartphone)
New footer bar for smartphones
Logo upload function (header, footer, mobile)
Loading settings (logo, catchphrase, animation, and 3 other types)
Custom CSS
Custom Scripts
Favicon setting
Custom color function (main, sub, text color, hover color)
Facebook OGP and Twitter Cards function
4 types of SNS buttons (Twitter, Facebook, Instagram, YouTube)
Adjust the size of registered eye catching images(regenerate thumbnails)
"Meta title" and "meta description" can be set for each page
Date, category, tag, contributor name and comment display function
Multi-language support for administration screen (Japanese, English)
New quick tags (compatible with Gutenberg)
Google Map custom pin markers with configurable logo
Responsive design (PC, tablet/mini-tablet/smartphone)
Detail page layout type (2-column left/right)
Hover effect settings (zoom, slide, fade)
Customization function for 404 page
Designed protection page effective for member acquisition
"Free space" can be inserted under the header
CTA (footer, under article)
CTA measurement function
Native ad insertion function
Page template "Default "
Page template " Landing page"
Page template " Ranking"
Original widget "Designed Article List"
Original widget "Google Custom Search"
Original widget "Ranking"
Original widget "Archive List"
Original widget "Category List"
Original widget "Advertisement (random display function)
Higher speed settings (Emoji loading and code optimization)
Breadcrumbs list with microdata format structured markup applied
WordPress theme "Muum"(tcd085)
・A set of WordPress theme
・Download site (instruction manual, Q&A)
9,800 yen(tax included)
※If you use this product for build third party website, you will need to purchase a extended license of this product.
※You can download the product from My Page after payment by credit card or PayPal.
※By making a payment, you are deemed to have agreed to the Terms of Use.
※You will receive our free newsletter at your registered email address.
Required Environment
WordPress 5.X or higher and PHP version 7.2 or higher are required for the server environment.
For WordPress installation, please refer to here
IE support has been discontinued with the transition to Microsoft Edge.
※Please read the Terms of Use before clicking the purchase button.