It implements a number of pages to strengthen your recruitment capabilities.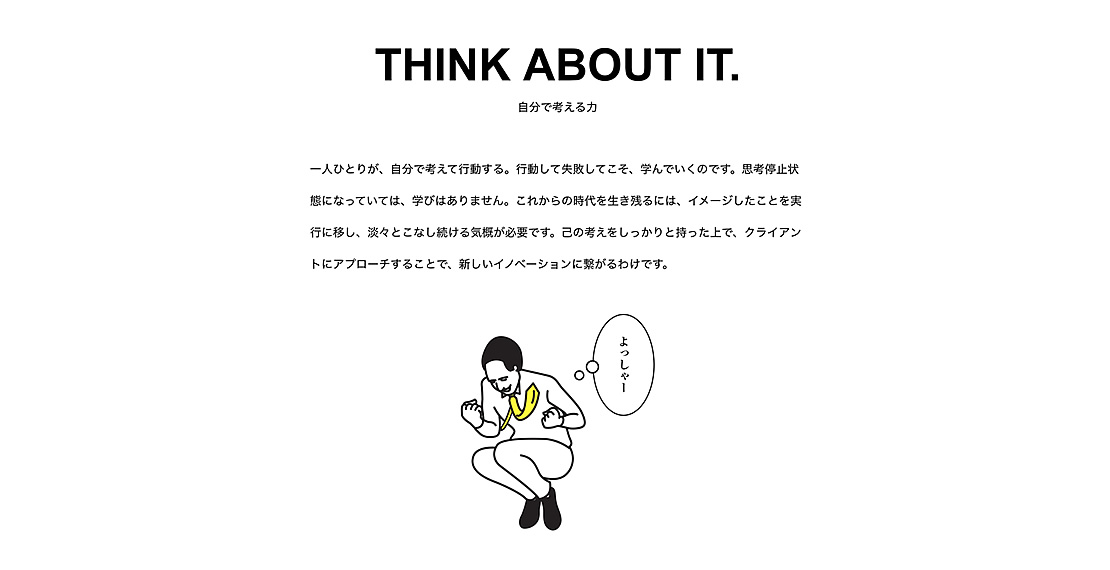 The best way to attract the people you need for your business is to tell them what your company is all about. Let people know what kind of people work and what you are looking for.
What you need is not only the recruitment information, but also the entire business, including the voices of the president and the people who work there, and their passion for the product. The first step in building a good team is to tell them what you want to do together, rather than simply listing the benefits.
It has all the necessary pages. All you need to do is to fill in the contents according to the layout, and you can complete the business description, company history, and interview pages.
Build a momentum website and use the flexible top page to attract high quality talent.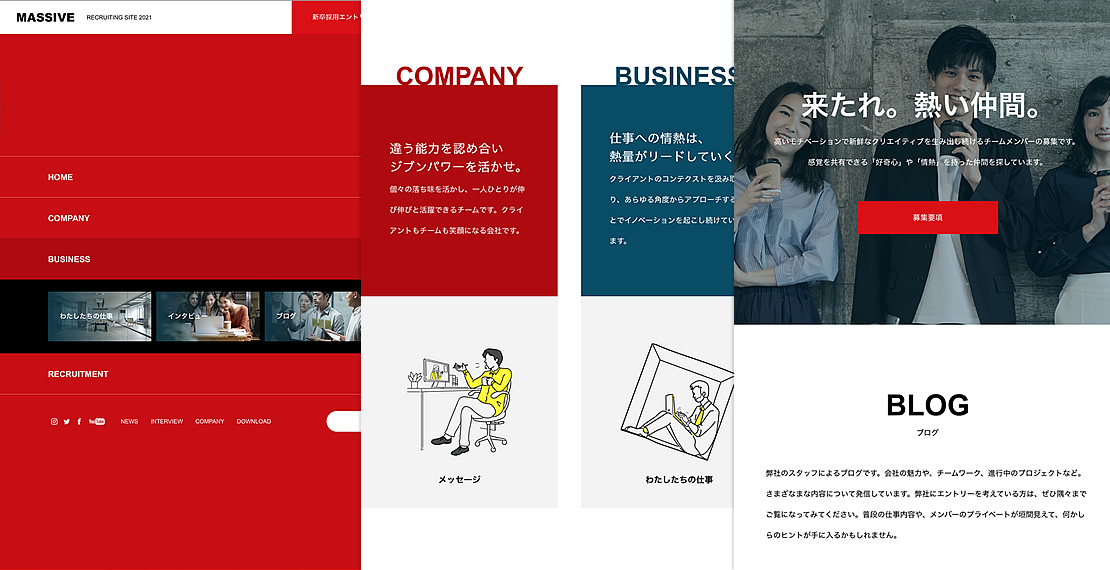 The top page of "MASSIVE" is designed to appeal to the senses. This is because the most direct way to convey passion and momentum for work is visually.
The top page itself is structured like a landing page, with photos, videos, and catchphrases scattered throughout. The user is free to change the structure of the top page.
The top page of MASSIVE is designed to appeal to the viewer's senses. It can be freely constructed, either using the template used in the demo site as is, or using the free space to add your own content. You can also change the order of the contents and edit them. MASSIVE is a WordPress theme where human passion is the main character.
Create a unique first view and your own header with the advanced editing functions.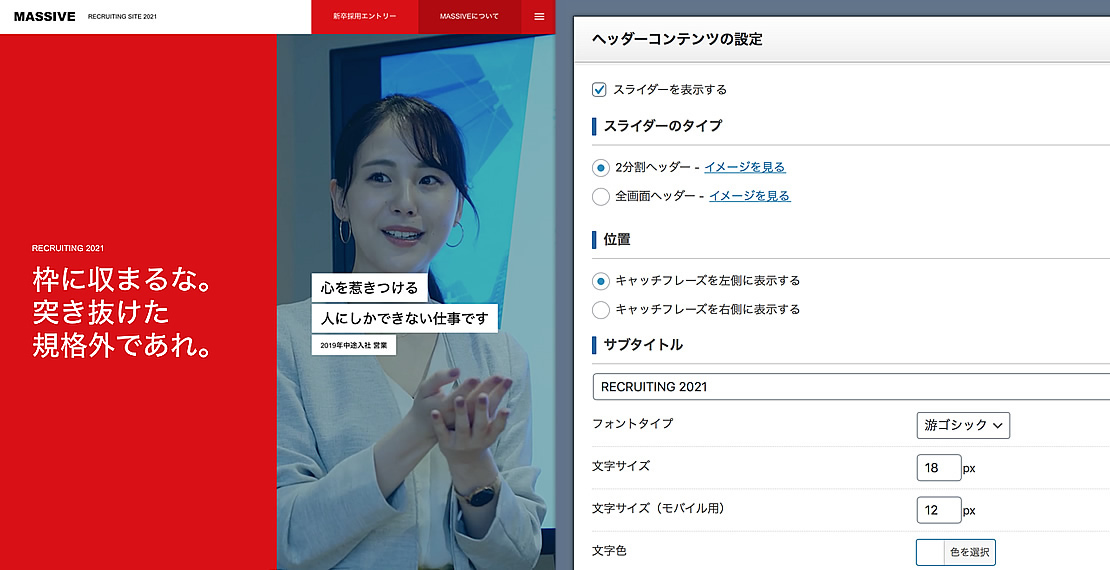 The header is the place where the user's first impression is made. It is the most important part to create.
The header of "MASSIVE" can be created freely. It can be split in two as shown in the demo, or you can choose full screen. The right side of the slider (can be changed to the left) can be used to upload images or video. You can also change the font size and color of the catch copy.
The header function is quite flexible, making it easy to create your own website.
You can easily create an interview page that maximizes your company's appeal.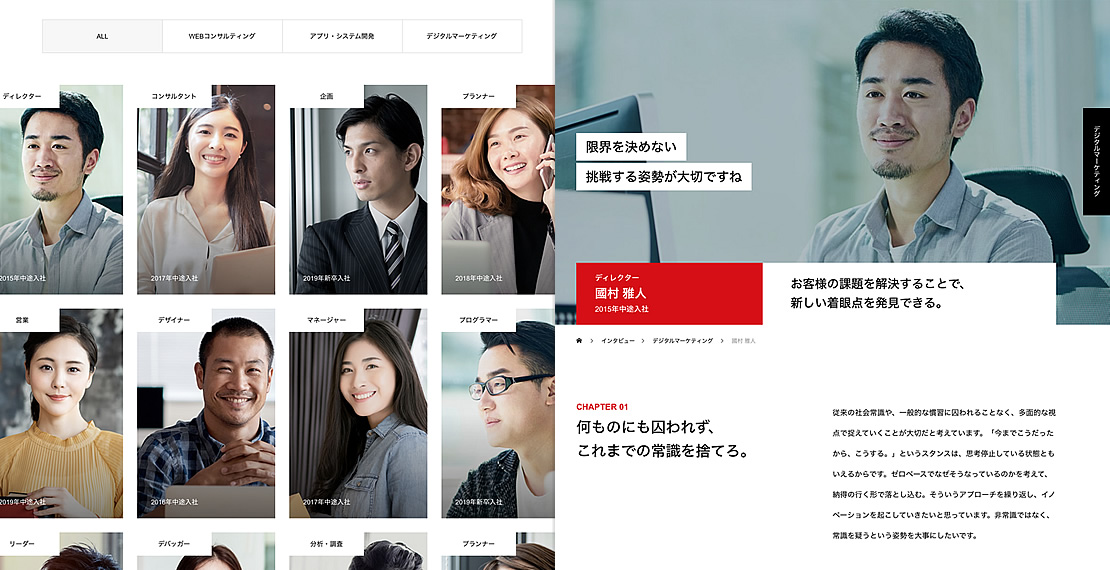 Job seekers want to know what kind of people are working there. We have prepared a staff interview page that is perfect for conveying this information.
It is a custom post type, so it is as easy to create as writing a blog.
Interview page
List of interviews
What do you think? You can create such a beautiful page without any technical knowledge.
The elements that move people's hearts, such as animation and parallax, reside in the details.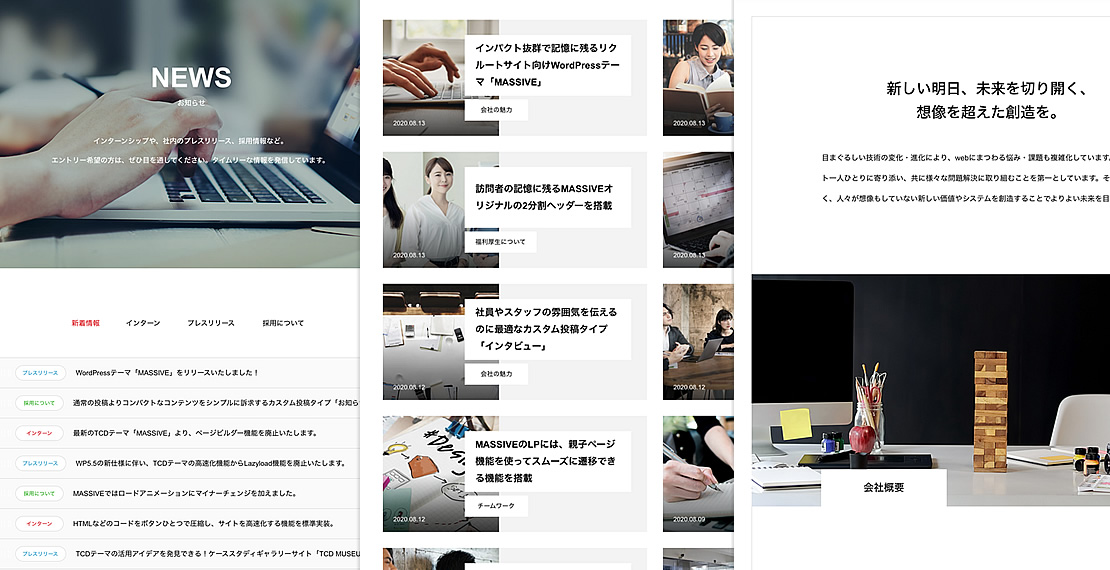 The reason why all TCD themes are regarded as beautiful is because of the attention to detail. Every element, margin and movement has meaning and is built on a pixel level.
For example, the parallax effect is used on the top page, but it does not mean that it should be used everywhere. There is a philosophy here that it is not enough to just adopt the latest fad or new technique.
The movement and animation of the content as it is displayed also has meaning. These details are the building blocks of the design, and they are what make it striking.
Landing page production package with a wide variety of templates and options.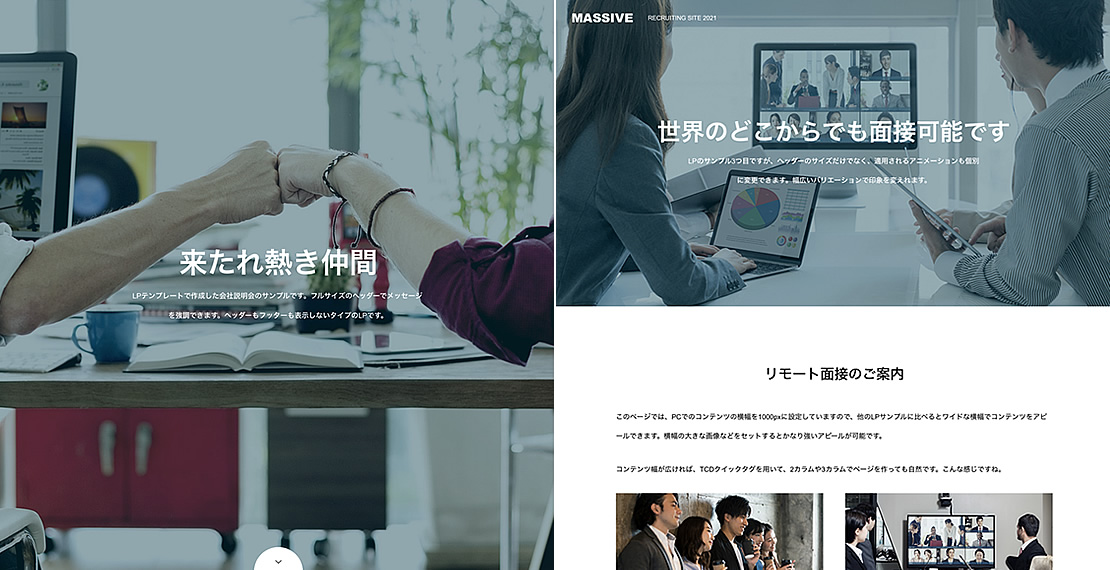 TCD is a WordPress theme that focuses on LP. This is because LP have a big impact on sales.
MASSIVE also includes highly flexible LP creation features.
For example, you can configure various settings such as header/footer, content width, animation, etc.
・LP (no header, no footer, 730px wide)
・LP (with header and footer, width 800px)
・LP (no header, with footer, width 1000px)
Of course, it is beautifully designed.
Perfect for viewing on a mobile phone. Because, we have designed it from scratch.

To make it look beautiful, you cannot just reduce the width of the content to fit the screen size of the device. It will result in a site with a strange balance.
The secret behind the popularity of TCD's mobile design is simple. It's because we take the time and effort to create mobile designs from scratch, not just make them responsive.
You can set different content for the top page and other important parts of the site for PC and mobile, such as images and catchphrases. This will make your site look exceptional on a smartphone.
With the TCD theme option, even beginners can easily create a beautiful website.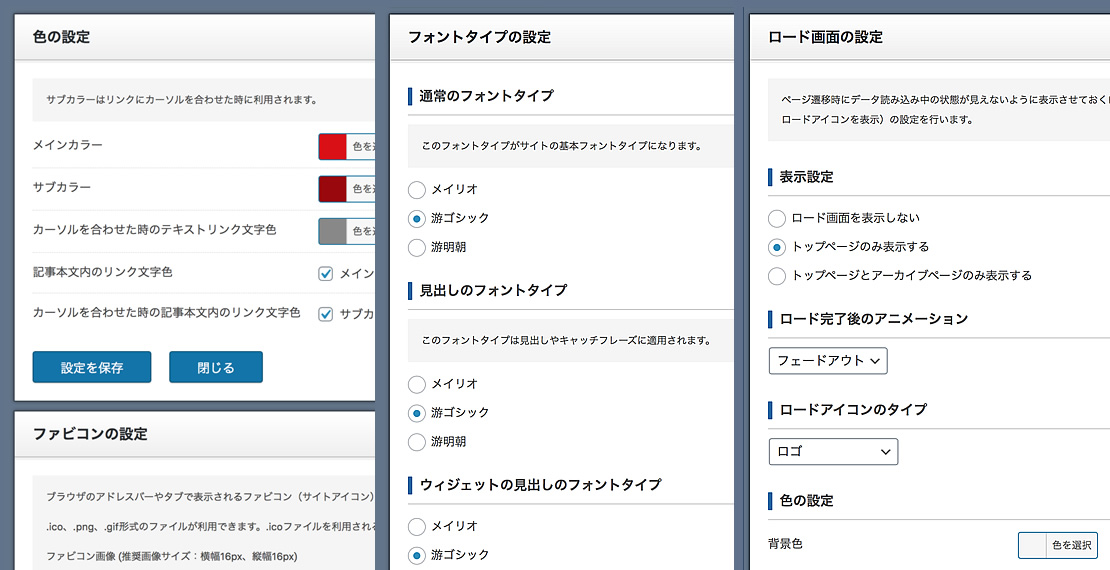 TCD comes with its own theme option feature. This makes it easy to customize your WordPress site; even staff with no expertise in HTML, CSS, can do all the initial setup and construction.
For example, simple customization such as replacing images and catchphrases, changing colors and font sizes, etc. can be done from the theme options.
Updating and management tasks can be completed in-house. There is no need to outsource the management to an external production company.
To Build a Good Team,
You Need a System to Attract Talented People.
A team is made up of people. A single encounter can transform a business in a big way. In addition to that, the circulation of people internally is also necessary for the revitalization and metabolism of teams and organizations.
In this day and age, attracting customers through the Internet has become the norm, and the same goes for recruiting. It is essential to have this system in place. Companies that are actually successful in recruiting are making efforts to attract people by devising their own job sites.
Make your company's own recruitment website with "MASSIVE". If you start preparing now, you will naturally have a system that attracts good talents in a few years.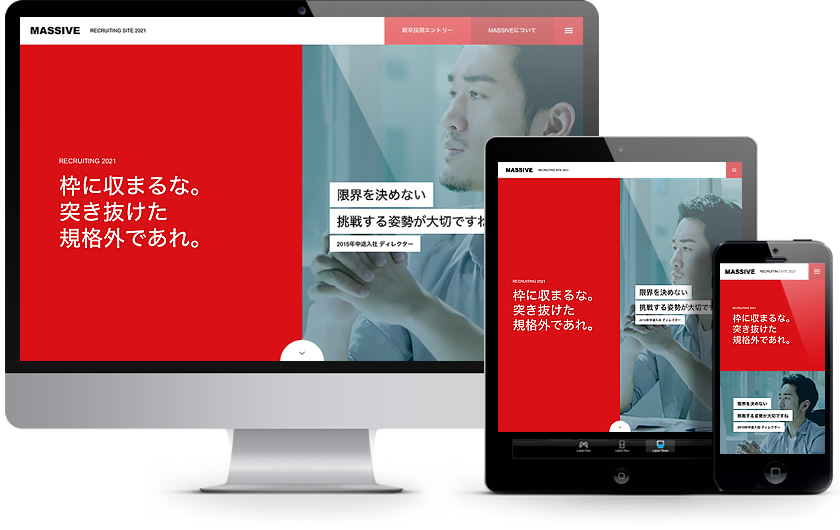 The advanced features of TCD theme support your website.
Top page header (image slider, video, Youtube)
Drawer menu
Header bar for displaying alerts
Theme options management to complete all initial settings after installation
Standard font (selectable from Arial, San Serif, and Times New Roman)
Following and fixed display function of global menu (PC/Smartphone)
New footer bar for smartphones
Logo upload function (header, footer, mobile)
Loading settings (logo, catchphrase, animation, and 3 other types)
Custom CSS
Custom Scripts
Favicon setting
Custom color function (main, sub, text color, hover color)
Facebook OGP and Twitter Cards function
4 types of SNS buttons (Twitter, Facebook, Instagram, YouTube)
Adjust the size of registered eye catching images(regenerate thumbnails)
"Meta title" and "meta description" can be set for each page
Date, category, tag, contributor name and comment display function
Multi-language support for administration screen (Japanese, English)
Google Map custom pin markers with configurable logo
Responsive design (PC, tablet/mini-tablet/smartphone)
Detail page layout type (2-column left/right, 1-column)
Hover effect settings (zoom, slide, fade)
Customization function for 404 page
Designed protection page effective for member acquisition
Custom post type "News"
Custom Post Type "Interview"
Page template "Default"
Page template " Accordion"
Page template " Landing page"
Original widget "Designed article list"
Original widget "Google Custom Search"
Original Widget "Archive List"
Original Widget "Category List"
Original widget "Ad (random display function)
New quick tags (compatible with Gutenberg)
Higher speed settings (Emoji loading and code optimization)
Breadcrumbs list with microdata format structured markup applied
WordPress theme "MASSIVE"(tcd084)
・A set of WordPress theme
・Download site (instruction manual, Q&A)
25,800 yen(tax included)
※If you use this product for build third party website, you will need to purchase a extended license of this product.
※You can download the product from My Page after payment by credit card or PayPal.
※By making a payment, you are deemed to have agreed to the Terms of Use.
※You will receive our free newsletter at your registered email address.
Required Environment
WordPress 5.X or higher and PHP version 7.2 or higher are required for the server environment.
For WordPress installation, please refer to here
IE support has been discontinued with the transition to Microsoft Edge.
※Please read the Terms of Use before clicking the purchase button.