Functional header in first view. You can complete the appeal of your service here.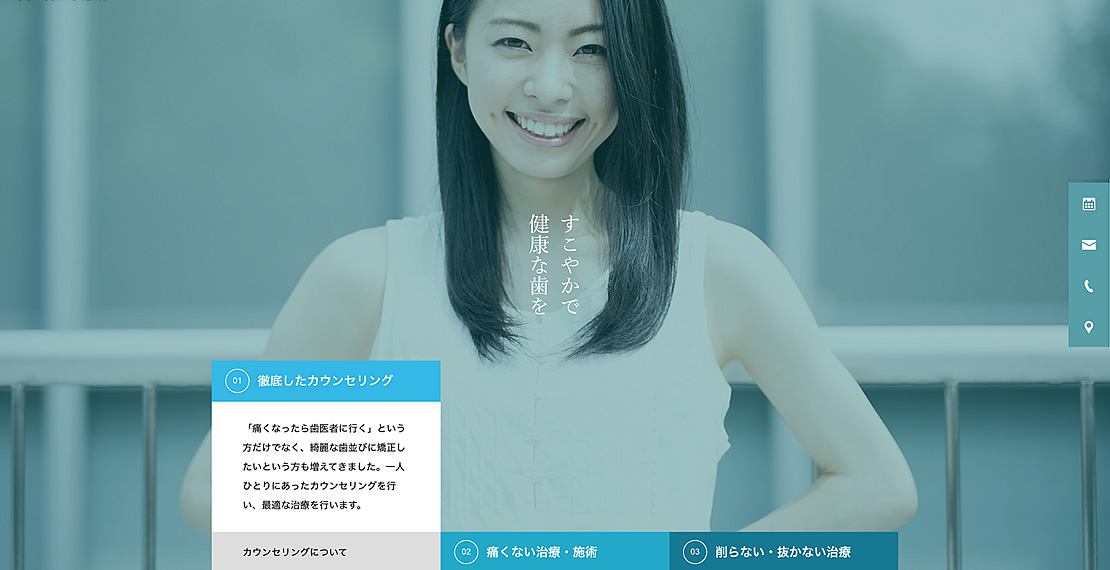 The "first view" is the most important part of a website.
The header of "CURE" dynamically displays a full-screen still image slider (video is also possible). It has a zoom in and out effect suitable for a medical institution, which contributes to a clean image.
This header is highly functional. The three pop-up box at the bottom of the header is responsible for instantly conveying the concept of the service. Of course, you are free to change the wording and font size of the tagline and choose vertical or horizontal writing.
Make your visit to the hospital smoothly. The slide-in on the side leads you to the online reservation.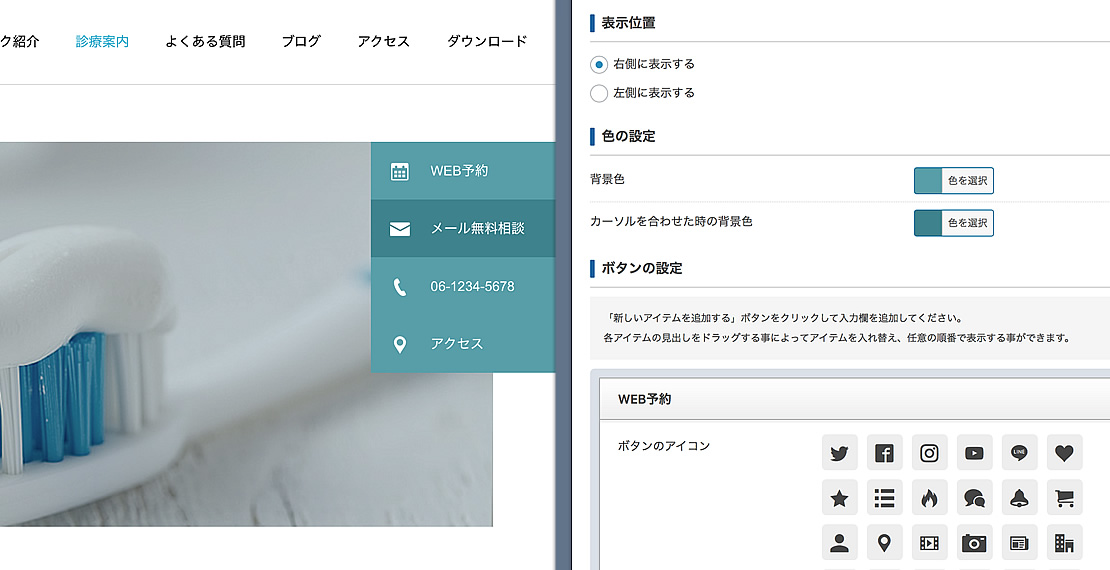 A good website is a good salesperson. In CURE, a sidebar icon can be placed on the right side of every page so that visitors can reach the goal without getting lost.
This site bar icon can be slid in by clicking on it. All pages of your website can be linked to online reservations and inquiries.
More than 30 sidebar icons are provided by default, including icons for social networking and chatting, which can be used for a wide range of purposes other than phone calls and reservations. Please use CURE if you want to create a more proactive traffic flow.
We have created templates for all the pages you need for your clinic. Anyone can easily recreate a cool page design.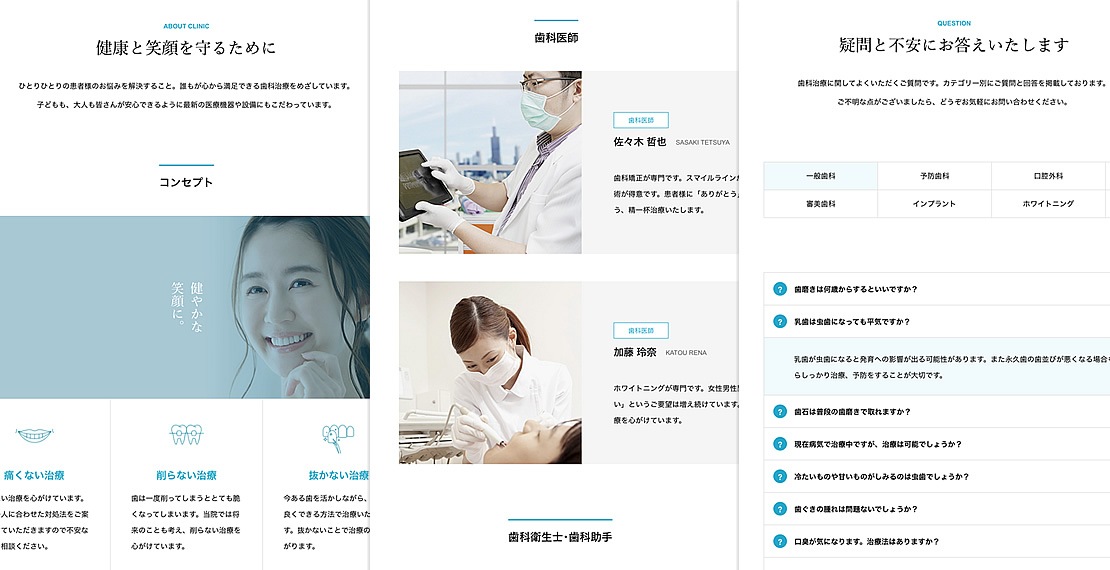 All the pages you need to run your site, such as About page, Staff page, FAQ page, etc., are provided by default as templates in this theme.
It is possible to build a website quickly at a low cost.
Because the necessary pages for hospital operation are prepared as templates.
Mobile design that allows smartphone users to operate comfortably. Perfect design creates peace of mind.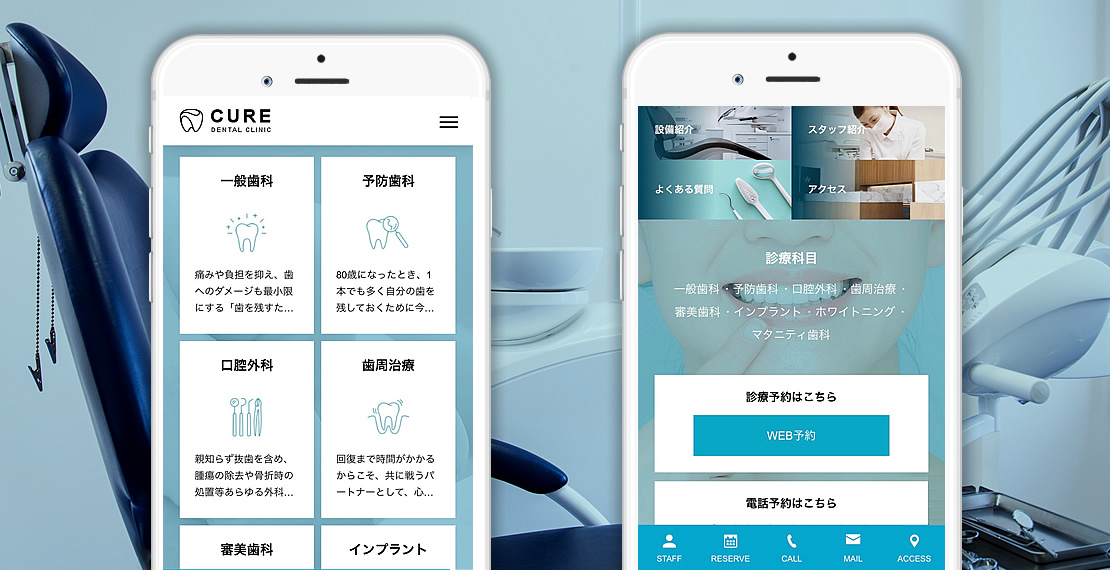 Many websites are mainly PC-based, and in a smartphone environment, only the layout is of the type that fits the screen size. In other words, they are not beautiful in a smartphone environment. However, in many industries where smartphone users are the mainstream, it is necessary to design websites in a smartphone-first manner.
Our theme is also developed to be "beautiful even when viewed on a smartphone". You can see this by viewing our demo site on a smartphone.
The first reason is that the site is designed for smartphones first, and the second reason is that different contents can be set for smartphones and PCs from the admin panel. In CURE, the top page can have different contents.
Be alerted to important information immediately.
This function is provided at the top of the header.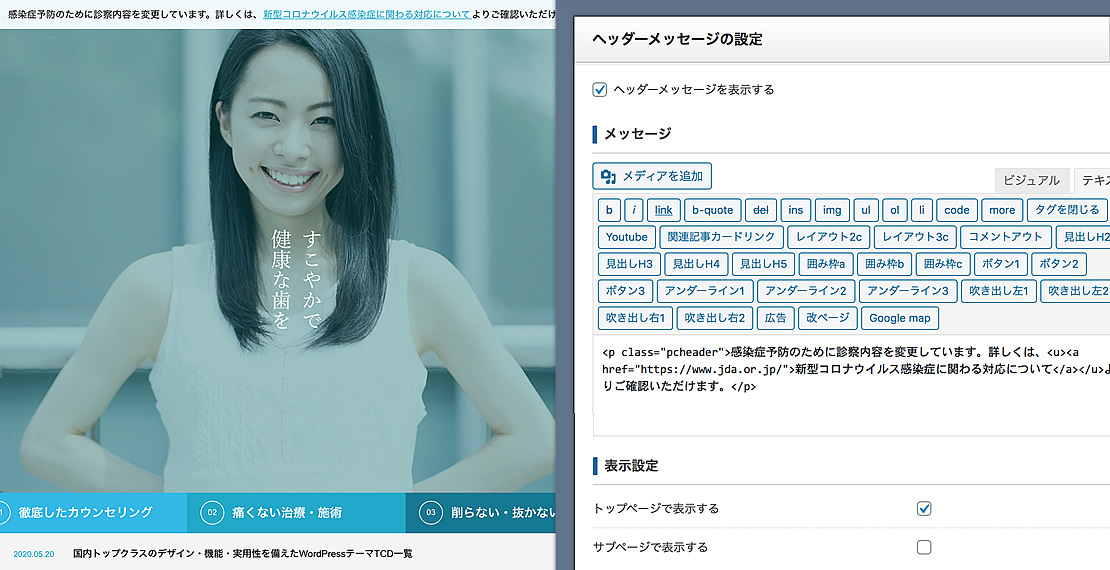 A header bar function is now available to make necessary announcements at any time. The content can be urgent announcements or service related announcements. It can be used as an "alert" to make sure that you are informed.
This notification function can be easily configured from the TCD theme options. You can change the wording, font color, background color, and even use HTML.
It can also be displayed on the top page only or on all pages. Since it has a high degree of freedom, it can be used not only for emergency announcements but also for various other purposes.
Please use it to send accurate information to your customers.
Includes landing pages that lead to conversions.
You can create cool LP just like writing a blog.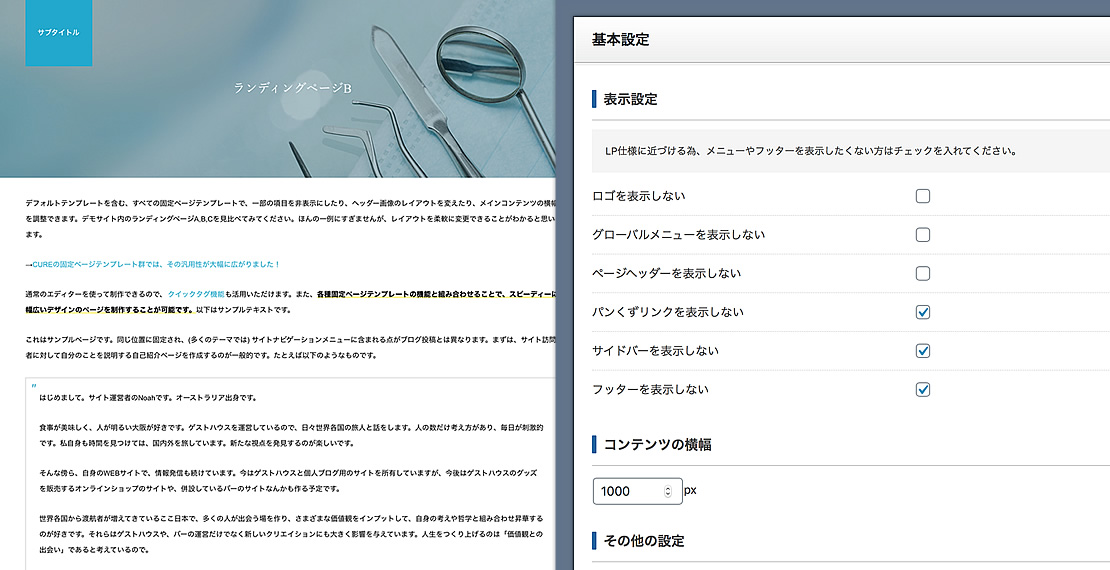 For more communicative information dissemination such as information sessions, events, and distribution of materials, it is essential to have an influx of visitors and sign-ups from the LP (Landing Page).
By having people enter their name and email address, and make reservations for the date and time of the event, you can increase the number of opportunities for continuous information transmission. In other words, you can acquire potential customers in the future.
With CURE, you can create the following three types of LP just like writing a blog without any technical knowledge. It is far superior to other LP creation tools available on the market.
CURE supports the ability to attract customers to your company, which is essential for website management.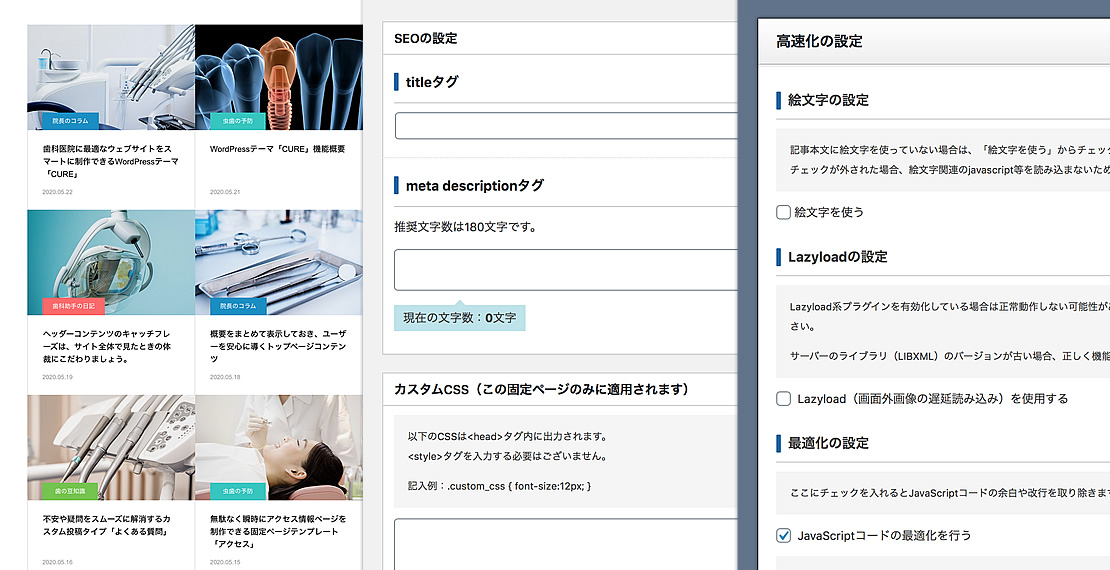 CURE is designed with a focus on how to attract as many people as possible. One of them is the blog contents.
If you write basic knowledge about medical care and operation records etc, which will leads to trust from patients.
Carefully written text by humans is necessary and effective because of the Internet. In addition, blog contents can be a source to attract customers through search engines and social networking sites.
In addition, this theme has a lot of features for SEO. For example, you can set the site display speed up, and you can set meta titile meta description for each post. If you can secure a pathway to attract customers from search engines, you will be able to run your business more stably.
No technical knowledge required.
TCD's unique theme options will help you.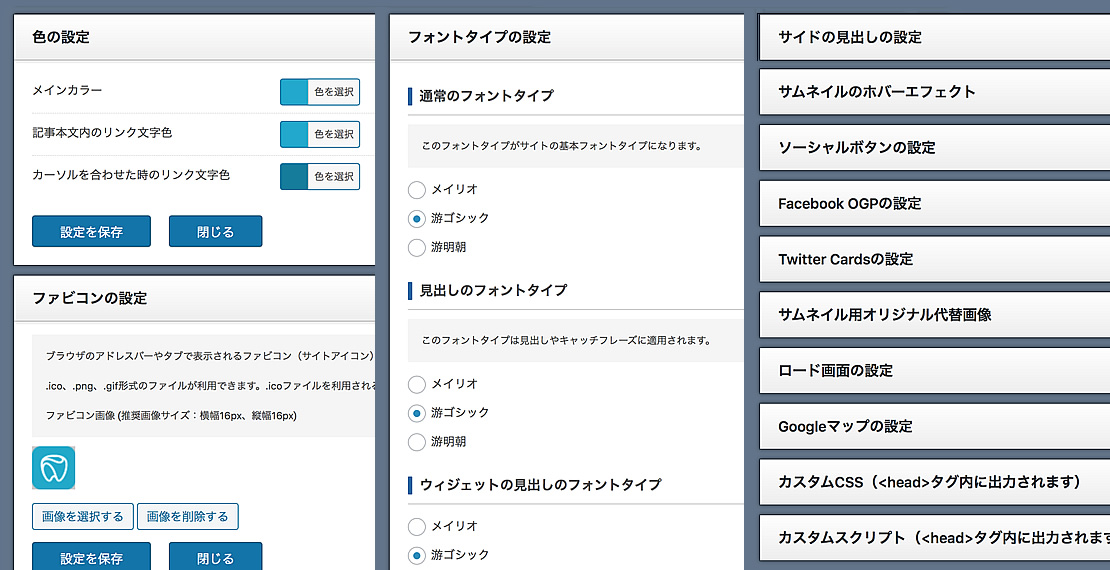 TCD comes with its own theme option feature.
It is easy to customize a WordPress site, so even staff with no specialized knowledge of HTML or CSS can do the initial setup and build the site.
Also, simple customization such as replacing images, changing colors and font sizes can be done from the theme options, so updating and management tasks can be completed in-house.
There is no need to outsource management to an external production company that is not familiar with your business. You can change the contents by yourselves anytime you want. So that you will update it more frequently and make it look great.
Preparing for Online Medical Practice
Get Ready for a New Era of Marketing Now!
Nowadays, "going online" is advancing in every field. Medical institutions are no stranger to this trend. At the same time, competition is also intensifying. It is a fact of life that those who lag behind in change will be weeded out.
So, what should we do? There is no problem if you introduce CURE. The web design and marketing functions are all new. And you can get them at a good deal.
It is no longer the case that websites are created from scratch; the industry standard is to use well-calculated templates such as TCD themes. "Create and manage your own website." This is the first step to achieving the most effective web marketing.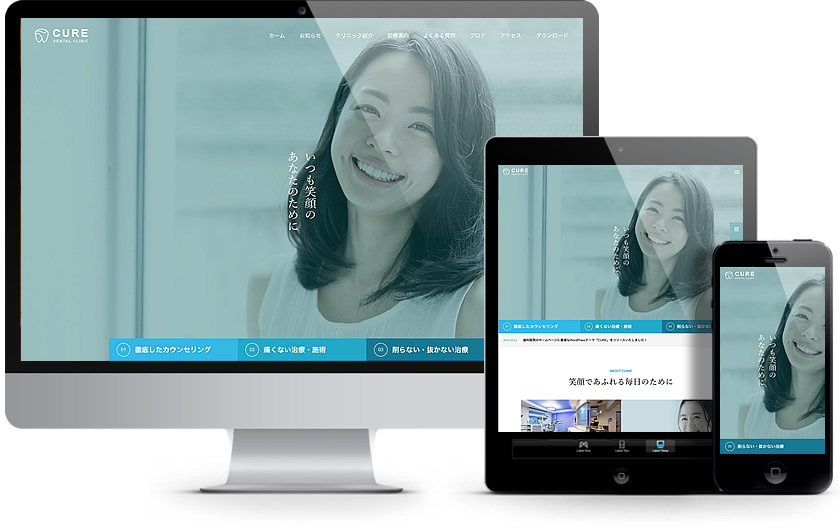 The advanced features of TCD theme support your website.
Top page header (image slider, video, Youtube)
Global menu with support for mega menu with image
Drawer menu
Header bar to display alerts.
Theme option management to complete all initial settings after installation
Google Map custom pin markers with your logo
Standard font (selectable from Arial, San Serif, and Times New Roman)
Header bar tracking and fixed display function (PC/phone)
New Footer menu bar for mobile phones
Logo upload function (header, footer, mobile)
Loading settings (logo, tagline, template)
Custom CSS
Custom Script
Favicon setting
Custom color function (main, text color, hover color, background color)
Facebook OGP・Twitter Cards function
4 types of SNS buttons(Twitter,Facebook,Instagram,YouTube)
Batch adjust the size of registered eye catching images (regenerate thumbnails).
SEO enhancement feature that allows you to set "meta title" and "meta description" for each page.
Date, category, tag, contributor name, comment, and SNS button display selection function
Responsive (PC, tablet, mini tablet, smartphone)
Layout type of detail page (2-column left/right, 1-column)
Hover effect settings (zoom, slide, fade)
Page builder function for intuitive article creation.
Ability to customize the 404 page
A well-designed protection page that is effective in acquiring members
Custom post type "News"
Custom Post Type "Medical Info (Service Introduction)"
Custom Post Types "FAQ"
Page template「ACCESS」
Page template「ABOUT」
Page template「STAFF」
Original widget "Designed post list".
Original widget "Google Custom Search"
Original Widget "Archive List"
Original Widget "Category List"
Original widget "Advertisement (random display function)"
New quick tags (for Gutenberg)
Speed-up settings (Emoji loading, lazy loading, code optimization)
Breadcrumb list with microdata structured markup applied
Multi-language support for administration screens (Japanese, English)
WordPress theme "CURE"(tcd082)
・A set of WordPress theme
・Download site (instruction manual, Q&A)
25,800 yen(tax included)
※If you use this product for build third party website, you will need to purchase a extended license of this product.
※You can download the product from My Page after payment by credit card or PayPal.
※By making a payment, you are deemed to have agreed to the Terms of Use.
※You will receive our free newsletter at your registered email address.
Required Environment
WordPress 5.X or higher and PHP version 7.2 or higher are required for the server environment.
For WordPress installation, please refer to here
IE support has been discontinued with the transition to Microsoft Edge.
※Please read the Terms of Use before clicking the purchase button.