Introduce the wonderful story of your store. Make the top page a special space that attracts customers.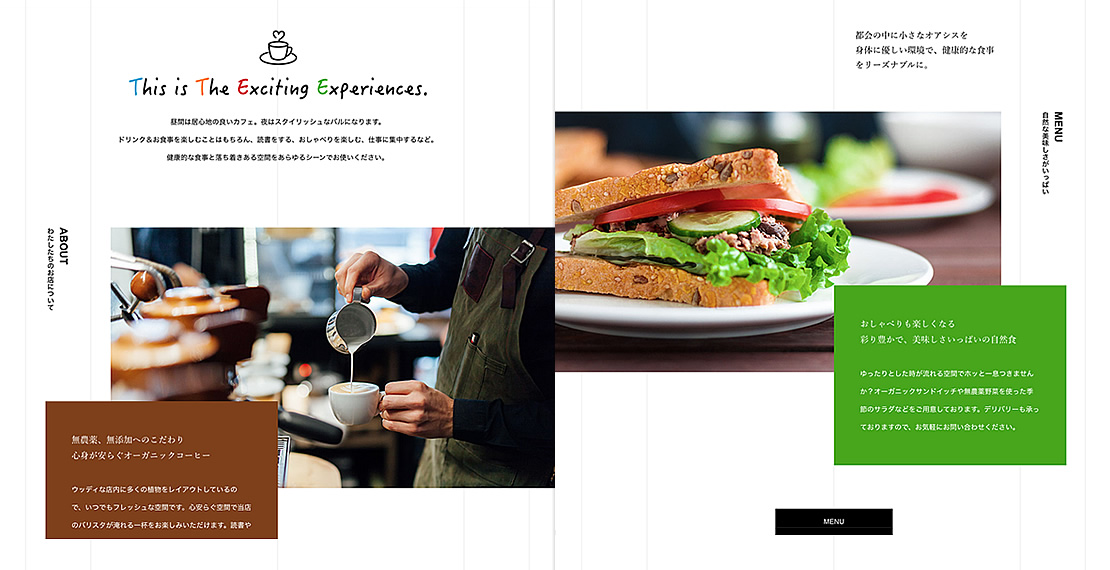 The top page of "Tree" makes customers want to visit your store straight away. Your store's story can be expressed on the top page. Tell some amazing story to your customers.
In this top page, you can use free space, designed contents, Image slider, Post carousel. You can add, delete, edit, and reorder easily. Of course, no HTML/CSS expertise is required.
A new concept of global menu! A big PR space by a transparent menu and a drawer displayed in the header.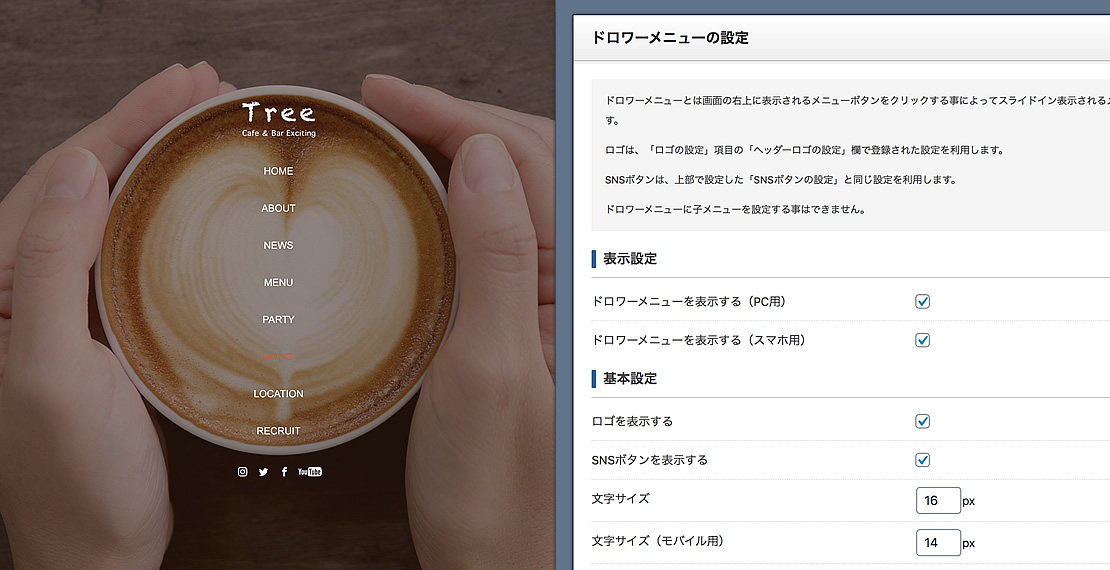 Tree's global menu is unique.
The first is that a lot of information can be displayed on the top of the header. The drawer and global menu are arranged in a visually pleasing way to store all the necessary information.
Secondly, the design is unprecedented. Not only the transparent menu, but the drawer menu in the upper right corner can also visually convey the vibes of the restaurant. The revamped menu design reinforces the advanced impression.
Use delivery service to help increase your store's revenue. The well-calculated structure of the site will help your store.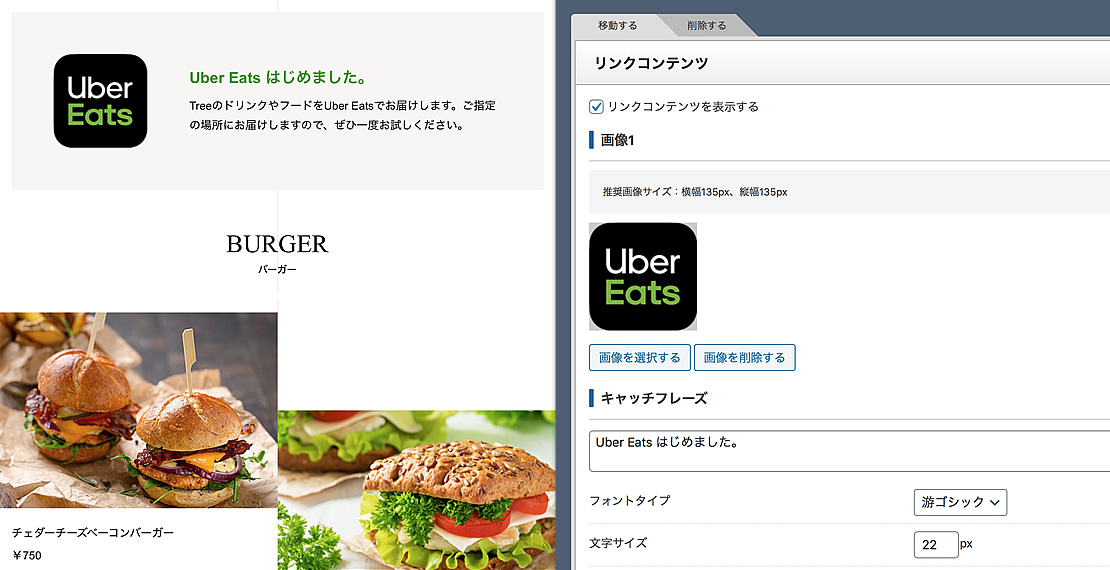 The rapid increase in the number of restaurants starting delivery services is a trend of the times. As people's lifestyles change, businesses need to create new shopping experiences.
"Tree" not only supports the branding of the store, but also provides a lead-in to the delivery service.
In addition to the UI designed for smartphone users, it also includes a page template that leads to the delivery service.
We hope that "Tree" will help you get out of the competition with other stores and make people love your store.
Enhance your marketing with a blog. Attract customers with stylish page design.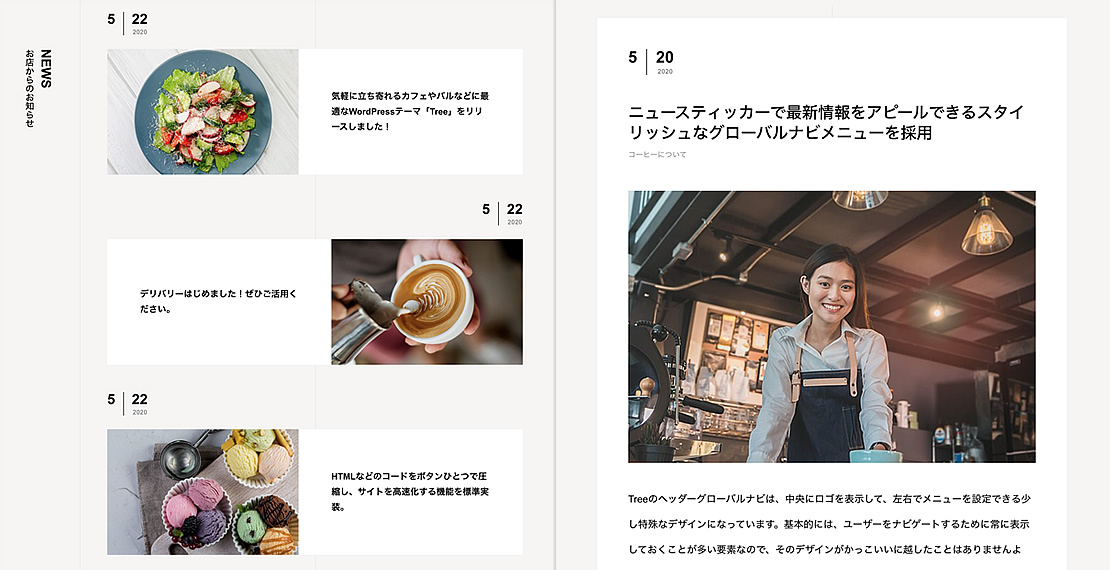 In order to attract customers on the Internet, you need contents. A blog is one of the most important parts of a successful web marketing.
Even for a restaurant site like Tree, if you have a lot of article content, it can help promote your restaurant from a different angle.
For example, you can write articles on the types of coffee beans and how to choose them, and convey the depth of your store's commitment and knowledge. This will lead to the spread of information on the Internet and increase the number of visitors to your store.
Tree's blog design is comfortable and easy to read.
The top page and menu are also sophisticated, making it a perfect WordPress theme for restaurants to gain fans.
Page templates allow you to create whatever you need such as events pages and recruitment pages, etc.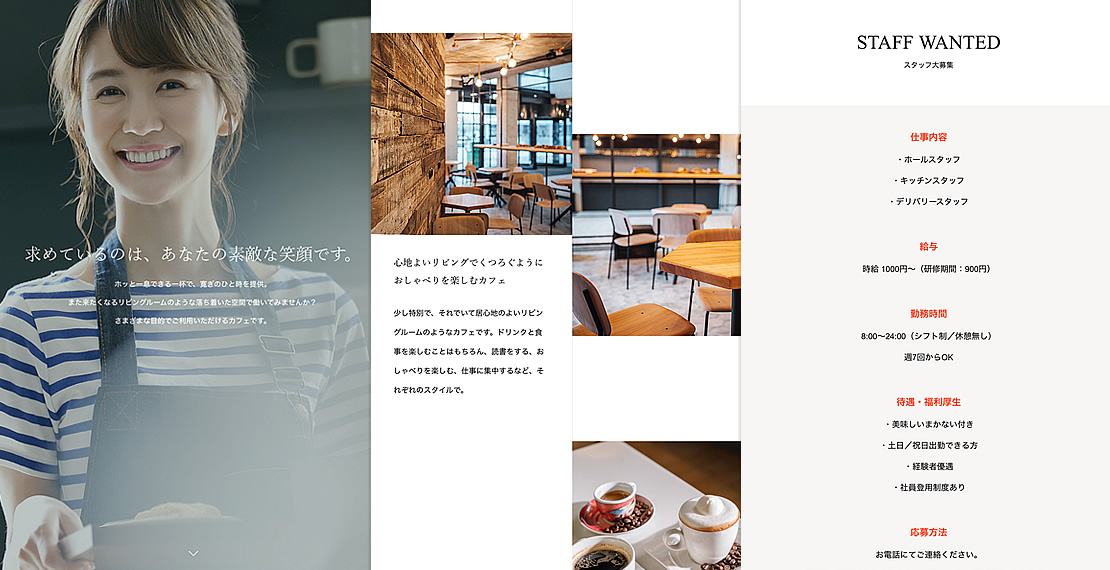 "Tree" makes it easy to create the following pages without requiring technical knowledge.
You can also create "landing pages (LP)" without unnecessary contents such as sidebars and other menus.
For example, you can use the LP to sell an assortment of coffee beans as a mail order service and collect customer lists. A customer list is a very important asset for doing business on the Internet. With Tree, you can do marketing that doesn't end with a simple store website.
The effective use of video will make every page sharper. Make people pay attention even in the footer.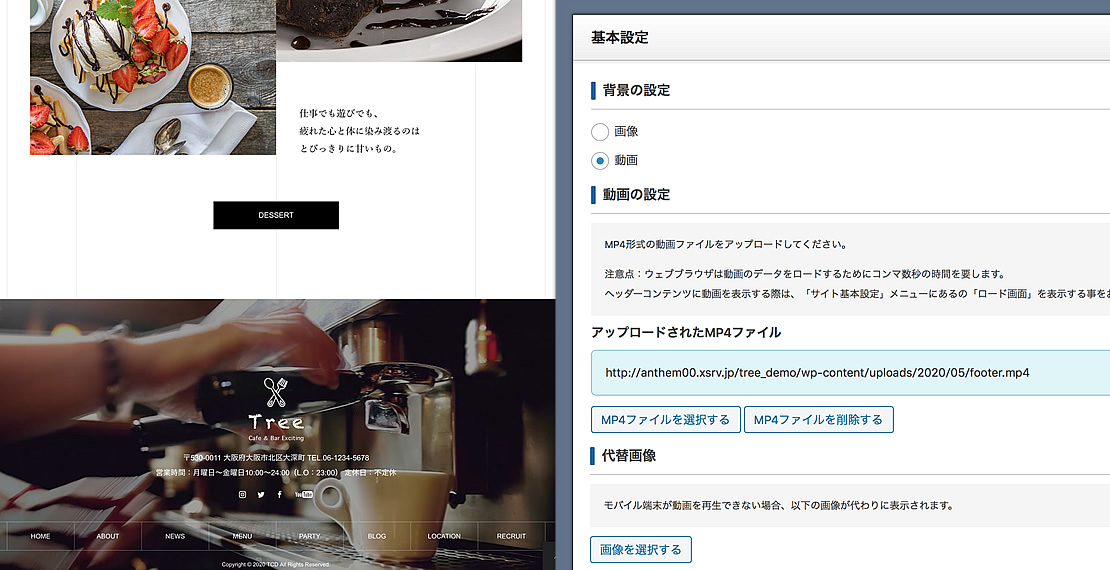 Tree allows you to set videos in the header and footer.
In the demo, the header is set to an image and the footer to a video. Many people will stop to look at the end of any page. This is the effect of video.
However, if you use too much video everywhere, it will inevitably give the impression of being too noisy. At Tree, we've struck the perfect balance.
By capturing the scene of your store on video and placing the video in the footer, you will be able to convey the good vibes of your store in a pleasant way.
A cool smartphone website is now in your hands. We support you in attracting customers to your store.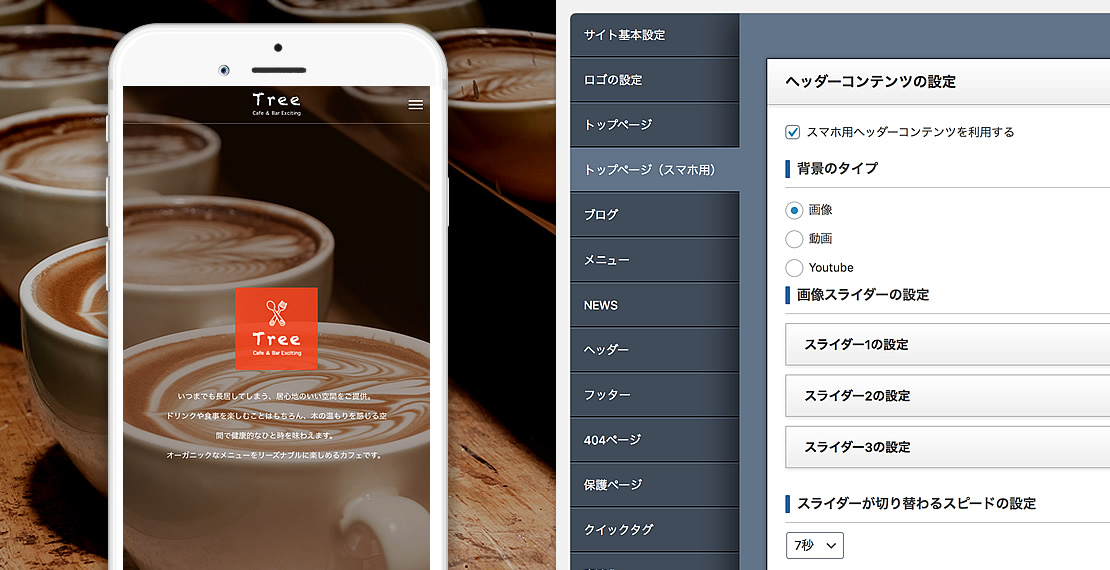 Many smartphone sites have not yet focused on how to present their content on a smartphone screen. However, the majority of users of restaurant websites browse on their smartphones. It is the design and navigation of the smartphone that should be emphasized.
With Tree, you can set up mobile-specific settings separately from PC settings. The top page can be set to have different content than the PC page. This means that you can easily optimize your website for smartphones by yourself, such as displaying different contents for smartphones or reducing the amount of text.
As for the animations, the contents are displayed pleasantly as you scroll, making the smartphone site attractive to viewers.
No technical knowledge required. TCD's original theme options help with customization.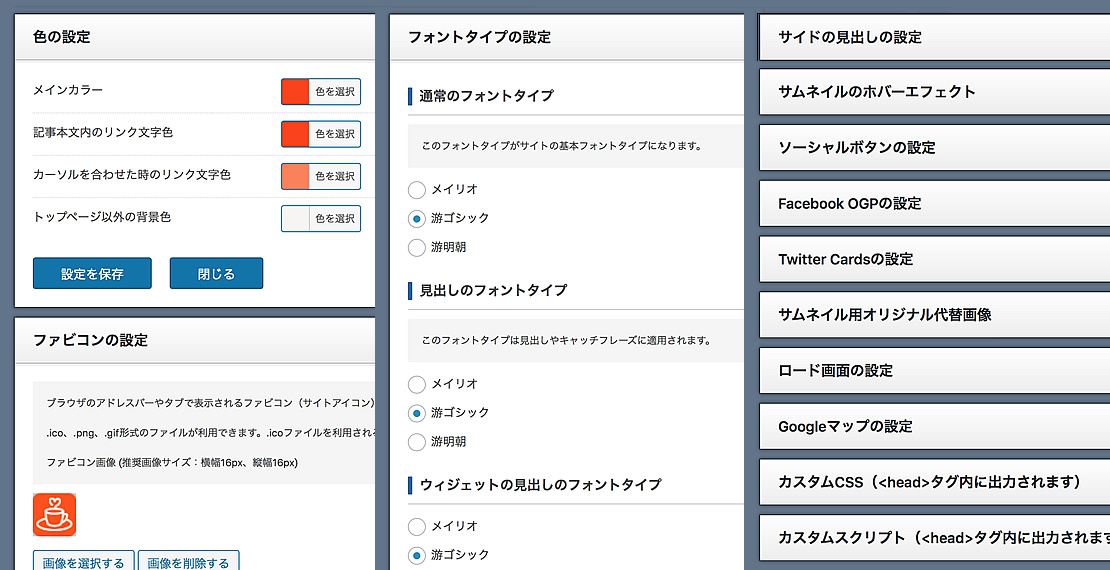 Once you use the TCD theme option, you will not be able to use any other. This is because it allows you to create your site exactly the way you want it without having to edit any code. If you want to change the font or color, or change the order of the contents on the top page, you can do so immediately.
In addition to design, you can also set up high speed settings related to SEO, and a wide range of customization is possible.
Therefore, it is possible to leave the management of the site to in-house staff or part-time workers.
It is also important to manage and update the site in-house, rather than hiring an external company that does not know what you are doing, in order to attract more customers. This is because the readers will be able to feel the love for the site. I hope that you will use Tree to create a wonderful website.
Attract More Customers and Welcome Them
With a Cutting-Edge Marketing Website That Is Ahead of Its Time.
What is the character and strength of your store? As all industries are under pressure to change, "uniqueness" is one of the keywords that will be required in the future.
If you chase after trends or do the same thing as the rest of the world, you will end up doing something similar to your rivals and get caught in a price war. For example, there was a time in the past when McDonald's, which was in the doldrums for a while in Japan here, added "udon" to its menu. The wrong decision can be a sign that you have lost your identity and original goodness.
However, on the other hand, if sales are not rising properly, there is a possibility that the "uniqueness" will be lost. This is because you may end up doing things you did not originally want to do. If you want to run your own store independently, it is important to convey your own style to your customers. And the reality is that the percentage of customers attracted by the Internet will continue to increase.
This is why your own website is necessary for your business. It will never be conveyed on platforms such as Google My Business, and in the end it will only be consumed as a comparison. Instead, I would like you to express your uniqueness on your own website.
With Tree, make a website that will be loved by many people and get a way to attract customers.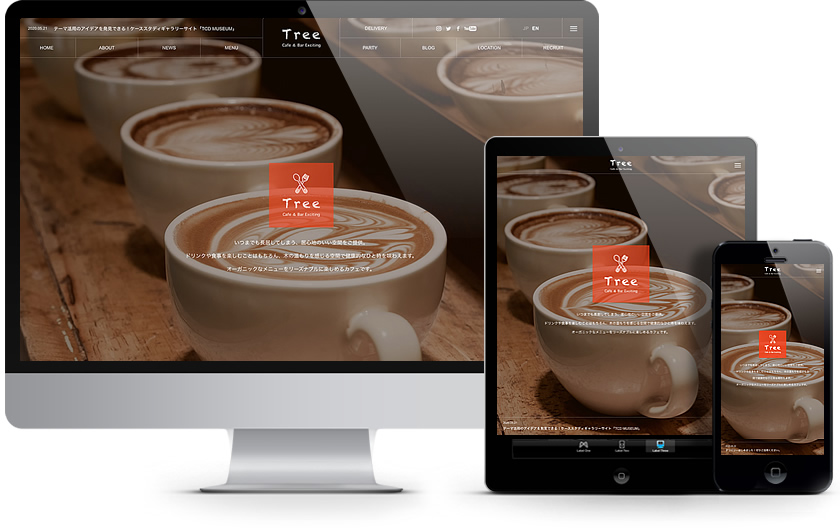 The advanced features of TCD theme support your website.
Top page header (image slider, video, Youtube)
Footer (image, video)
Global menu with support for mega menu with image
Drawer menu with configurable background image
Theme option management to complete all initial settings after installation
Google Map custom pin markers with your logo
Standard font (selectable from Arial, San Serif, and Times New Roman)
Header bar tracking and fixed display function (PC/phone)
Footer menu bar for mobile phones
Logo upload function (header, footer, mobile)
Loading settings (logo, tagline, template)
Custom CSS
Custom Script
Favicon setting
Custom color function (main, text color, hover color, background color)
Facebook OGP・Twitter Cards function
4 types of SNS buttons(Twitter,Facebook,Instagram,YouTube)
Batch adjust the size of registered eye catching images (regenerate thumbnails).
SEO enhancement feature that allows you to set "meta title" and "meta description" for each page.
Date, category, tag, contributor name, comment, and SNS button display selection function
Responsive (PC, tablet, mini tablet, smartphone)
Layout type of detail page (2-column left/right, 1-column)
Hover effect settings (zoom, slide, fade)
Page builder function for intuitive article creation.
Ability to customize the 404 page
A well-designed protection page that is effective in acquiring members
Custom post type "News"
Custom Post Type "Item Menu"
Page template "Access Page"
Page template "Design Page 1"
Page template "Design Page 2"
Original widget "Designed post list".
Original widget "Google Custom Search"
Original Widget "Archive List"
Original Widget "Category List"
Original widget "Advertisement (random display function)"
New quick tags (for Gutenberg)
Speed-up settings (Emoji loading, lazy loading, code optimization)
Breadcrumb list with microdata structured markup applied
Multi-language support for administration screens (Japanese, English)
WordPress theme "Tree"(tcd081)
・A set of WordPress theme
・Download site (instruction manual, Q&A)
25,800 yen(tax included)
※If you use this product for build third party website, you will need to purchase a extended license of this product.
※You can download the product from My Page after payment by credit card or PayPal.
※By making a payment, you are deemed to have agreed to the Terms of Use.
※You will receive our free newsletter at your registered email address.
Required Environment
WordPress 5.X or higher and PHP version 7.2 or higher are required for the server environment.
For WordPress installation, please refer to here
IE support has been discontinued with the transition to Microsoft Edge.
※Please read the Terms of Use before clicking the purchase button.