A special website promote the products. Spread the value of the brand around the world.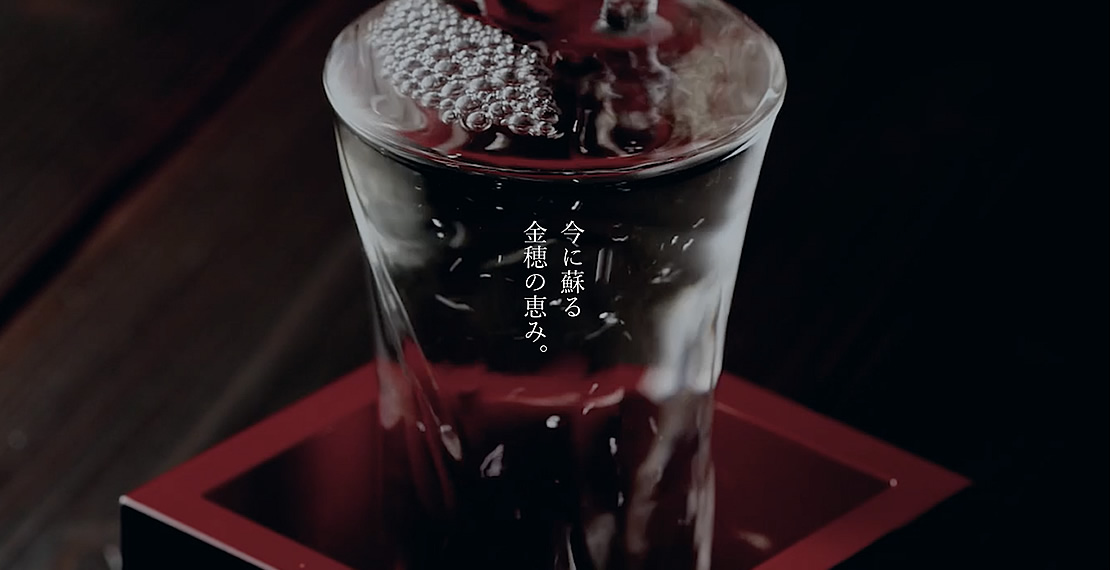 Brand power is important for a business.
A brand with a long history will never do a cheap job. They provide value by making the best products and impressing customers with the best performance.
"HAKU" is not just a website for selling products. A special site brings out the appeal of the product and makes it look cool. It contributes to building a unique brand by increasing its value and intention to purchase products.
If you want to stop price competition with other companies, start developing your product brand with HAKU right now. It is not too late to start.
Design using vertical and horizontal writing to emphasize your great products.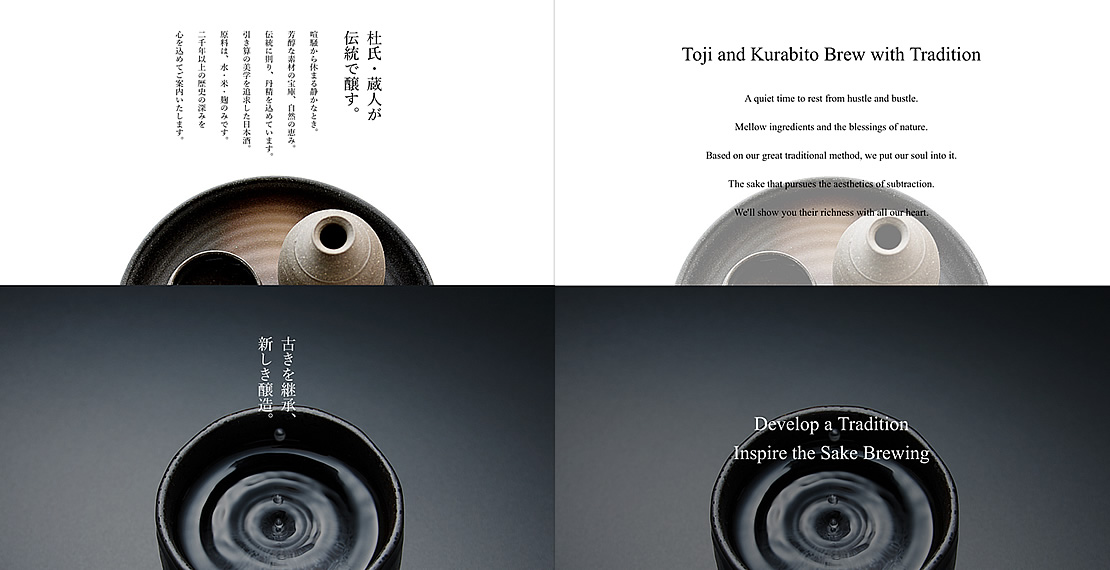 It looks beautiful in both vertical and horizontal writing with "HAKU". This is because details have all been developed through extensive testing to ensure that they can look beautifully in both ways. So, you can easily appeal to the world by using HAKU in English.
After growing domestically, the next stage is overseas. Since there are no borders online, you can easily spread your valuable products to the world.
"HAKU" is ideal for people who want to actively expand their business to the world, so give it a try.
TCD Content Builder makes page creation easy; change the order and create unique content of the top page.

It's not difficult to create a top page with HAKU. You can create a top page by simply registering images and text.
There are many functions such as reorder the contents, add free space, change the font size, type, and color to support the creation of the top page. So you can create a site with HAKU. HTML/CSS expertise are not required.
TCD's unique content builder has made site creation easy. It is more cost-effective to create and manage your own website.
Create a landing page that can be used for advertising. Make a beautiful site with the ultimate design.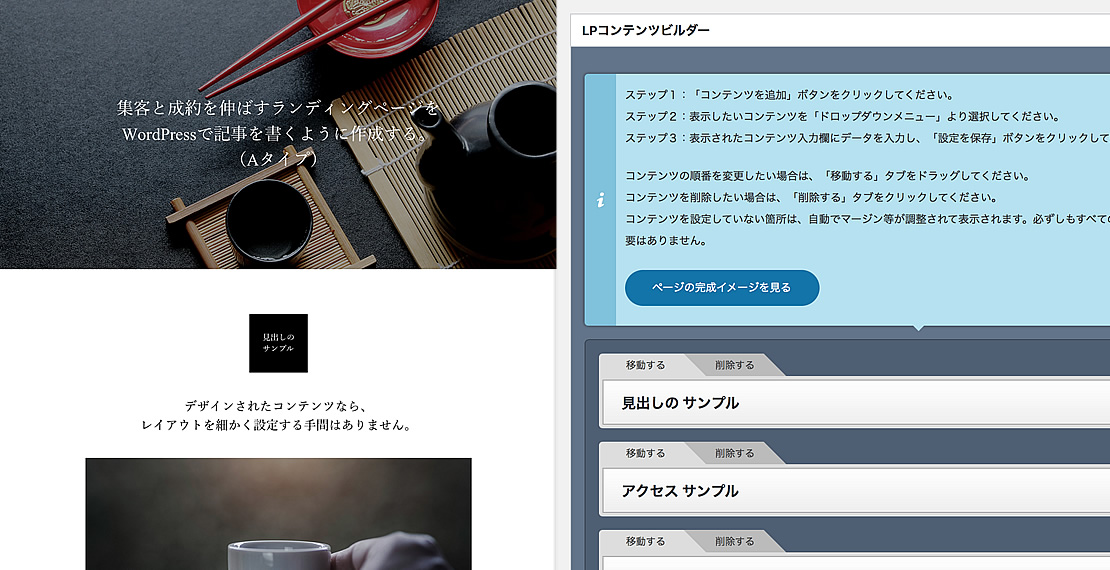 A landing page (LP) is a page that is essential as a mechanism to attract customers. And when you develop online advertisements, you will always use an LP as an entrance. As you can see in the sample LP below, you can easily create such a beautiful LP design with WordPress.
・LP(Without logo, menu, and footer)
・LP(Regular version)
You only need to know how to write a blog to create a page. It's also easy to show or hide content such as the logo, menu, and footer so you can make LP whatever you like.
Stylish and intelligent blog pages. You can build a powerful and cool media.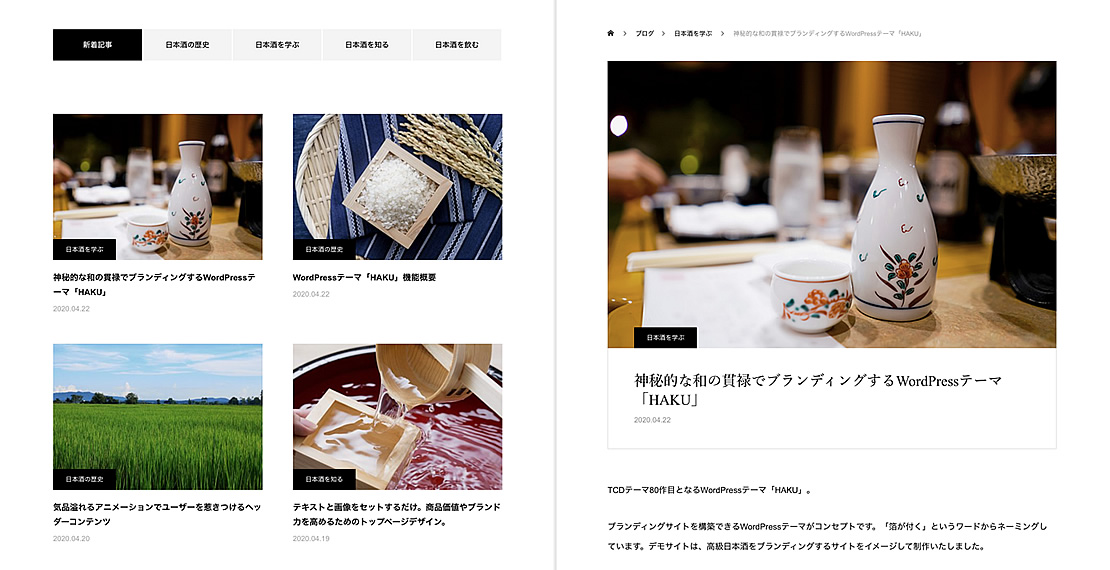 A blog is the key to attracting customers as well as advertisements. It becomes a page that attracts people over a long period of time, and the page works for you all the time.
Another great feature of blog is that they can create fans. If you convey your ideas and activities in your articles, people will sympathize with you and become your fans. By offering new values, you can create your own community.
See the blog page on this theme. The one-page, white background design gives a sense of intelligence and quality. It will surely be a perfect blog for your products and services.
Product introduction and pages with good sense. A wide variety of templates for company profiles and about pages.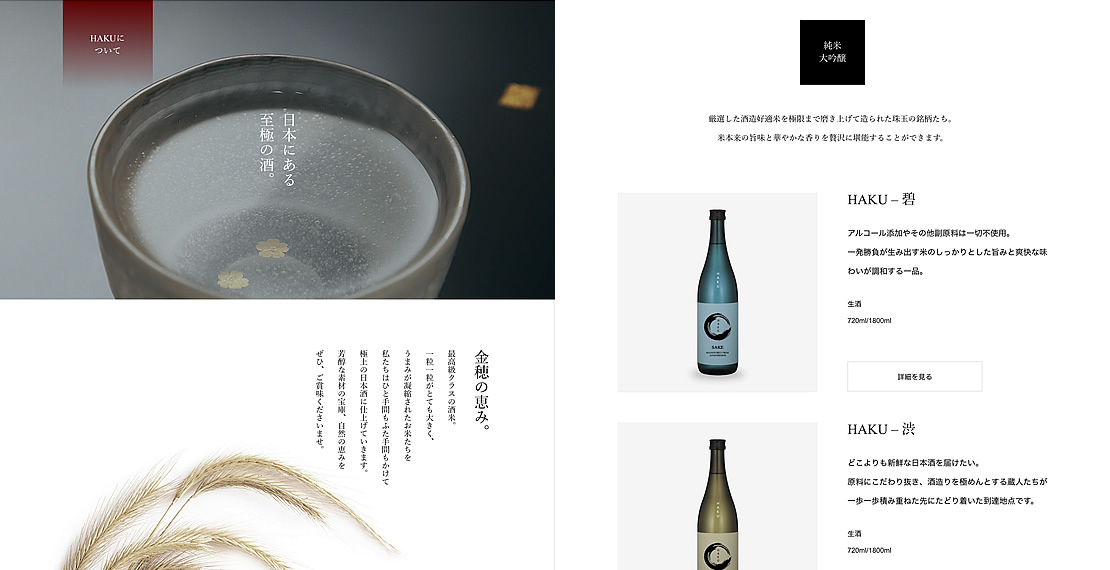 Not only blogs, a wide variety of templates are available to help you promote a product. The quality of each of them is also impressive.
The product pages can be attractive even with little text, and the pages can display different headers as well as a wide variety of tastes. The ABOUT page conveys the concept of the site in an attractive way.
Artistic mobile sites are now in your hands. Mobile phone settings allow you to create a beautiful site.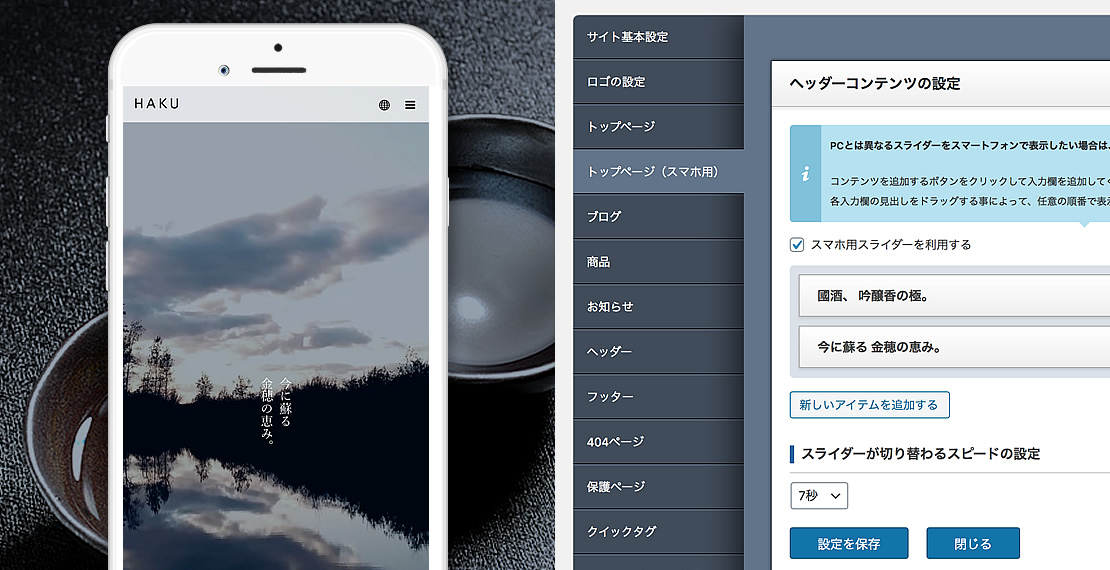 Since the amount of text that can be displayed are different between a PC and a smartphone, it often happens that the optimal number of words for a PC is too much for a smartphone.
Especially, catchphrases and headlines need to be carefully considered because they can easily make a difference in impression. But, many smartphone sites are do not pay attention to how the content is displayed.
With HAKU, these problems have already been solved. You can set different content for the top page, so it makes users comfortable and easy to read.
No technical knowledge required! TCD's theme options provide powerful support for site creation.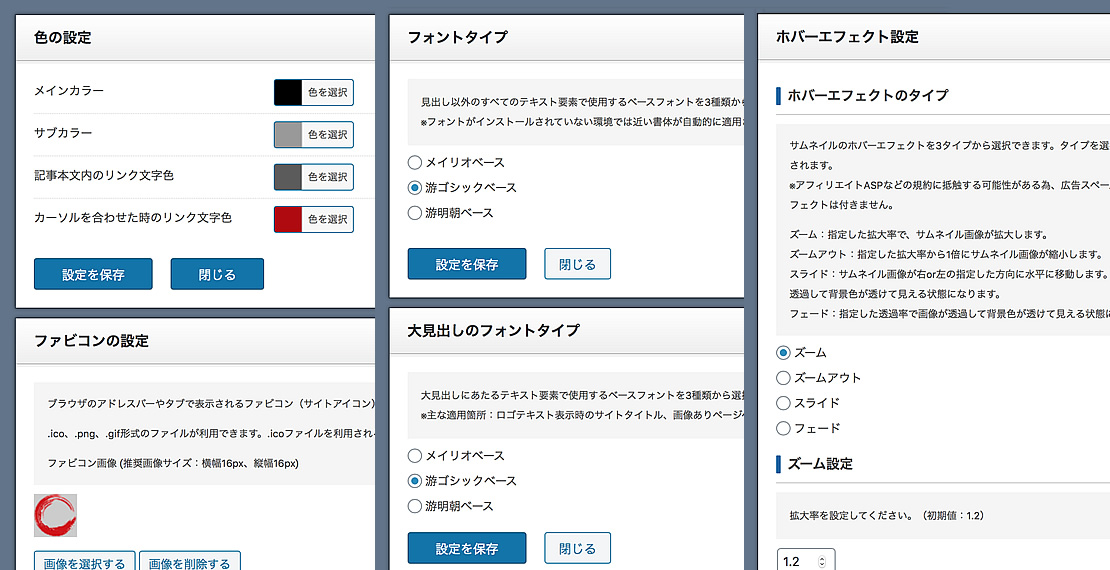 You can create the best website with TCD theme options. It allows you to do most of the customization you want. For example, you can set basic settings such as colors, fonts, and logo settings.
In addition, they allow you to do everything you need to build a site, such as what kind of contents to put on the top page and how to arrange them. The site can be as simple or as large as you want. This is because the range of customization is so wide.
We use it when we create our own sites. It is now possible to create a better site by using a high value template as a foundation than by creating a site from scratch.
Build a High Quality Website
With the Best Design and Get One Step Ahead!
If you don't know much about Internet marketing, then we recommend TCD themes.
We do not recommend that you have a Web designer build your site from scratch or create it yourself because the quality is way different.
Imagine that HAKU is created by a team of the best creators. If our team were to create a single site, it would cost at least several thousand dollars. There are very few investments that are as cost effective as this.
And do you know why we have been able to keep improving the quality of our WordPress themes for 10 years? Because we put our hearts and souls into every single WordPress theme we create. Also, websites created with TCD attract people and generate sales in many places.
We sincerely hope that your products will be loved around the world. Use HAKU to up grade your website.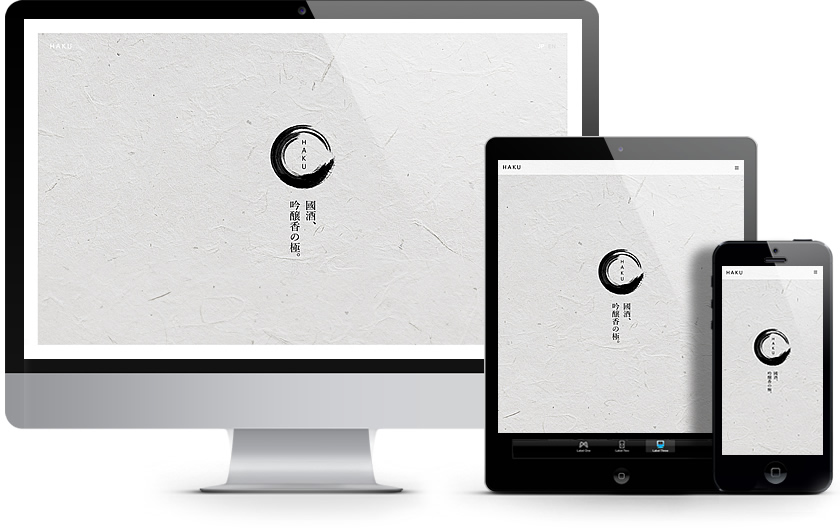 The advanced features of TCD theme support your website.
Top page header (Image, MP4, Youtube)
Global menu that supports mega menu with images
Theme options that allows you to change the theme in a short time
Google Map custom pin markers that can also display logo images
Standard font (selectable from Arial, San Serif, and Times New Roman)
Intuitive page builder function to create articles
Header bar tracking and fixed display function (PC/Smartphone)
Footer menu bar for smartphones
Retina display compatible logo upload function (header/footer)
Loading screen setting (loading screen, logo image can be set)
Custom CSS
Custom Scripts
Favicon settings
Custom color function to change color scheme at once (main, sub, text color)
Facebook OGP and Twitter Cards function
4 types of SNS buttons (Twitter, Facebook, Instagram, YouTube)
Adjust the size of registered eye catching images (regenerate thumbnails)
"Meta title" and "meta description" can be set for each page
Date, category, tag, contributor name and comment display function
Responsive support (PC, tablet/mini-tablet/smartphone)
Detail page layout type (2-column left/right, 1-column)
Hover effect settings (zoom, slide, fade)
Customization function for 404 page
Designed protection page effective for member acquisition
Custom Post Type "Announcement"
Custom Post Type "Products"
Page Template "Landing Page"
Page Template "Design Page 1"
Page template "Design Page 2"
Original widget "Designed article list"
Original widget "Google Custom Search"
Original Widget "Archive List"
Original Widget "Category List"
Original widget "Ads (random display function)
New quick tags (Gutenberg support)
Improved speed settings (Emoji-related loading and lazy loading images)
Breadcrumbs list with microdata format structured markup applied
Multi-language support for admin panel (Japanese, English)
Related articles and profile information display function below articles
WordPress theme "HAKU"(tcd080)
・A set of WordPress theme
・Download site (instruction manual, Q&A)
29,800 yen(tax included)
※If you use this product for build third party website, you will need to purchase a extended license of this product.
※You can download the product from My Page after payment by credit card or PayPal.
※By making a payment, you are deemed to have agreed to the Terms of Use.
※You will receive our free newsletter at your registered email address.
Required Environment
WordPress 5.X or higher and PHP version 7.2 or higher are required for the server environment.
For WordPress installation, please refer to here
IE support has been discontinued with the transition to Microsoft Edge.
※Please read the Terms of Use before clicking the purchase button.