Contents that can appeal a variety of attractive products will lead to great success.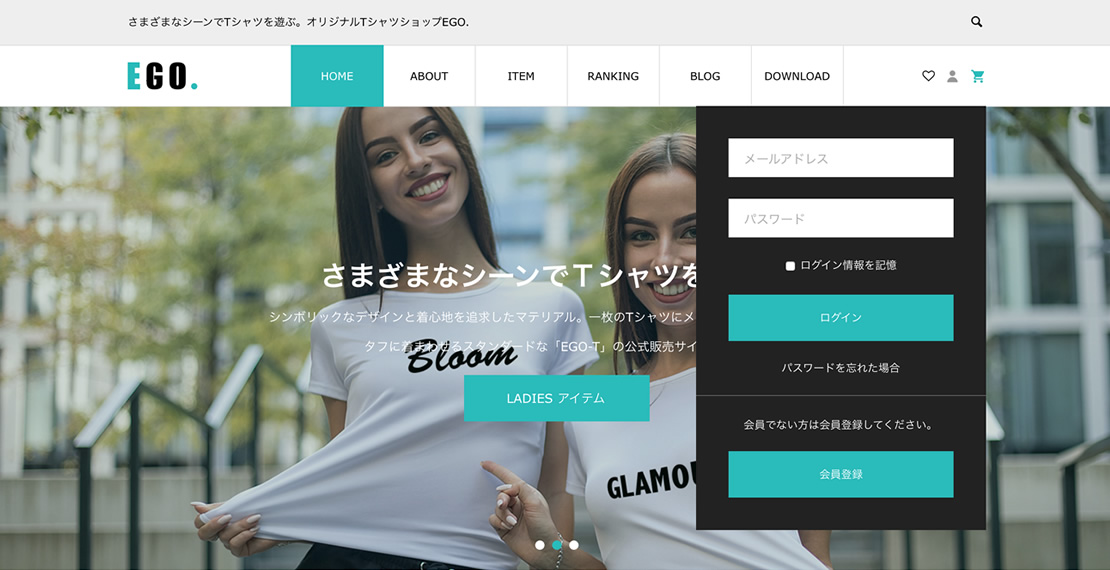 The important thing in an online store is to entertain the customers. By bringing out the appeal of your products and making them look attractive, users can feel the same excitement that they feel in a real store.
The WordPress theme "EGO." entertains your customers from the top page. It has many attractive features like an eye-catching header, notice of sales and recommended products.
Since you can freely choose to display or hide the contents of the top page, you can easily create your own original online store. Of course, free space is available. So you can use it as sales announcement space or for other purposes.
"EGO." is a tool to maximize the value of your online store.
You can build the most powerful online store that can increase sales with "EGO."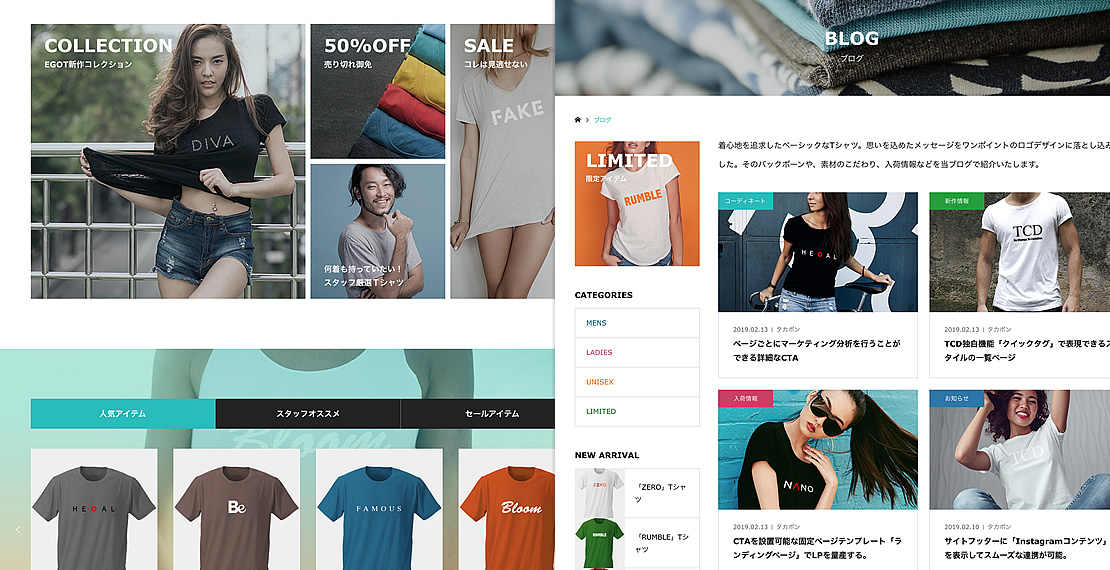 Even if you create an online store, it is meaningless if no one comes to see. It is just like opening a store in an unpopular shopping mall without a way to attract customers.
"EGO." clears these problems. Originally, WordPress was recognized as a strong CMS for attracting customers. The main reason for this is that contents such as blogs will become a powerful resource for attracting customers in the future. For example, if you create a system that naturally attracts 10,000 users from search engines every month, your sales and profit base will greatly increase. With the profits from this, you can further expand your advertising strategy.
"EGO." is also an excellent media to attract customers by using blogs, announcement pages, and pages that are easy on the eyes.
WooCommerce is the most used EC plugin. Easy product registration, customer management and support.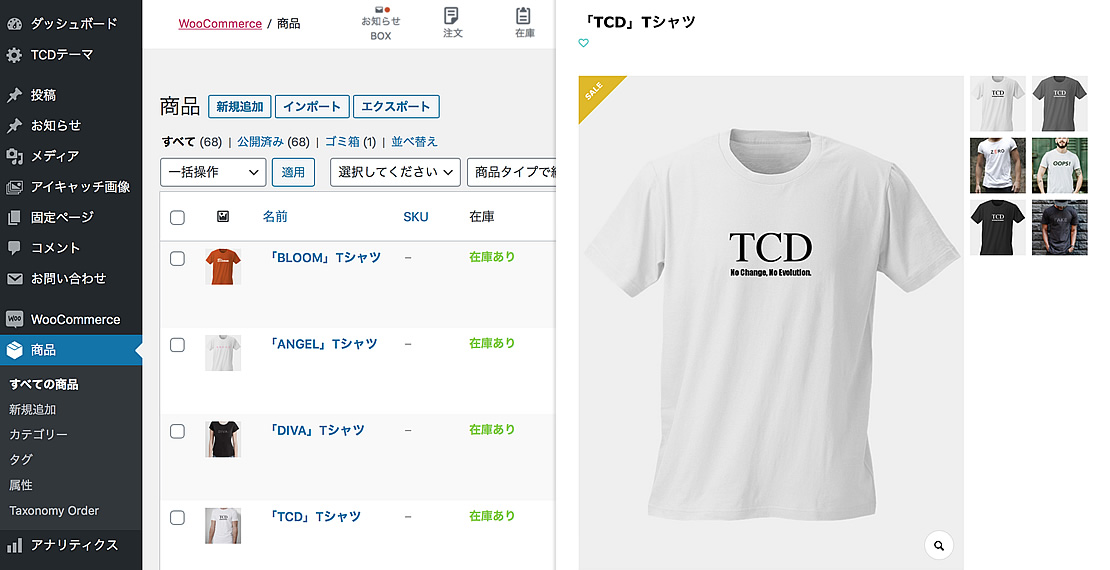 If you've ever used the WordPress shopping cart plugin WooCommerce, you probably know that it's very easy to setup. The product registration and management pages are comfortable to use. I believe that it's one of the best management tools for online stores.
And EGO is a great addition to it. There are the WooCommerce and Welcart versions available and the WooCommerce version has review functions, up-sell and cross-sell functions, etc.
・Product detail page (WooCommerce version)
・Product detail page (Welcart version)
Contribute to sales with functional product pages such as recommended items and checked products.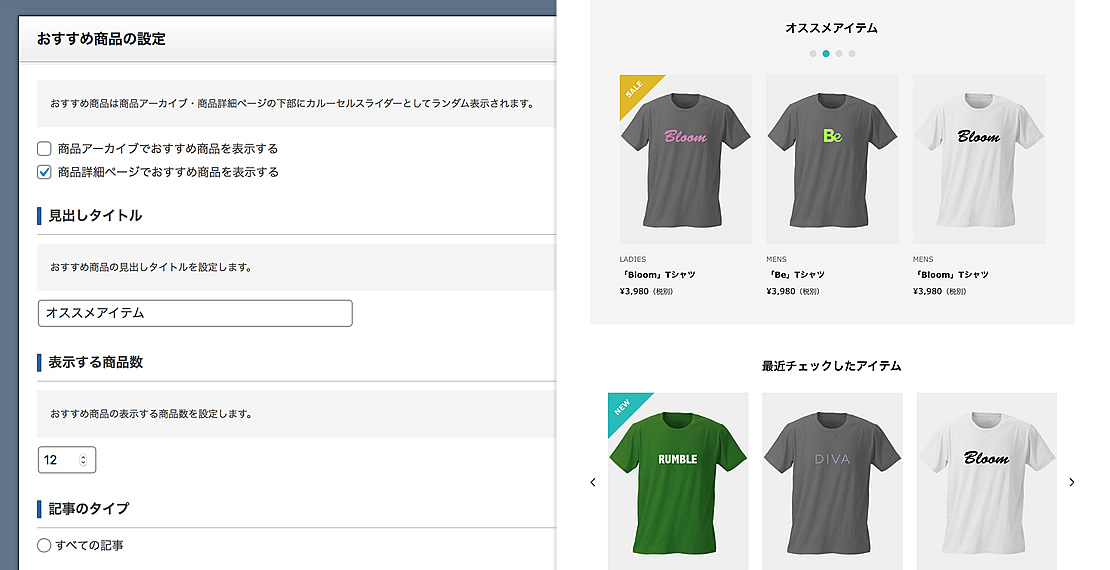 How to make your products attractive and how to design the flow of traffic in your online store are very important issues that affect your total sales. It is important to have a mechanism to deliver the products that customers need.
With EGO, for example, it is possible to introduce products that users have checked on the product page, or to post similar related products as recommended items. In addition, EGO allows users to register multiple photos and enlarge them, which are important information for online sales, to easily convey the information that customers want to know. In addition, the filtering function on the product list page will help customers to find items.
As you can see, this theme is designed to provide the necessary leads to increase sales by simply registering products.
Create a small business quickly and eventually grow it big with EGO.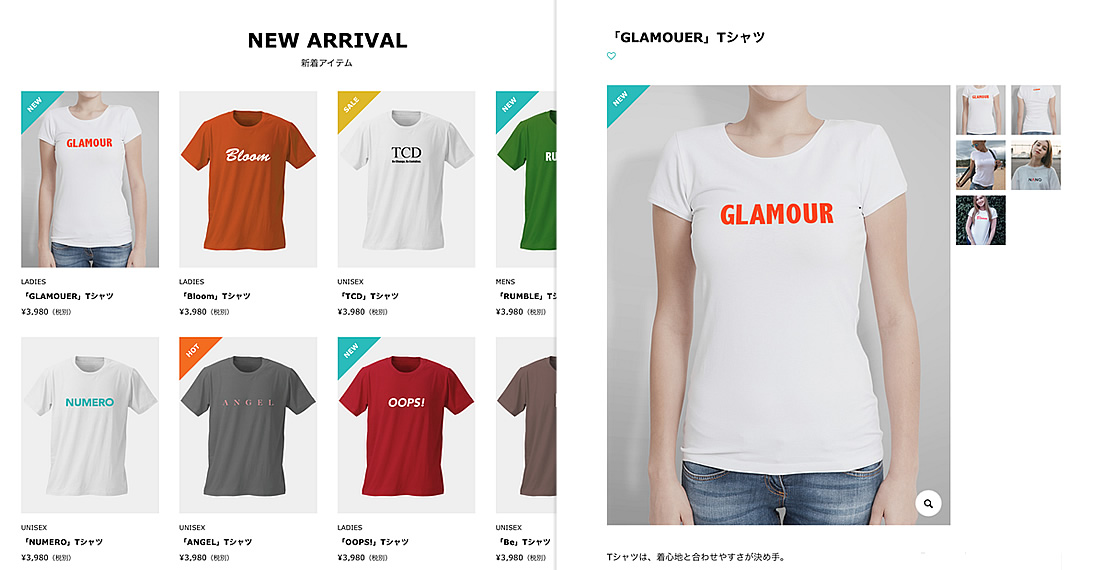 You can change the contents freely, taking into account the small amount of contents in online stores. For example, take a look at the demo site below. This is a simple version with the top page content reduced accordingly from the TCD theme optional features.
・Simple version (available for both shopping carts)
What do you think? With EGO, you can create a site of this volume within 1-2 days, so it's possible to add content little by little after the launch and create a low-risk strategy and growing large.
"EGO." is a great choice for EC site. Start building now!
Stress-free shopping on your smartphone. It provides the comfort like a major e-commerce app.

Make the site fun to look at and motivate smartphone users to purchase. This is an important concept when running an e-commerce site.
However, it is a fact that there are many e-commerce sites that are only designed to be "responsive" and to have large size text. It is rare to find an e-commerce mall that emphasizes designing with the mobile user in mind like Amazon does.
Of course, EGO solves all of those problems. It provides a mobile EC site that is much more comfortable than other sites. As you can clearly see when you actually see the demo site, the content and the amount of text are customized for smartphones, so users can enjoy a comfortable shopping.
Marketing tools help grow your EC site: LP/Modal Window/CTA/Faster Speed/AB Testing, etc.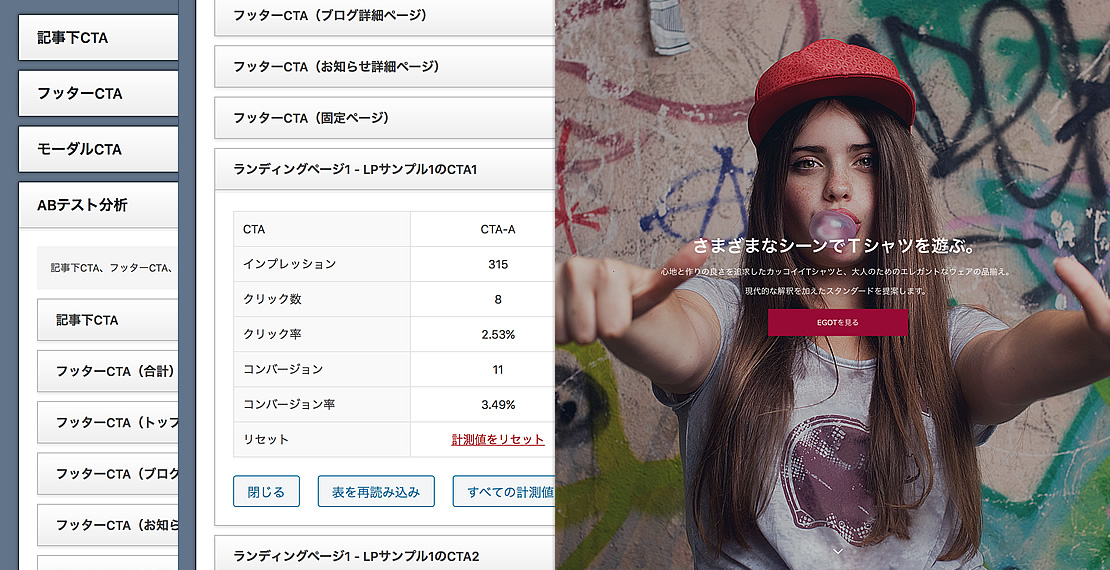 EGO allows you to create landing pages (LPs) as easily as writing a blog. For example, the following LP can be created by hiding the header, footer, breadcrumbs, etc. that are normally displayed.
In addition, modal and footer pages have CTAs that can be used for AB testing, click count and conversion measurement. There are multiple lines that lead to important pages such as product pages and LPs. LPs are also important pages to ensure customer acquisition as an entrance from SNS and advertisements. Everything from creating those pages to leading lines can be done with EGO.
The TCD theme option allows you to control your online store freely . It assist beginners customizing websites.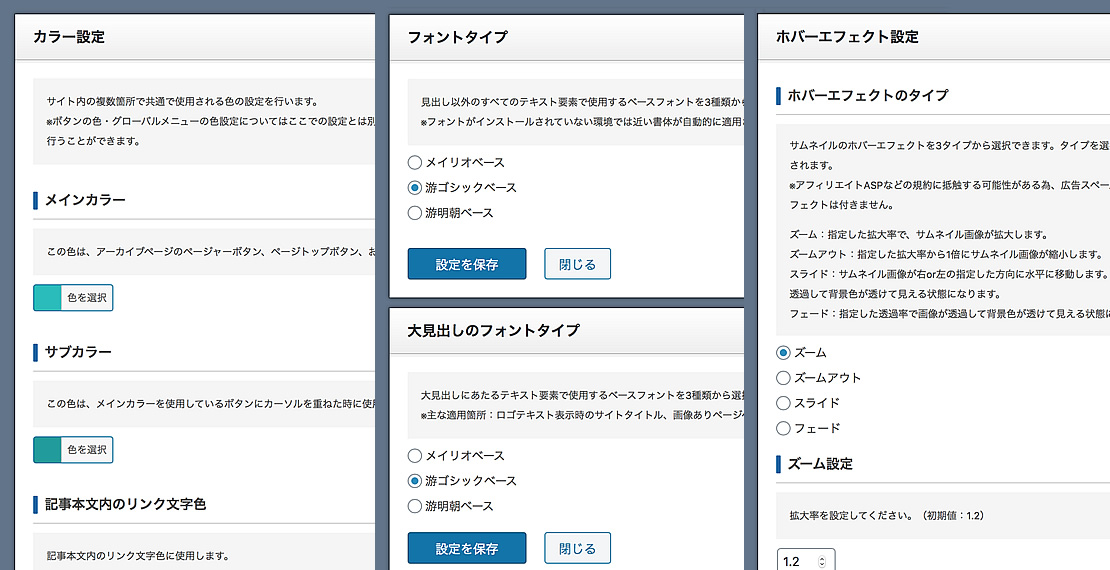 TCD themes are so popular among web production companies because it is easy to build. High quality sites can be built in a short period of time. Moreover, it can be operated without specialized knowledge of HTML/PHP.
The theme options allow you to set and customize colors, fonts, headline text, and other necessary settings for your site. In addition, EGO allows you to set different content for PC and mobile from the theme options, so you can adjust image size and text volume. It's a great way to optimize the view for each device.
Once you use the TCD theme option, you can't use anything else. It's such a useful tool for creating websites.
No More Platform.
Creat Your Online Shop and Grow It!
When you open a store in an e-commerce mall, you are sharing your customer information with the mall. What does that mean? It means that you give away your customers to the mall. If you do this, unless you are dealing with a highly unique product, you will easily lose your customers in a price war with other sellers.
The WordPress theme "EGO." has a membership registration and customer management functions. In fact, this is also a big point. This is because it greatly affects the marketing that can be done after the purchase.
"EGO." will help you to set up a profitable online store. We hope you will create a wonderful online store.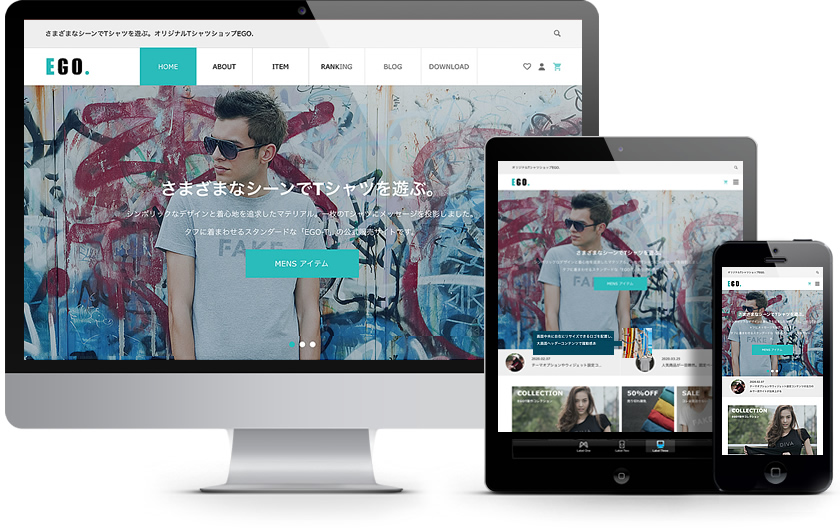 The advanced features of TCD theme support your website.
Shopping Cart (WooCommerce,Welcart)
Compatible with Welcart plugin "WCEX DLSeller"
Compatible with Welcart Plugin "WCEX SKU Select"
Compatible with Welcart Plugin "WCEX Widget Cart"
Compatible with Welcart Plugin "WCEX Order List Widget"
Compatible with Welcart Plugin "WCEX Multi Price"
Top Page Header (Image, MP4, Youtube)
Global Menu with Image Mega Menu Support
Theme option management that allows you to change themes in a short time
Google Map custom pin markers that can also display logo images
Standard font (selectable from Arial, San Serif, and Times New Roman)
Intuitive page builder function for creating articles
Header bar tracking and fixed display function (PC/Smartphone)
Footer menu bar for smartphones
Retina display compatible logo upload function (header/footer)
Loading screen setting (loading screen, logo image can be set)
Custom CSS
Custom Scripts
Favicon settings
Custom color function to change color scheme (main, sub, text color)
Adjust the size of registered eye catching images (regenerate thumbnails)
"Meta title" and "meta description" to be set for each page
Date, category, tag, contributor name and comment display function
Responsive support (PC, tablet/mini-tablet/smartphone)
Detail page layout type (2-column left/right, 1-column)
Hover effect settings (zoom, slide, fade)
5 types of SNS buttons (Twitter, Facebook, Instagram, YouTube, Pinterest)
Facebook OGP and Twitter Cards function
404 page customization function
Designed protected page effective for member acquisition
Custom post type "News"
Page template "Landing Page"
Page template "Ranking"
Original widget "Designed post list"
Original widget "Google Custom Search"
Original widget "Archive List"
Original Widget "Category List"
Original widget "Ads (random display function)
New Quick Tag (Gutenberg compatible)
CTA (with impression, click and conversion measurement function)
Modal Window
Speedup settings (Emoji-related loading, lazy loading images, code compression)
Breadcrumbs list with microdata format structured markup
Support for multiple languages in the admin panel (Japanese, English)
Related articles and profile information display function below articles
※This theme is compatible with the following extension plugins.
「WCEX DLSeller」「WCEX SKU Select」「WCEX Widget Cart」「WCEX Order List Widget」
「WCEX Multi Price」「WCEX Auto Delivery」「WCEX Multiple Shipping」「WCEX Coupon」
WordPress theme "EGO."(tcd079)
・A set of WordPress theme
・Download site (instruction manual, Q&A)
39,800 yen(tax included)
※If you use this product for build third party website, you will need to purchase a extended license of this product.
※Please select the payment button of the shopping cart plugin (WooCommerce or Welcart) you wish to use.
※You can download the product from My Page after payment by credit card or PayPal.
※By making a payment, you are deemed to have agreed to the Terms of Use.
※You will receive our free newsletter at your registered email address.
Required Environment
WordPress 5.X or higher and PHP version 7.2 or higher are required for the server environment.
For WordPress installation, please refer to here
IE support has been discontinued with the transition to Microsoft Edge.
※Please read the Terms of Use before clicking the purchase button.