You can create your own original web site. The top page can be reordered by drag and drop easily.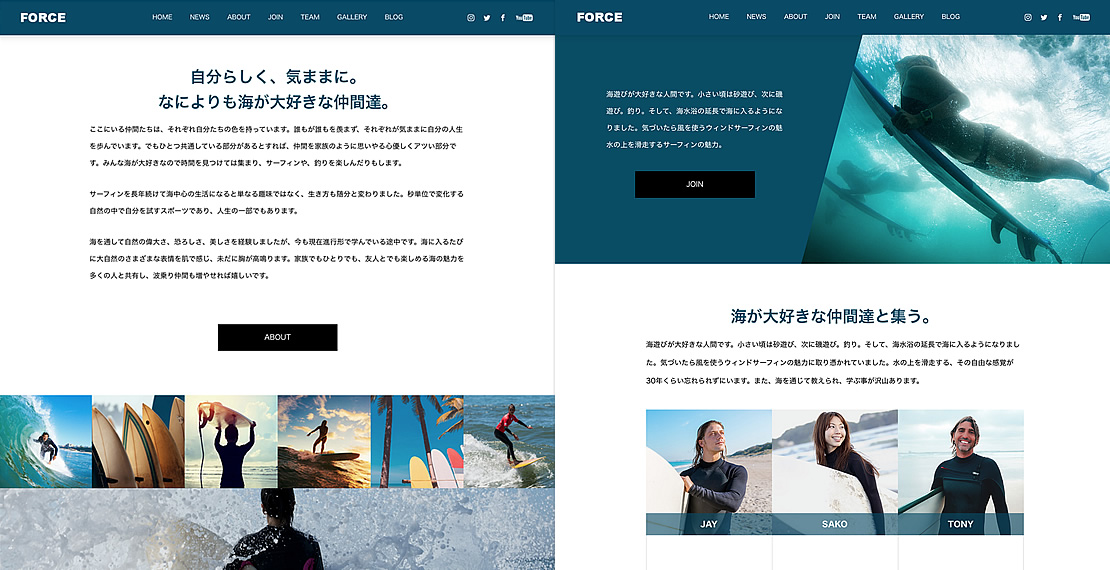 Have you seen the demo site? In "FORCE", we have created a website for a surfer team that looks like a real one. If you build the site with this quality, you can easily attract users. You can create a great website with the dynamic WordPress theme "FORCE".
In addition, creating this top page is easy. All you have to do is to enter the images and texts you have prepared in advance. "Contents Builder" allows you to add, edit, delete each content, and reorder by drag and drop. It also has a "free space" where you can use HTML, so you can create a website incredibly quickly. Of course, no technical knowledge is required.
Increase sales with landing page creation features that offer the real flexibility and the best quality.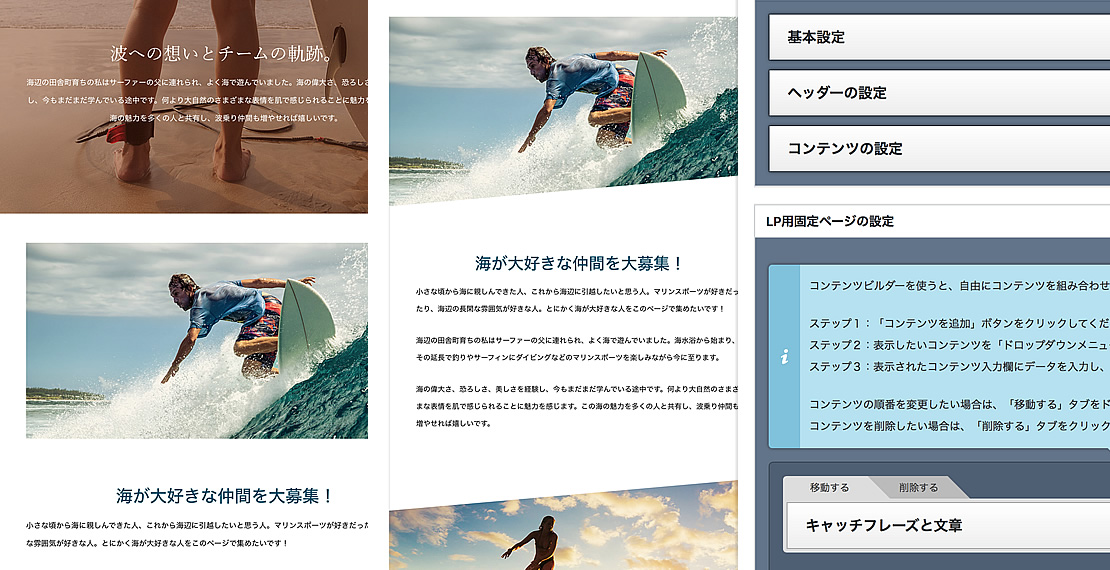 FORCE has an advanced feature that allows you to create landing pages (LP) using the WordPress editor. It can be done using a page. Specifically, you can show/hide the global menu, footer, outer frame, and other elements.(Examples:LP1,LP2,LP3,LP4,LP5)。
If you can easily create LPs with WordPress, you can up grade your business. A properly placed LP can attract customers from search engines, and you will get more customers.
FORCE is equipped with features that will help you succeed in your marketing.
CTAs that can A/B testing which bring visitors to the landing page. Impressions and clicks can be measured.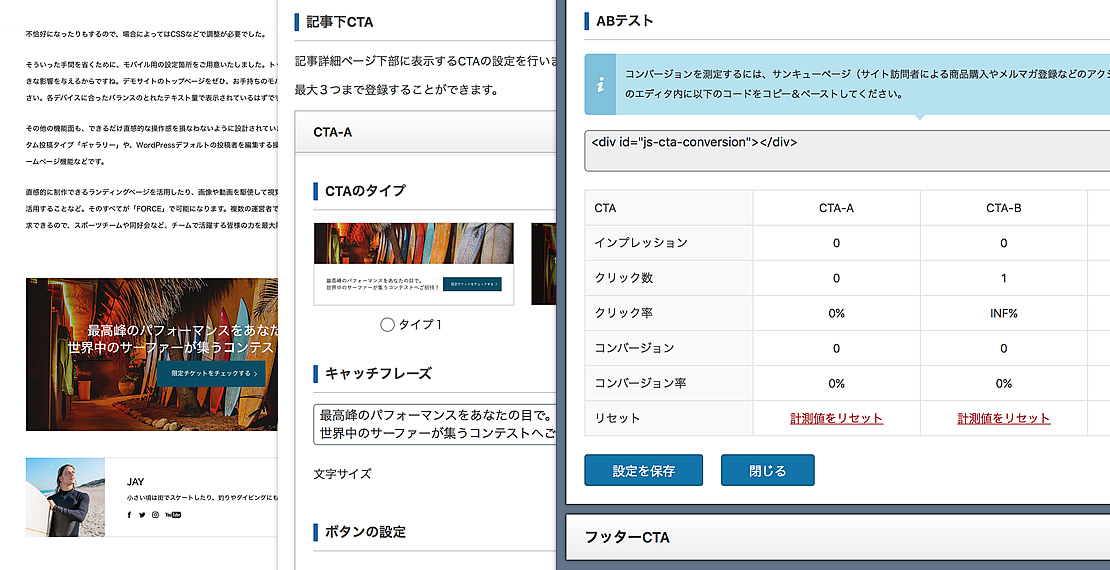 Placing a CTA (call to action) under your blog is a very effective marketing measure. For example, if you have 100,000 accesses per month and the click rate of your CTA is 2.0%, you will have 2,000 accesses to your LP every month. If you keep only the one that respond well, you can double your sales.
FORCE has the feature to measure impressions, click-through rates, conversions, and a CTA function that allows AB testing.
As you can see in the demo site, those are displayed at the bottom of the article and in the footer. Since many of them can be displayed randomly, it is possible to identify the most responsive CTAs in real time.
It's easy to set up. Just set the catchphrase, description, button color and image, then you can create a "high quality CTA" that will entice users to click.
Member profiles to create the best team. Bring out the personalities of the team members.

Teams are all about people. What kind of people are involved in the team will change the overall appeal of the team. And profiles are important to bring out the appeal of a team on the web. Each person has his or her own personality, achievements, and history. In order to bring them out fully, a simple page is not enough.
"FORCE" has a profile page that lists members in a cool way. In addition, it is linked to the blog and is automatically connected to the page of the member who wrote the article. This motivates member to write blogs, and it also provides a place for individuals to stand out. A strong team is made up of strong individuals. This is what "FORCE" expresses.
Photos and videos of events and activity scenes archived in the gallery will be the next motivation.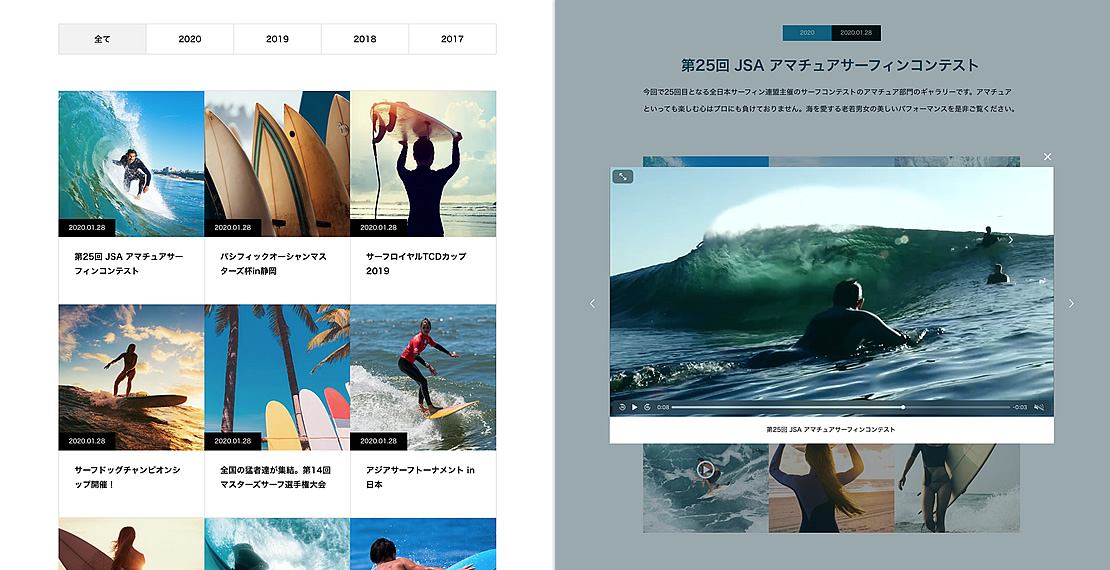 People are attracted to a fun atmosphere. And photos and videos are the best way to create a fun atmosphere. No words are needed. You can create a wonderful gallery page like the one below by simply uploading videos of your past activities.
・Gallery Archive Page
・Gallery Detail Page
The gallery page is beautifully designed so that everyone can enjoy looking at it. Therefore, it can be used to motivate the team and attract customers. The gallery page can be created intuitively by anyone.
The top design of mobile websites. Beautiful smartphone design will expand the followers.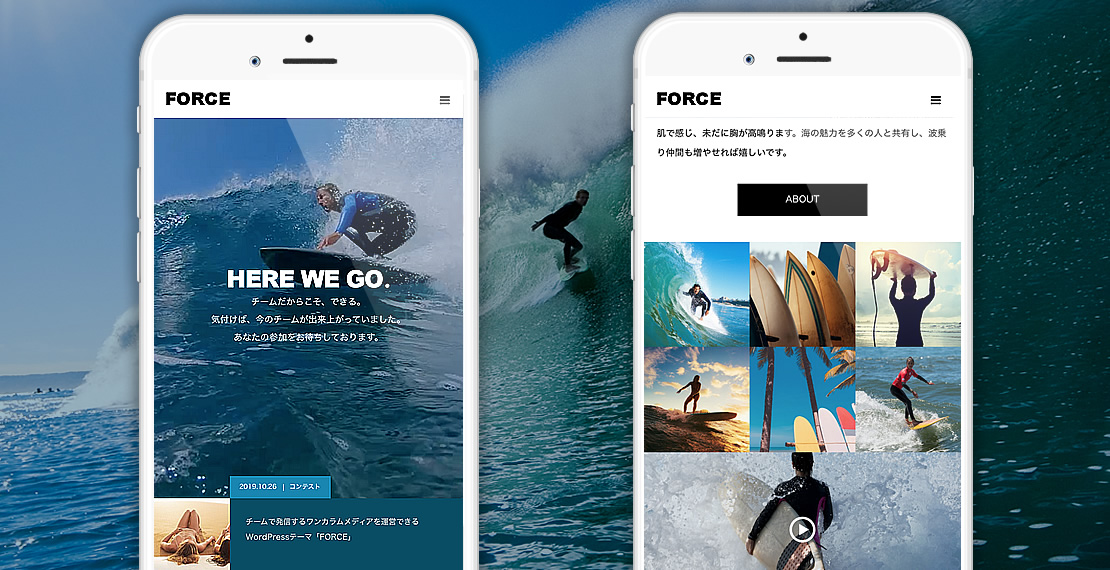 Unfortunately, the majority of mobile sites out there are still PC-based, and the PC layout has only been optimized for mobile. To change this trend, TCD are researching WordPress themes that take advantage of the characteristics of smartphones.
For example, one of the reasons for a lame smartphone site is the amount of content; if you show the same amount of content on a PC on a smartphone, it will look cramped. To prevent this, it is important to be able to set up separate content for PC and smartphone.
For the top page of "FORCE" and other elements that have a large impact on the look and feel of the site, different content can be set for PC and mobile. This makes it easy to reproduce a beautiful design with the optimal amount of content.
Differentiate your site from others by taking advantage of internal structure and content attraction.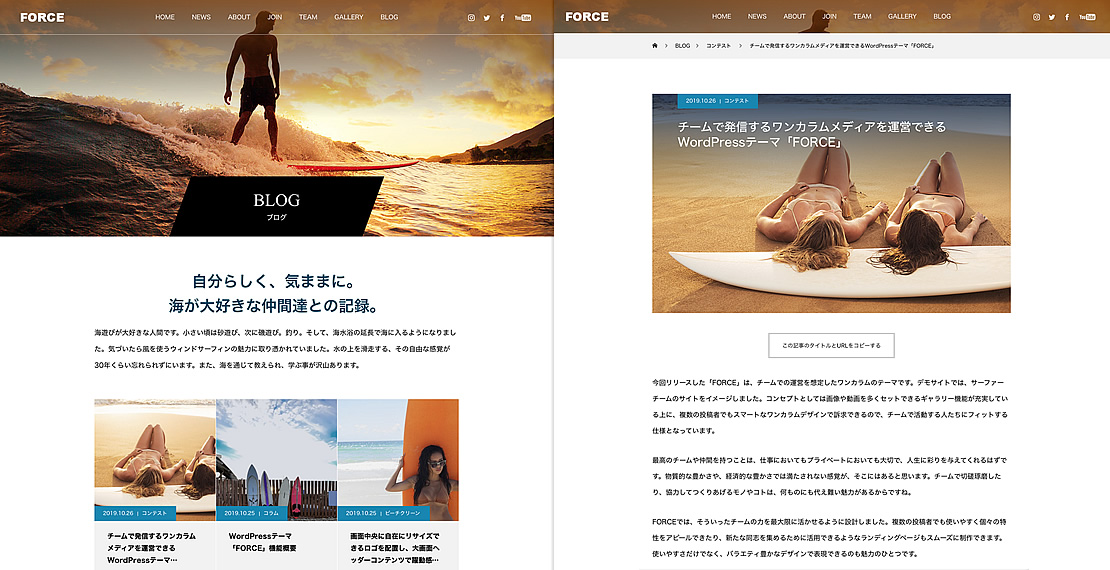 The TCD theme is built with simple and beautiful code. In addition, there are settings that allow users to speed up the display speed of your site. Since you do not need to deal with internal SEO, you can focus on content creation.
In addition to the gallery and staff team pages, this theme has "Blog" and "News" pages. There is a mechanism in "FORCE" to attract customers by adding articles using these tools. The blog can be used as a entrance for users to increase the number of accesses and lead them to the LP. If you can establish such a flow, you will have a solid system to increase sales.
Even beginners can create the great websites. The TCD theme option will change the way to create a website.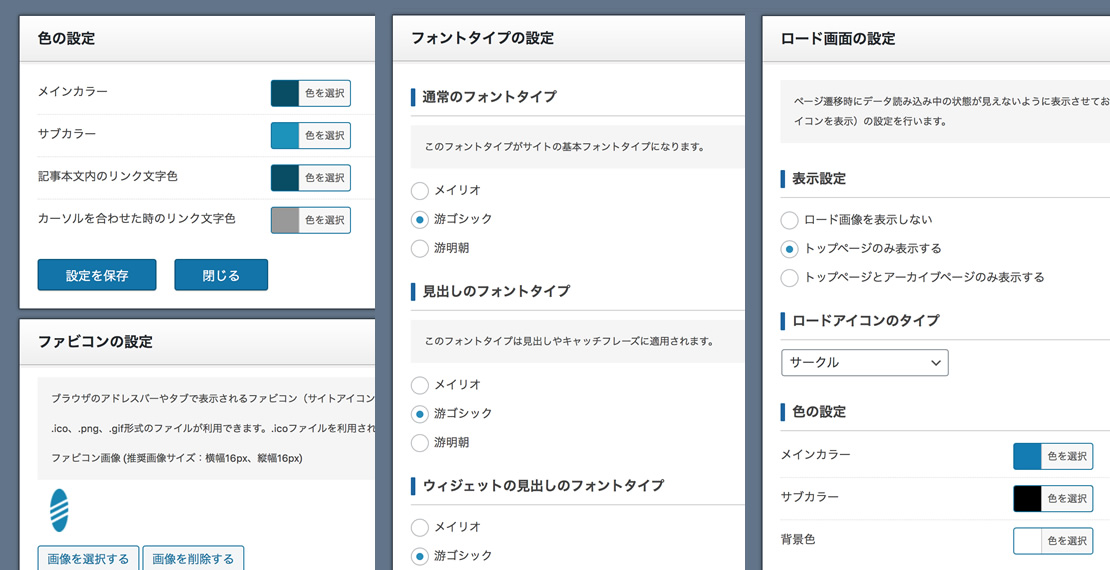 With over 10 years of experience in WordPress theme development, we have considered our customer's need and requirements. So you can easily change the settings from the "TCD Theme Options". You don't need any technical knowledge.
For example, you can quickly change the video in the header to a image slider, or change the font type, size, and color. The process is simple, just select it from the TCD theme options and save it. Since you can change the settings as many times as you want, there is no hurdle to test your marketing. You can create a valuable site much faster than letting another company manage it.
Build a Fully Functional Website With FORCE!
With FORCE, you will get a valuable website. Of course, it's up to you to create a valuable website, but with the best features and design, it won't take you long to create a site that is more valuable than the demo site.
Normally, it costs a lot of money to create a landing page that generates revenue. With FORCE, you can get as many landing pages as you want. If you are dissatisfied with your current website, get the best website with FORCE right away.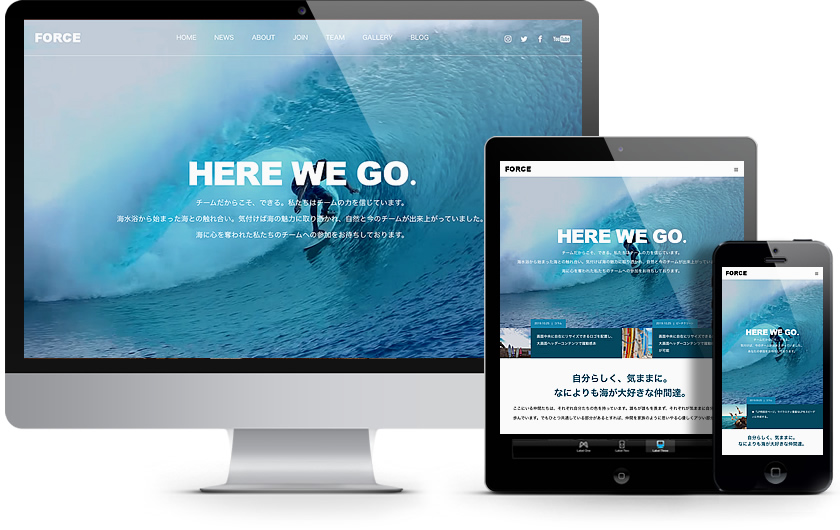 The advanced features of TCD theme support your website.
Top page header (image, MP4, Youtube)
Global menu that supports mega menu with images
Theme options that allows you to change the theme in a short time
Google Map custom pin markers that can also display logo images
Standard font (selectable from Arial, San Serif, and Times New Roman)
Intuitive page builder function for creating articles
Header bar tracking and fixed display function (PC/Smartphone)
Footer menu bar for smartphones
Retina display compatible logo upload function (header/footer)
Related article and profile information display function under the article
Loading screen setting (loading screen, logo image can be set)
Custom CSS
Custom Scripts
Favicon settings
Custom color function to change color scheme at once (main, sub, text color)
Font size change function for each element (headline, body)
Adjust the size of registered eye catching images (regenerate thumbnails)
"Meta title" and "meta description" can be set for each page
Date, category, tag, contributor name and comment display function
Responsive design (PC, tablet, mini-tablet, smartphone)
Footer banner display function that allows you to set any link destination
Hover effect settings (zoom, slide, fade)
5 types of SNS buttons (Twitter, Facebook, Instagram, YouTube, Pinterest)
Facebook OGP and Twitter Cards function
404 page customization function
Designed protected page effective for member acquisition
Custom Post Type "Announcement"
Custom Post Type "Gallery"
Page template "Landing Page"
Original Widget "Designed Post List"
Original widget "Google Custom Search"
Original widget "Archive List"
Original Widget "Category List"
Original widget "Ads (random display function)
New Quick Tags
CTA (with impression, click and conversion measurement function)
Speedup settings (Emoji loading, lazy loading images, code compression)
Breadcrumbs list with microdata format structured markup applied
Multilingual support for administration screen (Japanese, English)
WordPress Theme "FORCE"(tcd078)
・A set of WordPress theme
・Download site (instruction manual, Q&A)
26,800 yen(tax included)
※If you use this product for build third party website, you will need to purchase a extended license of this product.
※You can download the product from My Page after payment by credit card or PayPal.
※By making a payment, you are deemed to have agreed to the Terms of Use.
※You will receive our free newsletter at your registered email address.
Required Environment
WordPress 5.X or higher and PHP version 7.2 or higher are required for the server environment.
For WordPress installation, please refer to here
IE support has been discontinued with the transition to Microsoft Edge.
※Please read the Terms of Use before clicking the purchase button.