A top page that attracts the viewer. Make a difference in the first impression and create a popular salon.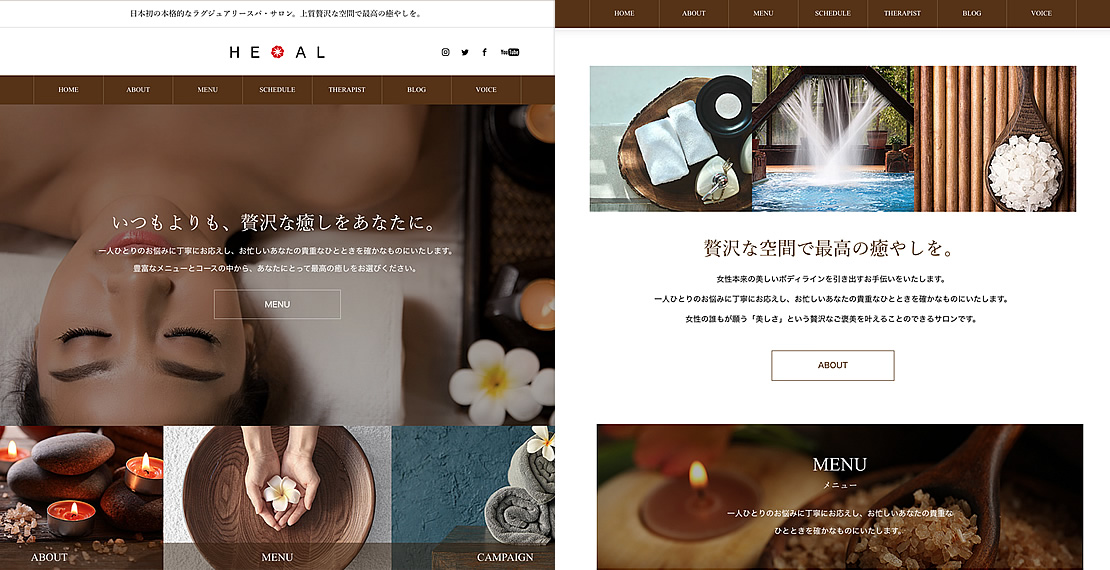 A well-balanced top page design attracts the viewer. The attractive website will make people decide to visit the store and move on to the action of checking the reservation and access. Take a look at our demo site and you will see.
The top page of "HEAL" is built by TCD's content builder. This means that content can be easily set up and reordered even by staff with no specialized knowledge. Videos can be played in the background in the header and in the middle of the site. Too many moving contents can give a cluttered impression, but only "HEAL" can express it in a stylish way.
A variety of contents are designed to lead to store visits. The structure in the site contributes to the sales.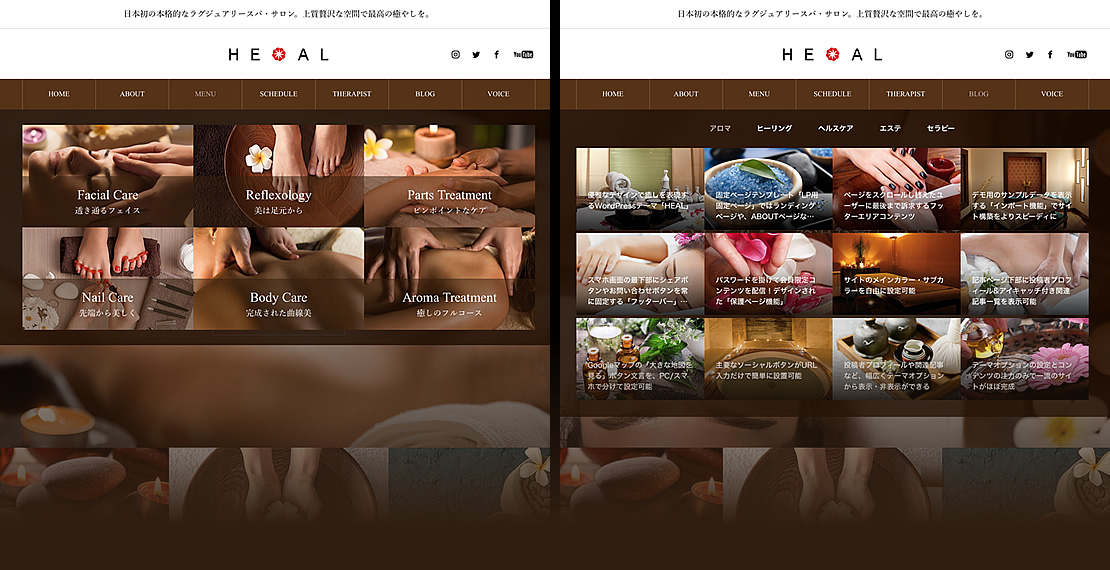 A well-organized impression is important for a website. If you don't think about how to present it, you will end up with a messy website. In addition to the blog, there are many different types of pages on a website, such as news, menus, and staff pages. With HEAL, you can make your content beautiful and attractive.
For example, the mega menu leads to important content. Users can quickly move to the desired page without having to search for it. Also, staff and campaign pages lead to LPs and store reservations. HEAL is a system that naturally leads customers to the store.
Web marketing with a sense of stability. You can easily create landing pages that can attract customers.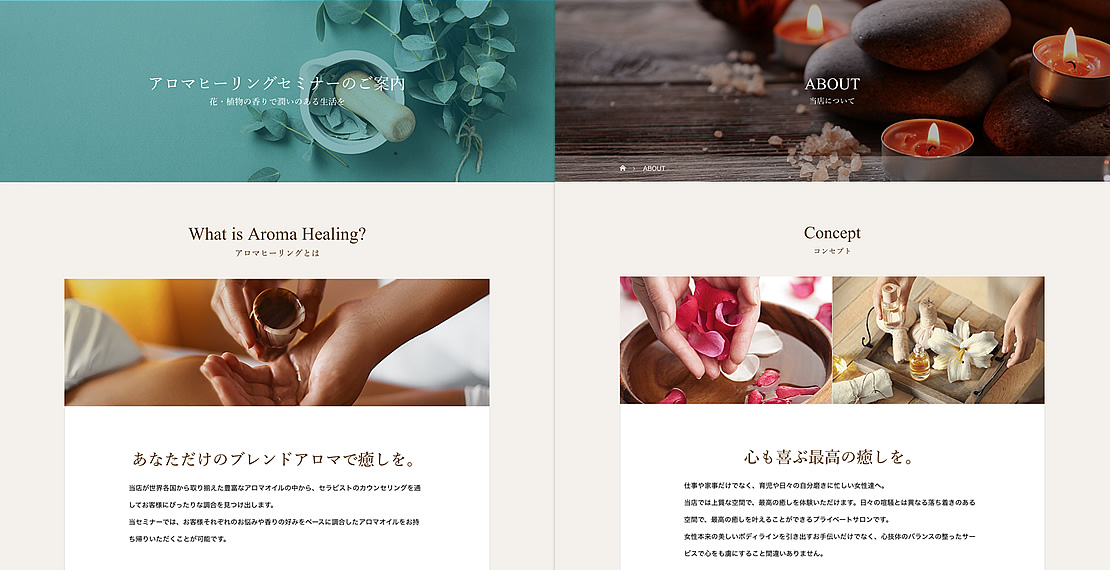 Landing pages (LPs) are the entrance for users and are important content for increasing the number of customers. Since LPs are important pages that are used to lead people from advertisements and SNS, it is best to create them in-house. This is because you are the one who has the most knowledge and love for your products and services.
HEAL is a powerful tool for you. In addition to the regular pages, the following LPs can be created intuitively with our unique TCD content builder.
The schedule function increases the value of your store.
It's linked to the staff pages so that you can lead visitors.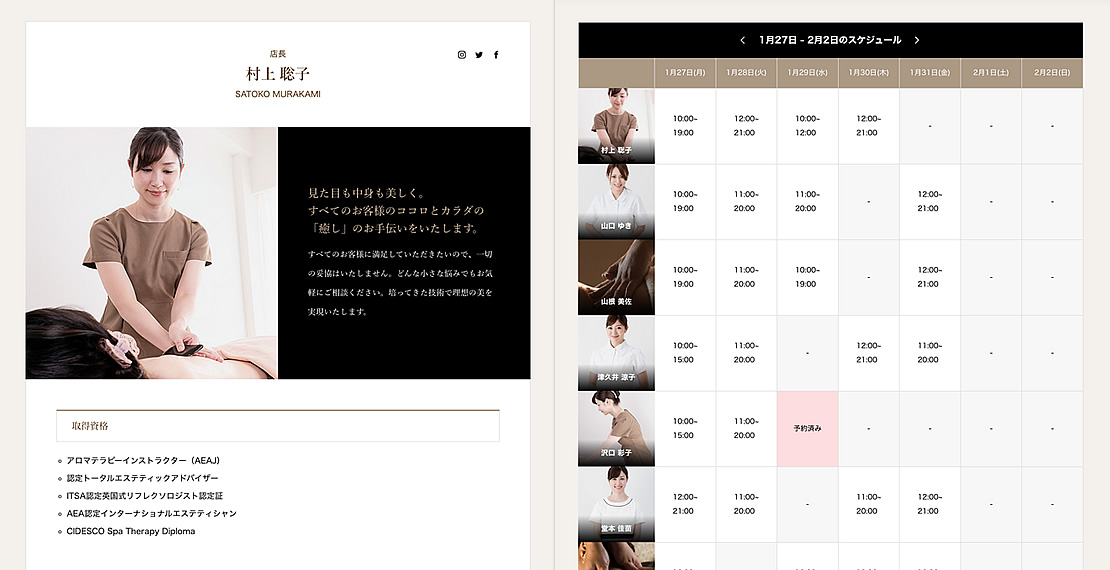 In spa and beauty salons, staff attendance and profiles are essential information. This is because many customers want to check the staff's attendance status on the Internet, and because staff profiles increase the credibility of the store.
HEAL's schedule page is very functional. It not only allows you to check the attendance status of your staff. It can also lead you to the seminar page (LP) and the reservation page. In addition, the luxurious atmosphere of the staff page brings out the appeal of the "workers". It is a page that provides a definite benefit to customers.
Use the Schedule & Profile feature of this theme to activate the flow of reservations for store visits and seminar applications.
Attractive presentation of treatment services. An easy-to-understand menu page attracts consumers.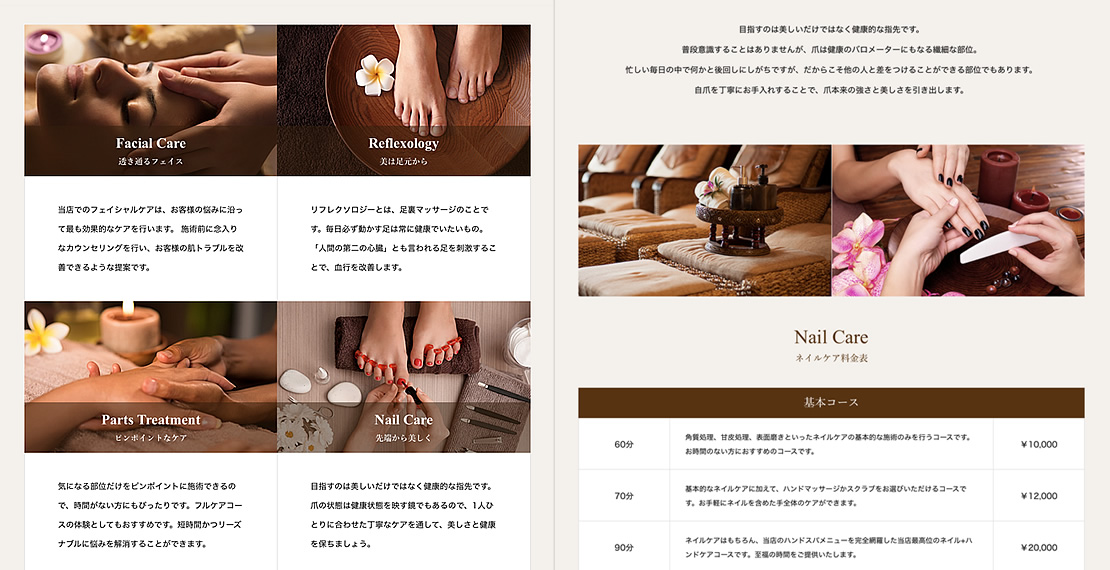 A menu page with a simple and luxurious impression will grab people's attention and motivate them to visit your store. The course menu and the flow of treatment can be proposed visually and clearly.
Customers always check the menu for services and products, so an attractive presentation will directly lead to sales for the store. HEAL can create high quality menu pages quickly.
A large number of "customers' reviews" can be posted. The accumulation of customers' reviews creates trust.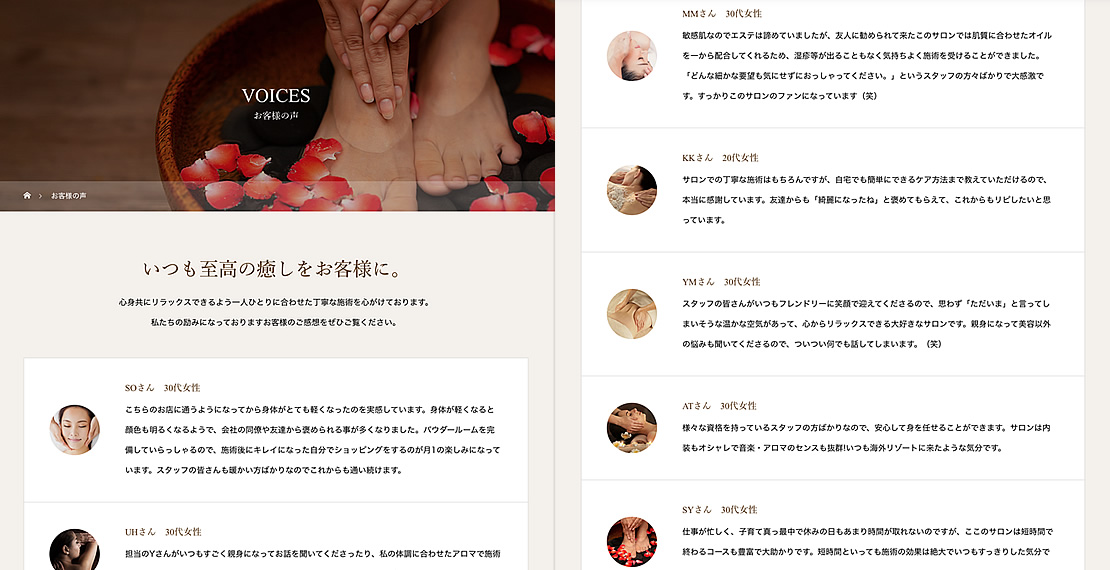 Every major commercial website has a "customers' reviews " section. This is because it is a important content for a first-time visitor to decide whether or not to use your store. User reviews are the store's achievement and credibility.
Many store websites still rely on review sites such as Google My Business for user reviews. However, that situation is the same as losing your own way to attract customers.
In order to increase credibility, the number of user reviews is necessary. In HEAL, reviews can be registered easily and the necessary information can be indicated so that users can easily check them.
You can deliver content for each role, such as campaign pages to attract customers and blogs to up grade website.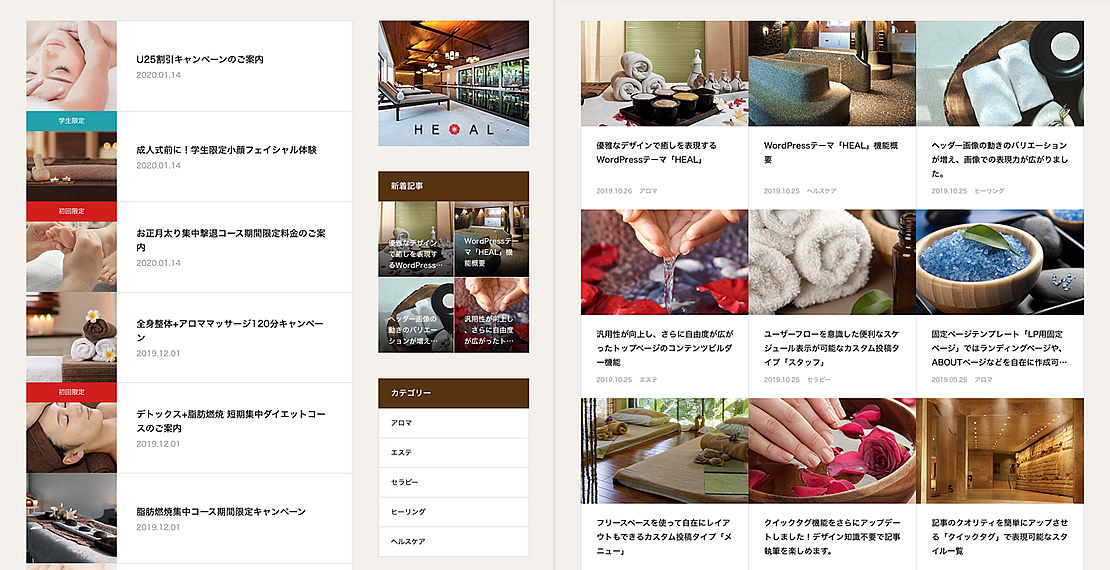 Limited-time offers and discount campaigns are essential to the operation of a store. This is because campaigns have the power to attract first-time users and users who have been away from the store for a while.
However, distributing campaign information on your blog is the wrong way. A blog is content that attracts a wide range of people, not just potential customers. By enriching your blog content, you will increase the power of your site. This will increase the overall content power of your site. If you mix up blogs and campaign information, you will end up destroying the characteristics of each.
In HEAL, the blog and campaign information are separated and designed to make the most of their respective characteristics. By utilizing these functions, the value of the site will continue to increase.
Designed mainly for smartphone users. It surely attract mobile users.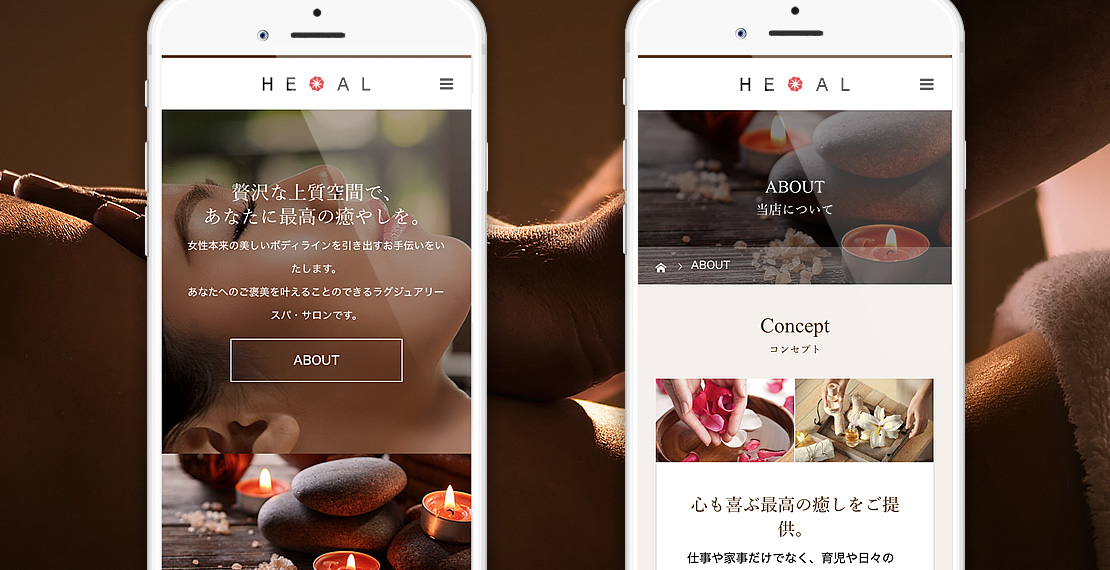 You can tell a lame website by looking at its hamburger menu. If the design of the menu is tacky, everything is tacky. The menu makes it clear how far the website has been designed with the smartphone user in mind.
The main users of websites for beauty salons and other stores are smartphone users. In spite of this, there are still very few websites that are designed for smartphone users. This is evident when you actually look at a salon website on a smartphone.
A smartphone site created with HEAL is not only beautifully designed, but also perfectly balanced and easy to use like an app. The fastest way to see this is to actually view the demo site on your smartphone. You will have a beauty site that is fun to look at.
Build Your System to Get Customers by Yourself!
The key to creating a sustainable business is not to increase sales temporarily, but to create a system to acquire customers on your own. Real stores are often forced out of business by the flow of people changed by train stations and road construction. However, stores that have a large number of established customers and fans are rarely affected in such a way.
The reality is that it is easier to increase sales if you have marketing skills. In fact, there are many salons that focus on attracting customers through the Internet to grow their real stores, and if the first store is successful, they can increase the number of stores at an accelerated rate, which can lead to large sales and cash flow.
"HEAL" will be your marketing base. You can run advertisements and SNS around the base, and bring people from the site to your real store. If you can create such a flow, there is no doubt that a strong business foundation will be created.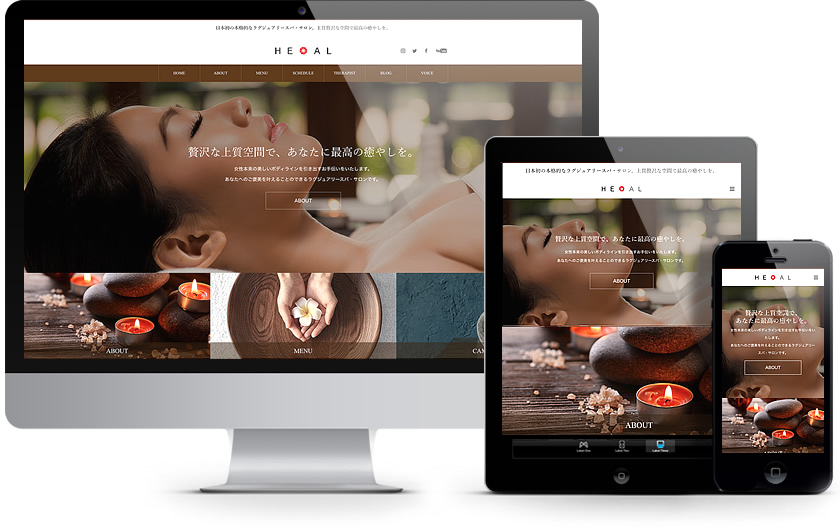 The advanced features of TCD theme support your website.
Top page header (image, MP4, Youtube)
Global menu for mega menu with images
Drawer menu for mobile
Theme option management that allows you to change themes in a short time
Google Map custom pin markers that can also display logo images
Standard font (selectable from Arial, San Serif, and Times New Roman)
Intuitive page builder function for creating articles
Header bar tracking and fixed display function (PC/Smartphone)
Footer menu bar for smartphones
New quick tag feature
Speedup settings (Emoji loading, lazy loading images, code compression)
Retina display compatible logo upload function (header/footer)
Related article and profile information display function
Setting function of loading screen (with/without loading screen, logo image)
Custom CSS
Custom Scripts
Favicon settings
Custom color function to change color scheme at once (main, sub, text color)
Font size change function for each element (headline, body)
Adjust the size of registered eye-catching images (regenerate thumbnails)
"Meta title" and "meta description" can be set for each page
Date, category, tag, contributor name and comment display function
Responsive design (PC, tablet, mini-tablet, smartphone)
Footer banner display function that allows you to set any link destination
Hover effect settings (zoom, slide, fade)
5 types of SNS buttons (Twitter, Facebook, Instagram, YouTube, Pinterest)
Facebook OGP and Twitter Cards function
404 page customization function
Designed protected page effective for member acquisition
Custom Post Type "News"
Custom Post Type "Menu"
Custom Post Type "Staff"
Custom Post Type "Customers' review"
Custom Post Type "Campaign"
Page Template "LP"
Page Template "Schedule"
Page Template "No Sidebar"
Original widget "Designed article list"
Original Widget "Banner List"
Original widget "Archive list"
Original Widget "Category List"
Original widget "Advertisement (random display function)
Breadcrumbs list with microdata format structured markup
Multi-language support for administration screen (Japanese, English)
WordPress Theme "HEAL"(tcd077)
・A set of WordPress theme
・Download site (instruction manual, Q&A)
27,800 yen(tax included)
※If you use this product for build third party website, you will need to purchase a extended license of this product.
※You can download the product from My Page after payment by credit card or PayPal.
※By making a payment, you are deemed to have agreed to the Terms of Use.
※You will receive our free newsletter at your registered email address.
Required Environment
WordPress 5.X or higher and PHP version 7.2 or higher are required for the server environment.
For WordPress installation, please refer to here
IE support has been discontinued with the transition to Microsoft Edge.
※Please read the Terms of Use before clicking the purchase button.