Let's make a popular media website! "EVERY" helps you to create a media that people wanna see every day.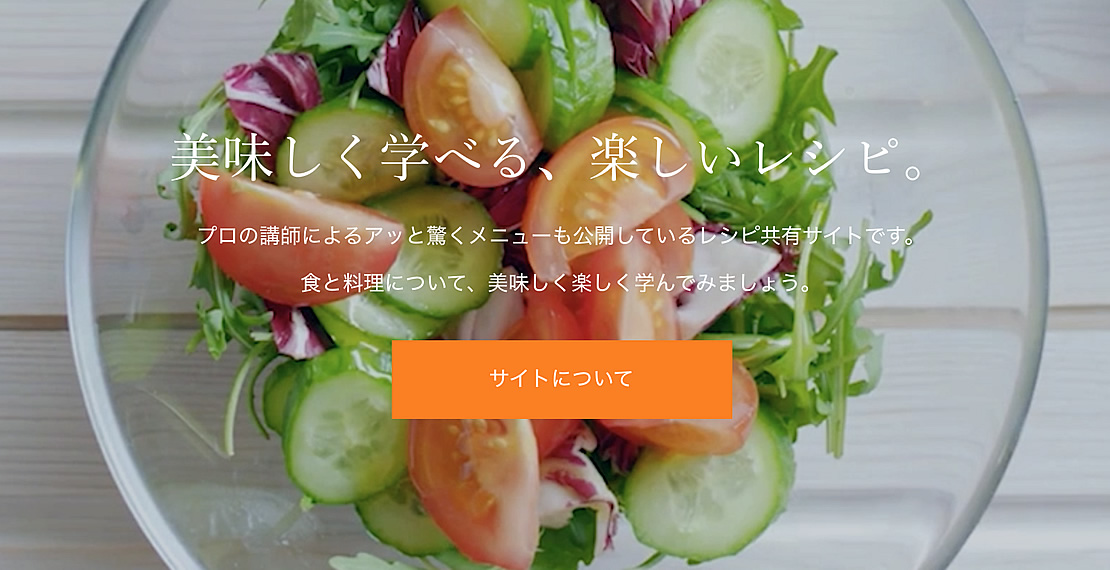 Imagine the websites you usually see like a Yahoo! News. It is a media just like the demo site. There is so many information on the site, so it's fun to just look at it and make you read more and more.
If you are running a media or information portal site, you need to compete on a higher stage. This is because it is important to have a presentation that makes you feel good just by looking at it, and fun to choose from. It would be great if the content is also attractive.
The WordPress theme "EVERY" is designed to build such a popular media portal site. On the top page, videos can be displayed in the header and footer (can be changed to a image slider). It's giving users an instant idea of what the site is about. In addition, it has a system to entertain users by showing contents only for members.
Effective use of limited contents will differentiate members and contribute to increased sales.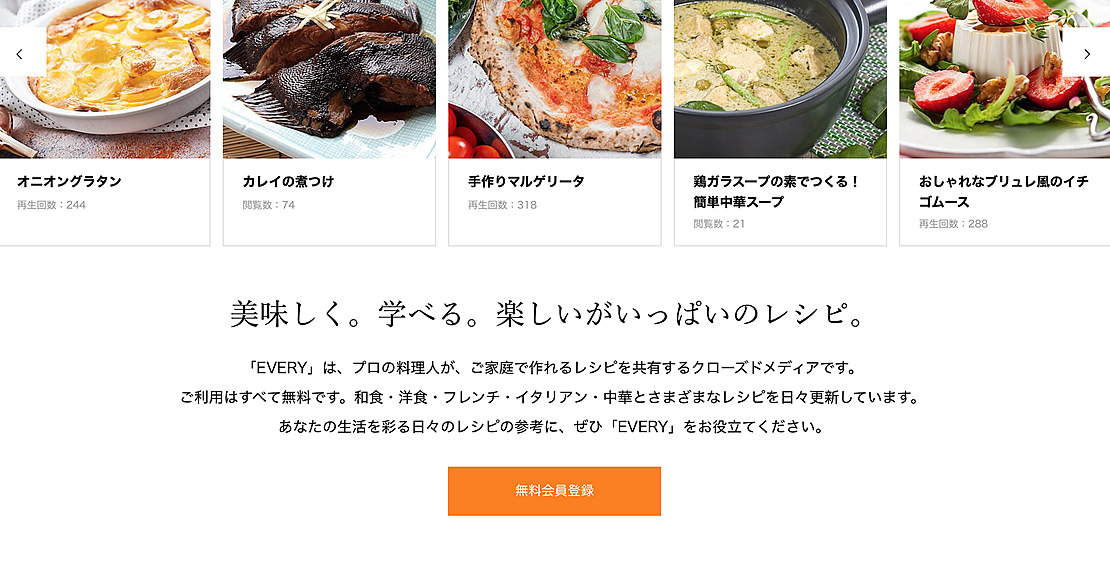 Web media can be viewed by anyone with an internet without restriction through search engines and SNS. For this reason, many medias are competing to attract customers by creating useful content. However, if you make all of your content available to even the first-time visitor, it will become difficult to retain customers.
"EVERY" is developed to break away from such competition. In a membership system, it is possible to display different contents for members and non-members. For example, the welcome space on the top page is set up to encourage members to register when they are not logged in. Also, recipes can be shown only to members, so this differentiation will encourage people to register as members.
It is the current trend in the world's web media to differentiate between members and non-members. You can do it with "EVERY".
My Page is a "user's place". Use it as a hub for interesting and useful content to increase the appeal of your media.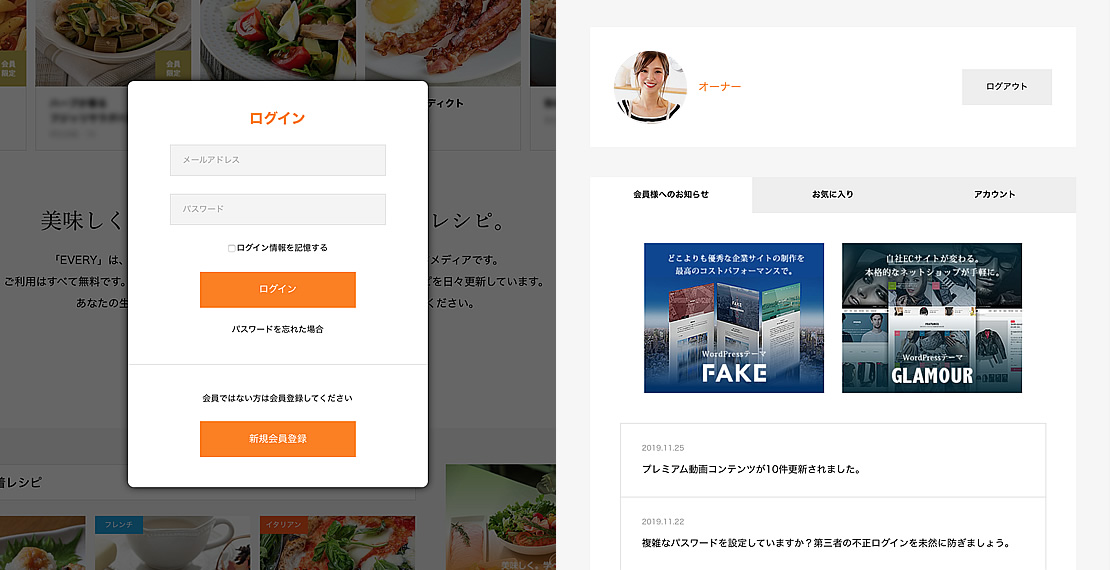 By classifying contents as members-only, users get a special feeling of being logged in. This is because registered users will be able to view exclusive content and use My Page.
In My Page, you can post small news from the administrator, or you may want to distribute secret exclusive content. You can also post ads, or distribute information about product releases. With My Page, you can expand the range of marketing.
A closed environment should be used effectively. This will lead to repeat customers and fans. Use the useful features to increase user satisfaction.
Every page is attractive. Blogs, recipes, rankings, profiles, and other rich content will expand the influence.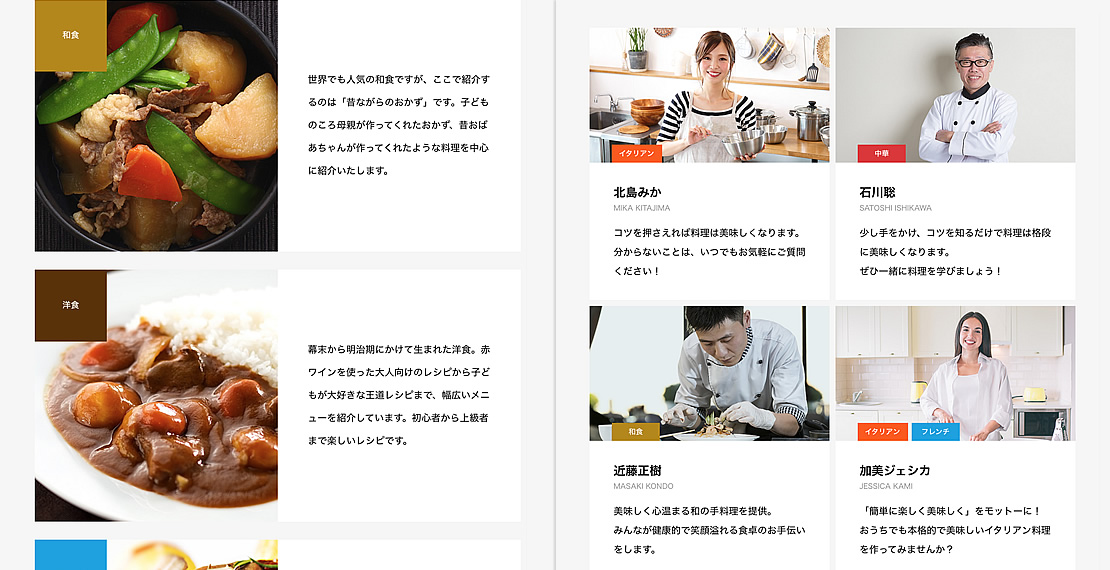 The appeal of "EVERY" is not limited to the top page. Everything on the lower page is also cool. Take a look at the demo site.
The contents and genre of the "Recipes" on the demo site can be changed. The top of this recipe page can also be changed to a video or image slider. Other pages are also available such as a blog, popular ranking, writer's profile page, and more.
Automates the process after membership registration. Equipped with functions such as email notification.

Email notifications are essential for membership sites, but many people think they can't be implemented in WordPress themes. You don't have to worry about that.
With "EVERY", you can automatically send out email notifications, such as post-registration notifications. In addition, to prevent fraudulent registration by wrong email addresses or for mischievous purposes, a click verification function valid for 24 hours has been implemented (or you can choose not to use it).
In addition, you can export user data in CSV format, and if you have permission at the time of member registration, you can make them members of the newsletters (but you cannot issue newsletters, so please use another ASP). The newsletter is an effective media, so please use it to increase your membership.
You can create sites with mobile app usability and beautiful designs for smartphone users.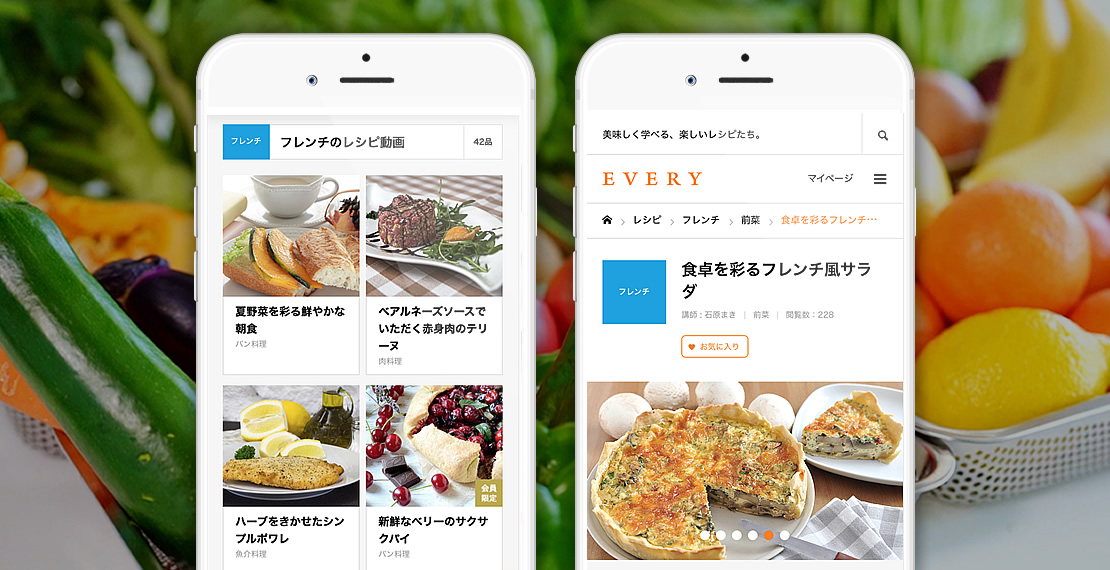 Apps for smartphones are made just for smartphone users, so operability and visibility are taken into consideration. There will be no need to pinch out to make the text larger.
So what about websites? Many websites are just responsive from the PC for both phones and tablets, and there are many unbalanced smartphone websites where only some elements are large. For many websites, the PC is still the "main" website, and the smartphone is the "secondary" website.
However, in the TCD theme, both the PC and the smartphone are "main". Please take a look at "EVERY" on your smartphone. The UI and operability is just like an app, and you can use it comfortably.
TCD's unique "Speed Up Settings" function has been implemented to improve the site display speed.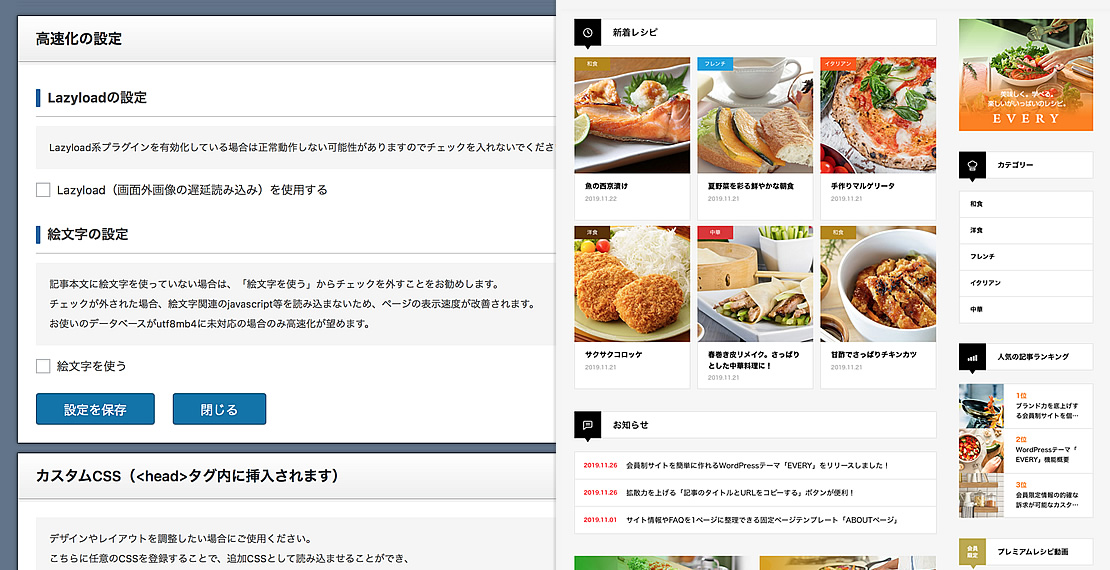 Site display speed is an issue for website operators. If the display speed is slow, it will affect the user abandonment and eventually the Google search results. Therefore, it is important for website administrators to make efforts to reduce the size of images in articles and to eliminate useless codes.
In "EVERY", you can speed up the display of your website. In addition, we have added a new item called "Speedup Settings" in the theme options, so you can select the program to run for each option. This allows for a high degree of freedom and effective display adjustment.
The TCD theme option provides powerful support for website customization.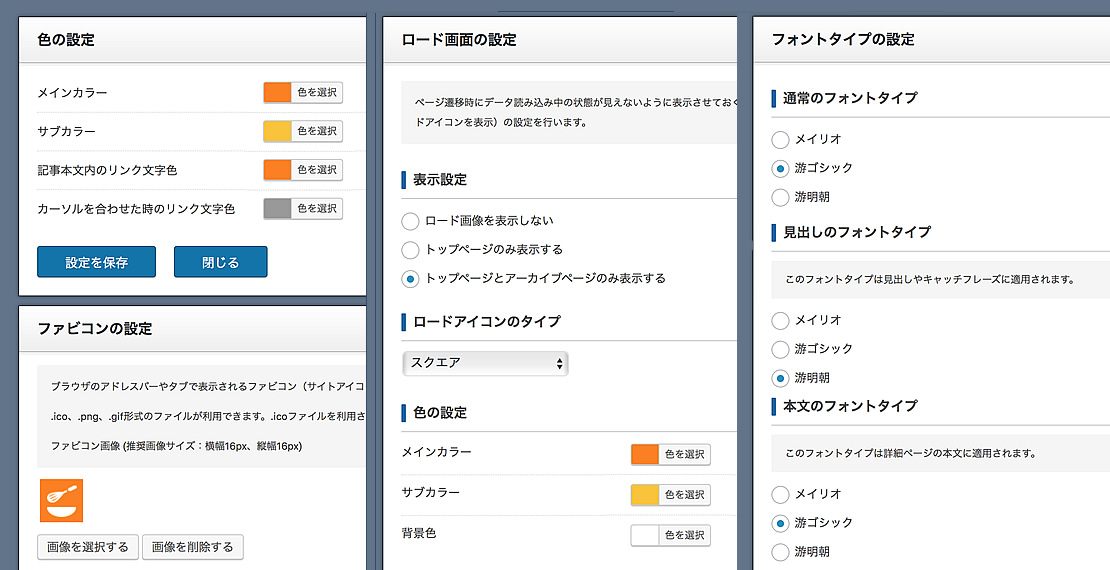 You have created a website, but no one can update it. With TCD, you don't need to worry about that.
TCD has a unique feature called Theme Options, where you can do the initial setup and customization. For example, you can move the contents of the top page by dragging and dropping. In the demo site, the header is lined up from the top with "New Recipes", "News", and "Banners". It can be reordered and you can choose to show or hide them.
The theme options are intuitive and do not require any specialized knowledge such as HTML. Anyone can create a highly functional website like the demo site.
Even Large Scale Media Can Be Created Easily
in a Short Time With "EVERY".
As you can see, "EVERY" combines advanced membership features with a complete design, so you can start a media like a demo site easily (originally, developing this kind of site from scratch would cost a lot). It's a WordPress theme that can be started at a very low cost, which is a huge shortcut.
And there are many people who have wanted to run this kind of media. EVERY" has brought it down to the level where it is possible even for individuals.
Please take a look at the demo site all over and have fun imagining how you would use it. If you feel excited, don't hesitate to start right away. Then, somewhere on this Internet, another wonderful media will be born.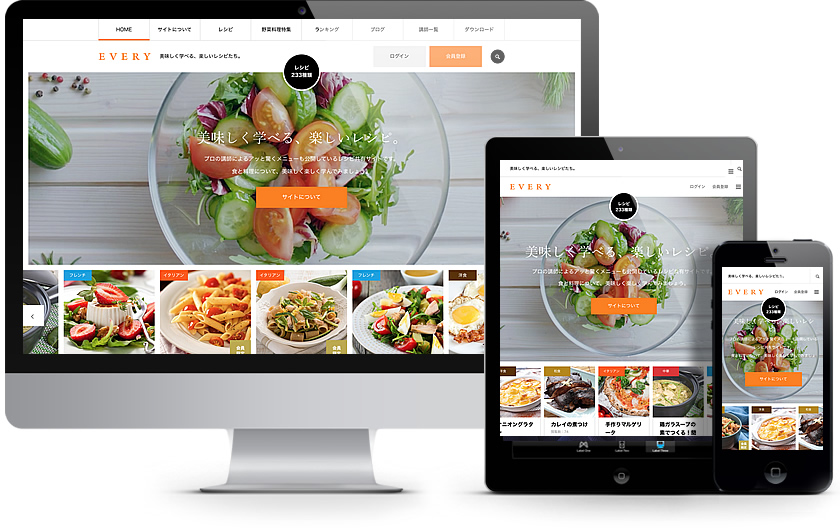 The advanced features of TCD theme support your website.
Top page hero header (image, video, Youtube)
Content Builder that enables a highly flexible top page structure
Global menu that supports mega menu with images
Mobile drawer menu that supports banner display
Member registration, login, cancellation, and My Page functions
Send email function for registered members (*not a newsletter)
Theme option management that allows you to change themes in a short time
Designed protection page effective for member acquisition
Header bar tracking and fixed display function (PC/phone)
Logo upload function compatible with Retina display (header/footer)
Related article and profile information display function under the article
Loading screen setting function (with or without loading screen, logo image setting)
Higher speed settings (Emoji related settings, delayed loading of images)
Custom CSS
Favicon setting
Quick tag setting function that allows the use of designed HTML tags
Custom color function (main, sub, text color)
The ability to change font size for each element (headings, body text)
Adjust the size of registered eye-catching images (regenerate thumbnails)
"Meta title" and "meta description" can be set for each page
Date, category, tag, contributor name and comment display function
Responsive design (PC, tablet, mini-tablet, smartphone)
Footer banner display function that allows you to set any link destination
Hover animation settings (zoom, slide, fade)
SNS buttons (Twitter, Facebook, YouTube, Instagram, etc.)
Facebook OGP and Twitter Cards function
Standard font (selectable from Arial, San Serif, and Times New Roman)
Customization function for 404 page
Footer menu bar for smartphones
Ad space management function (upload and replace)
Popular article ranking page
Writer's profile page
Feature Page
Custom Post Type "Recipe"
Custom Post Type "News"
Original Widget "Designed Article List"
Original Widget "Designed Recipe List"
Original Widget "Category Tabs Article List"
Original widget "Premium recipe slider and list"
Original Widget "Popular Articles List"
Original widget "Advertisement (random display function)"
Breadcrumbs list with microdata format structured markup
Multilingual support for administration screen (Japanese, English)
WordPress Theme "EVERY"(tcd075)
・A set of WordPress theme
・Download site (instruction manual, Q&A)
39,800 yen(tax included)
※If you use this product for build third party website, you will need to purchase a extended license of this product.
※You can download the product from My Page after payment by credit card or PayPal.
※By making a payment, you are deemed to have agreed to the Terms of Use.
※You will receive our free newsletter at your registered email address.
Required Environment
WordPress 5.X or higher and PHP version 7.2 or higher are required for the server environment.
For WordPress installation, please refer to here
IE support has been discontinued with the transition to Microsoft Edge.
※Please read the Terms of Use before clicking the purchase button.