Express everything on the top page. Build a cool corporate website in a short period of time.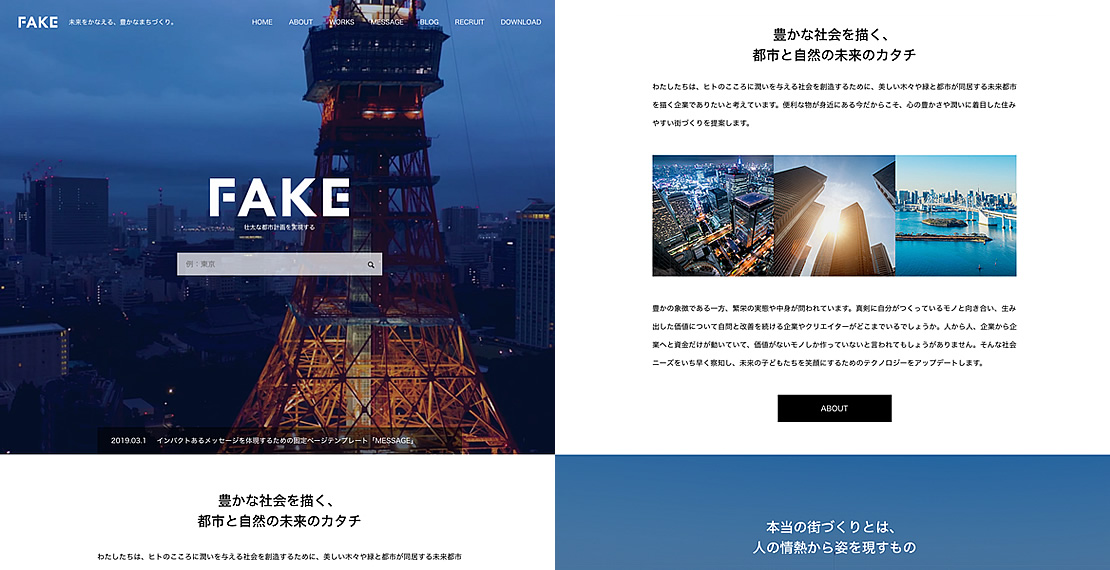 Don't spend too much time on site renewal or a new business website. The longer it takes, the more it costs. This is not a good thing. If you think you can't create a high quality site in a short period of time, you're wrong.
This is because "FAKE" is the theme that makes it possible. If you put all your effort into it, you may complete the site on the same day. It has visual elements and modules that help you create a cool website. Please take a look at the demo site first. Just by looking at the top page, I think you will be able to sense some of the feelings that come up.
What we want to tell you is that anyone can build an original and advanced corporate website in the shortest possible time, with the freedom of expression as in the demo site. Create a site with your passion with FAKE.
Content Builder helps you build your site. It is supported by a highly flexible administration screen.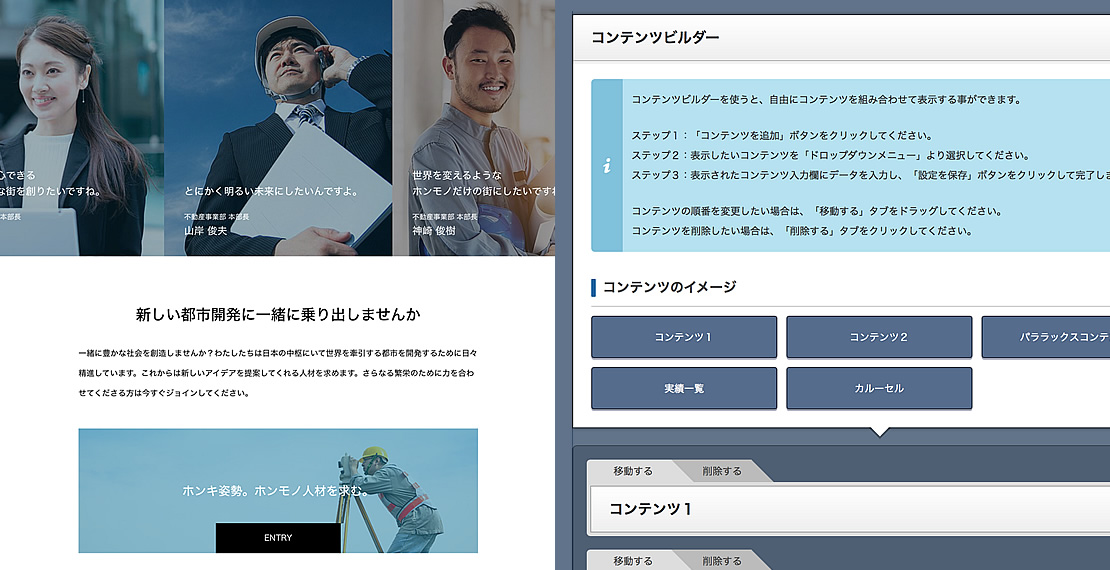 With this theme, anyone can easily create an advanced top page like the one in the demo site, without any technical knowledge. The reason for this is that it comes with TCD's original editing tool for top pages called "Content Builder".
With the content builder, you only need to fill in images and text to complete the contents of the top page, such as headlines and parallax effects. You can also change the order of each content by dragging and dropping.
The key is to focus on the single story you want to tell, and carefully weave it together. In FAKE, the top page can be made as LP, so your company's message can be conveyed at the top. You can create a unique and energetic corporate website at your will.
Easily create a company introduction page. Quickly build pages that are different from others.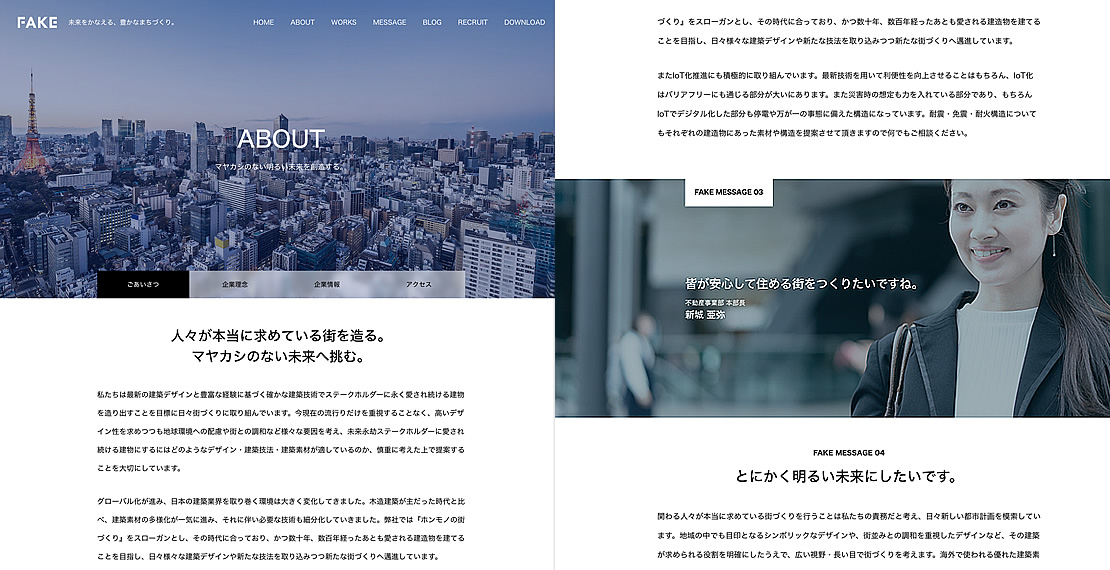 FAKE offers three types of page templates that allow you to express your company's individuality and strengths freely, without being bound by the conventional corporate introduction.
・ABOUT (Design Page A)
・RECRUIT (Design Page B)
・MESSAGE (Design Page C)
The pages shown above are just a few examples, but with a flexible layout that can accommodate a wide variety of pages required for a company, you can quickly mass produce creative content such as columns, dialogues, and feature articles. This template is the best choice for those who don't want a rigid company website and want to efficiently create pages that will enhance the trust and value of their company with as little effort as possible.
Appeal the company's capabilities and skills with a stylish Achievements and Works list page.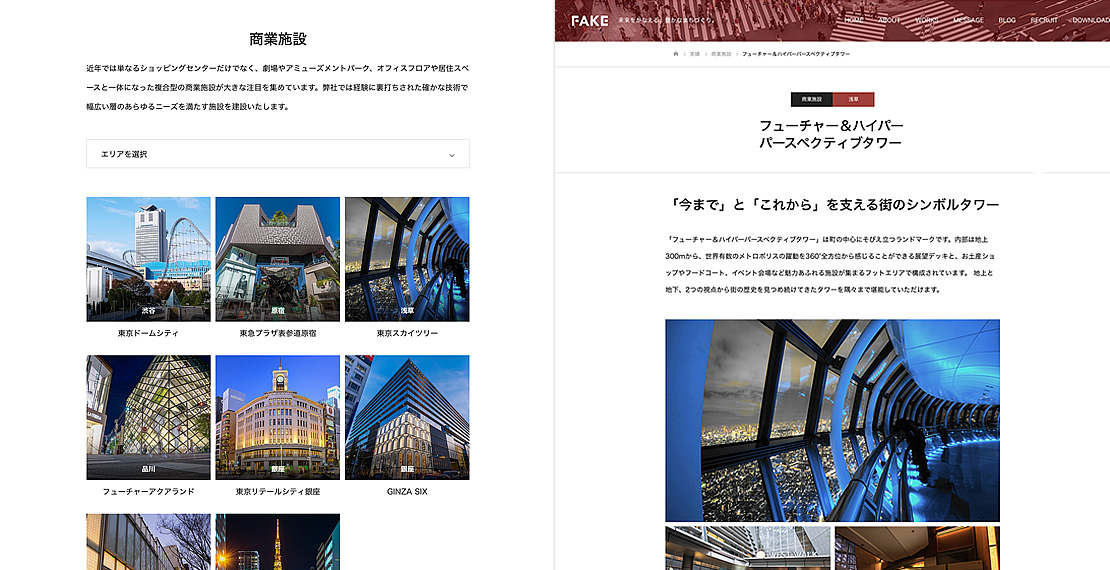 Content that introduces the company's strengths is essential to support the company's credibility. Especially if you expect to do business with BtoB, this will be a clue for people to get to know your company, and if they recognize your achievements, the transaction will go more smoothly.
This theme is equipped with a custom post type "Work" for introducing your achievements and services, which is highly versatile and suitable for a variety of industries. The demo site for a real estate developer shows the commercial facilities it has worked on by facility type and area, but it can also be customized by product or service type and application to suit your industry.
In addition, on the detail page, you can convey your achievements, services, and products in an easy-to-understand manner using multiple images and tables. If you have set clear conversions, such as a request for information or a new application, you can also display a link button that allows you to set any link destination, so you can catch the user's action.
It has a cool header that makes it easy to display videos, sliders, etc.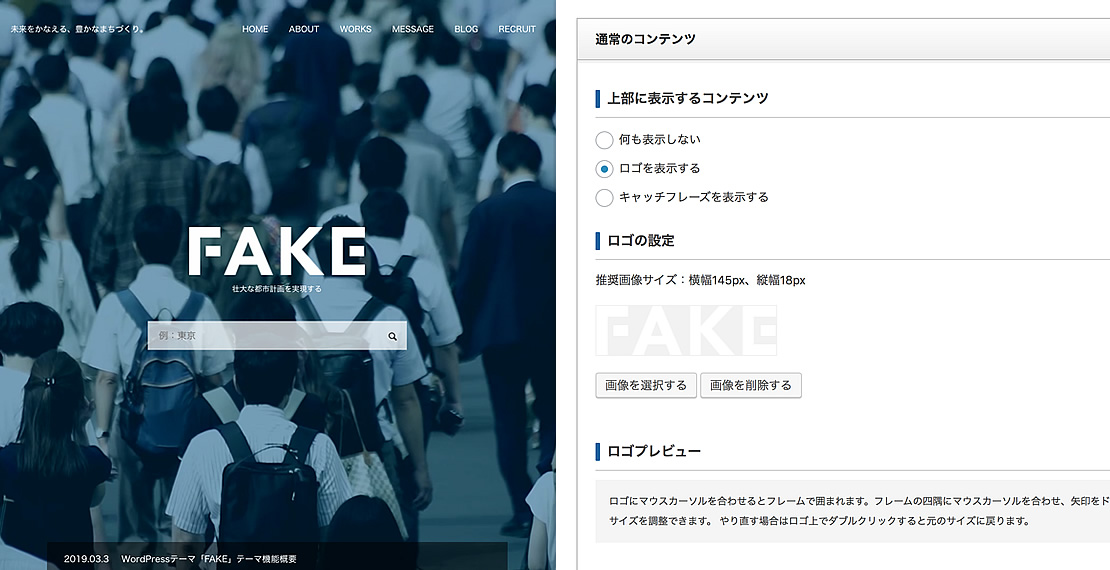 The top page header of a corporate website gives users a lot of information in a short period of time. The most effective way is to use as few words as possible and express the sender's thoughts in a visual way.
With a wide variety of display patterns, including video, YouTube, and image sliders with various animations, you can freely customize the first view that is filled with the appeal of your company. It also supports a full-screen view that spreads across the entire browser, creating a powerful sense of presence. The animation of the image slider is a unique action that intersects in stripes and can be applied to left, right, and up and down movements. Other features include a search form that allows you to set the display settings for each slide, a news ticker, and other practical features that are designed with everyday use in mind.
With this header content, all companies, regardless of industry, can convey the image they want. However, because it is highly appealing, it must be handled with care. It has a magical power that can even create an image that is far removed from the true nature of the company.
Video can be used on smartphones. The first view brings in a lot of users.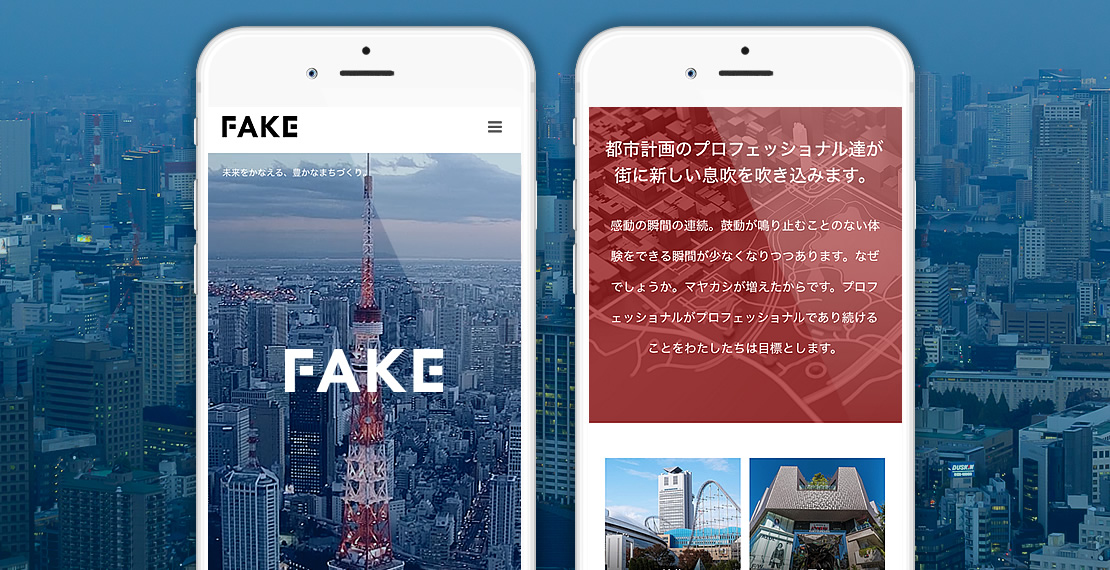 As the majority of website users are now viewing websites on their smartphones, it is important to focus on how to present content in a mobile-friendly manner. If you simply convert your site from PC to responsive, it will be difficult to keep up with the increasingly high-level mobile display.
We envisioned the needs and scenes of smartphone users from the very beginning of the theme development stage, and designed the display method for each piece of content in detail. Of course, in addition to the way the content is presented, we have also carefully designed the operability and ease of viewing.
If you look at this demo site on your smartphone and compare it to a PC, you will see that it expresses the company's world view and atmosphere in great detail regardless of the size of the screen. FAKE embodies a new world that can be expressed only on a smartphone, going beyond the mobile display that looks great on a smartphone.
A blog function that can also be used as owned media. A corporate website with the ability to attract customers.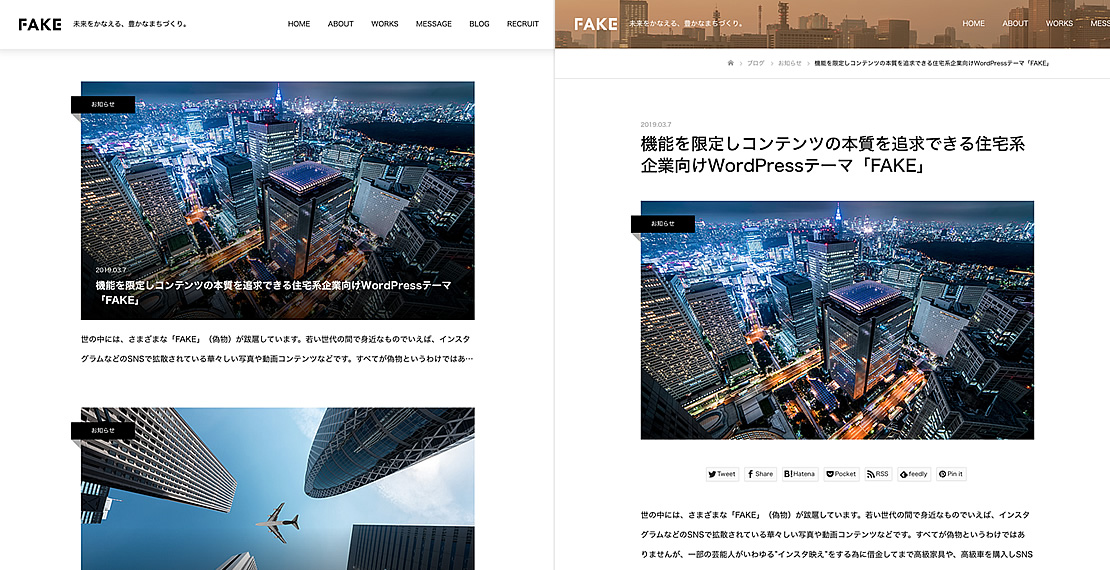 Just creating a website is not enough to maximize its effectiveness. The role of a corporate website is to deepen the understanding of the company, its services and products, and to elicit action from the client. In order to do this, it is essential to have stable access and the ability to attract customers.
For example, if you write a business blog that summarizes your know-how and thoughts about your business, it will be of great help in attracting customers. You don't have to worry about the design or functionality of the theme, because FAKE is ready for you to start blogging right after you apply it.
We also adopted a one-column design for the detail page as well, which maximizes the reader's concentration. By removing the sidebar and placing the widgets at the bottom of the article, the page structure has a clean look that is typical of a corporate site.
A TCD theme option allows you to design a site with precision beyond the boundaries of a WordPress theme.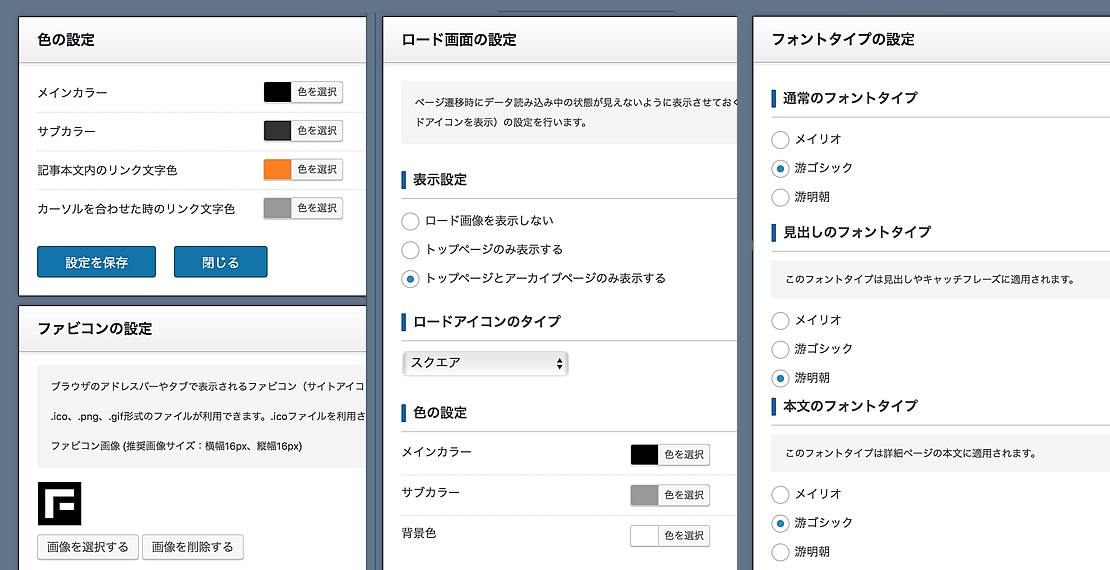 Nowadays, more than 80% of companies have a website, but the creation of a website is not the end of the story. A poorly maintained corporate website can adversely affect your credibility, and it will be difficult to build it up as a useful asset for your company.
TCD Theme's uniquely developed "Theme Options" allow you to quickly and intuitively build the framework of your site, and then tweak and fine-tune it as you wish. If you want to change the color or size here, you don't need to spend time thinking about it, you can apply it right away.
Site renewal and updates are all about speed. The TCD theme option is like a complete site building software with advanced adjustment functions. We also offer free updates for both old and new themes, so you can look forward to even more upgrades.
FAKE Will Support Companies
That Are Earnestly Working Toward a Bright Future.
Unlike a personal website, a corporate website may feel a bit constrained as it struggles to keep up appearances. It's true that trust is essential in business transactions, and trying to attract attention by trying to be strange is not a good approach. However, it is an obvious fact that it is difficult to stand out from the crowd if you continue to keep pace with other corporate websites.
So, how should you produce a corporate website at this stage?
In fact, there is no need to think too much about it, just simply express the appeal of the company as it is.
Conventional themes for corporate sites were too formal and tended to be weak in this area of expression. But with FAKE, you can freely create original content with the content builder and page templates. In addition to this, it is a next generation corporate website that can captivate the corporate image with a variety of visuals.
The functions have been designed to be as minimal as possible so that anyone can use it easily, but there is no compromise in terms of appeal, and in fact, it is even sharper because it has been stripped down to the bare essentials. The genre of the site is perfect for consumer-oriented corporate sites, BtoB sites, and also for emerging businesses such as fintech and AI, which are currently in vogue.
When we say it's perfect for startups, we don't mean it's a bridge or a replacement. The site you create with FAKE now will be the cornerstone of your company's image for years to come.
Don't waste your time thinking about the specifications and contents of your website. It is a great way to keep your enthusiasm hot and running. Inspiration will come to you after that.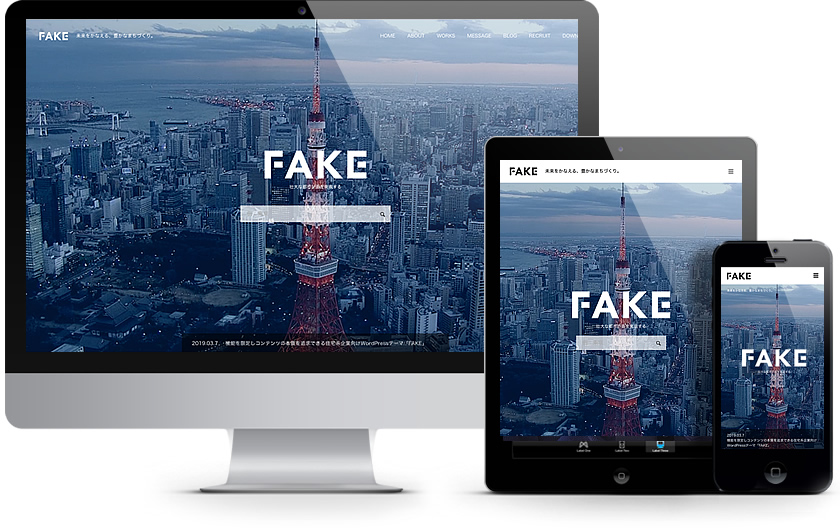 The advanced features of TCD theme support your website.
Top page hero header (image, video, Youtube)
Content Builder that enables a highly flexible top page structure
Global menu that supports mega menu with images
Mobile drawer menu that supports banner display
Original alternative image for thumbnail
Theme options management for quick theme changes
Custom Google Map pin markers that can also display logo images
Designed protection page that is effective for acquiring members
Intuitive page builder feature for creating articles
Header bar tracking and fixed display function (PC/phone)
Logo upload function compatible with Retina display (header/footer)
Related article and profile display function under the article
Setting function of loading screen (with/without loading screen, logo image)
Emoji-related loading settings (improves page display speed)
Custom CSS
Favicon settings
Quick tag setting function that allows use of designed HTML tags
Custom color function to change color scheme at once (main, sub, text color)
The ability to change font size for each element (headings, body text)
Adjust the size of registered eye-catching images (regenerate thumbnails)
"Meta title" and "meta description" can be set for each page
Date, category, tag, contributor name and comment display function
Responsive design (PC, tablet, mini-tablet, smartphone)
Footer banner display function that allows you to set any link destination
Hover effect settings (zoom, slide, fade)
4 types of SNS buttons (Twitter, Facebook, Instagram, Pinterest)
Facebook OGP and Twitter Cards function
Standard font (selectable from Arial, San Serif, and Times New Roman)
Footer information for posting company information, etc.
Customization of 404 page
Footer menu bar for smartphones
Ad space management function (upload and replacement)
Page Template "RECRUIT"
Page Template "MESSAGE"
Page Template "ABOUT"
Custom Post Type "WORK"
Original Widget "Designed Article List 1"
Original Widget "Articles Slider"
Original Widget "Archive List"
Original Widget "Category List"
Original Widget "Advertisement (random display function)
Breadcrumbs list with microdata format structured markup
Multi-language support for administration screen (Japanese, English)
WordPress Theme "FAKE"(tcd074)
・A set of WordPress theme
・Download site (instruction manual, Q&A)
22,800 yen(tax included)
※If you use this product for build third party website, you will need to purchase a extended license of this product.
※You can download the product from My Page after payment by credit card or PayPal.
※By making a payment, you are deemed to have agreed to the Terms of Use.
※You will receive our free newsletter at your registered email address.
Required Environment
WordPress 5.X or higher and PHP version 7.2 or higher are required for the server environment.
For WordPress installation, please refer to here
IE support has been discontinued with the transition to Microsoft Edge.
※Please read the Terms of Use before clicking the purchase button.