TCD has launched a completely new horizontal scrolling design WordPress theme "HORIZON."
"Wanna create a site that scrolls horizontally."
"Need a unique beautiful gallery."
This theme is perfect for those who love unique designs and for sites that mainly use images and videos. It was developed for use in photography studios, portfolios of photographers, and product showcases.
This article introduces the features and functional overview of "HORIZON."
Horizontal Scrolling Site
A horizontal scrolling site is a type of site that does not scroll vertically.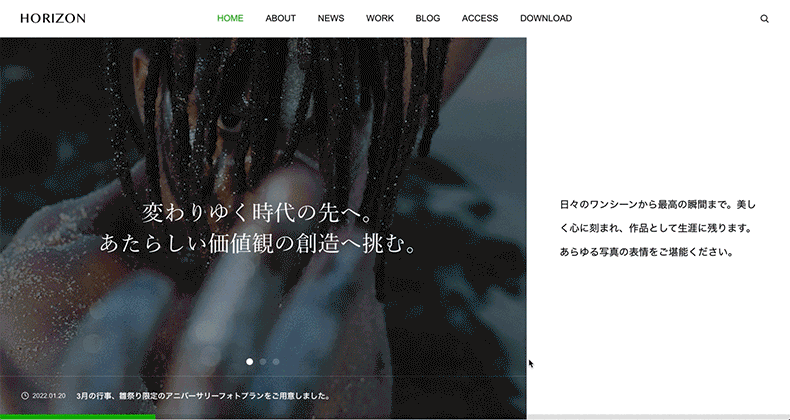 First, please visit HORIZON demo site. It is designed to scroll horizontally whether you move the mouse wheel or operate it with a touchpad.
The advantages are a large amount of information can be placed on a single page and multiple contents can be viewed smoothly. The site can be built with a beautiful layout even with a small amount of text.
Also, it has a great impact. The ability to differentiate the site from other sites with different motions may be a major feature of horizontal scrolling site.
It also works well with landscape photos and videos, making it suitable for portfolios of visual content, gallery sites such as magazines, product showrooms, as well as artwork display sites.
However, it is not easy to create from scratch. This is because it is necessary to carefully consider the design unique to horizontal scrolling. A WordPress theme "Horizon" was developed to make it easy for anyone to create such horizontal scrolling site.
"HORIZON" is made for horizontal scrolling sites
With HORIZON, you can smoothly build a beautiful horizontal scrolling site. With designs and animations for horizontal scrolling throughout, you can easily create a stylish and unique site. On a smartphone, it is designed to display beautifully with vertical scrolling.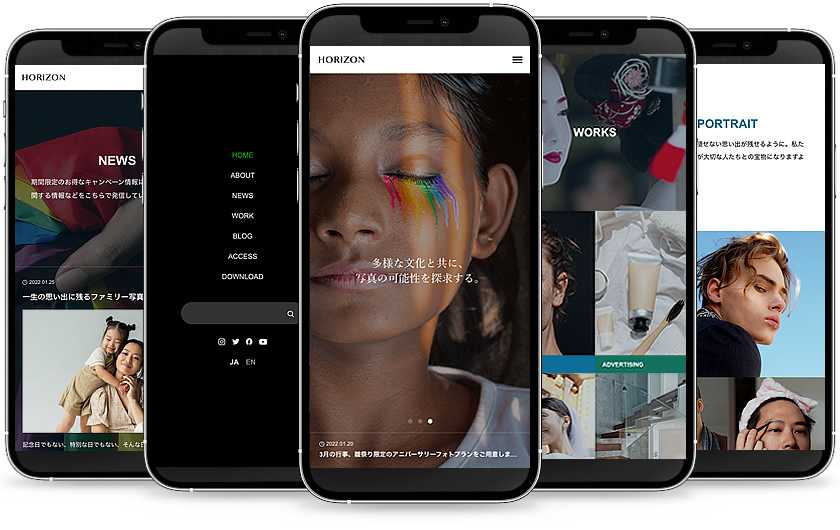 How to create a horizontal scrolling design
Although the design of a horizontal scrolling site differs greatly from that of a general site, HORIZON can smoothly create such a site by simply combining available layouts.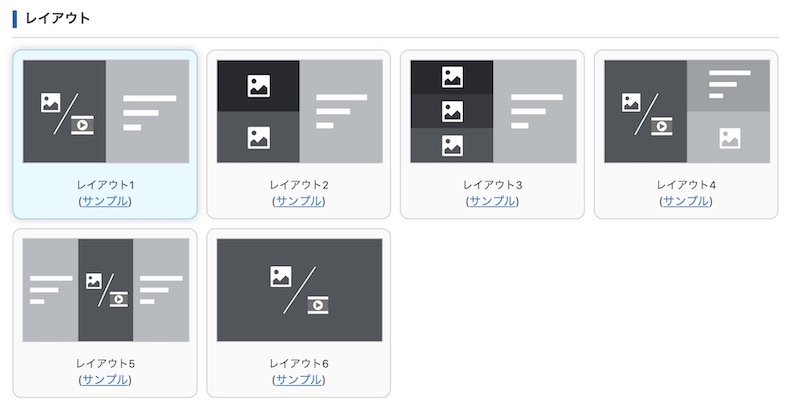 Simply fill in the settings one by one while looking at the complete image and arrange them. Icons indicate where to insert images (videos) and text, so you can set them up intuitively.
Vertical scrolling page can also be created
This theme is made for horizontal scrolling sites, but of course, normal page (vertical scrolling page) can also be created. Pages that mainly transmit information through text, such as blog and news, are designed to be created with a vertical scrolling page layout, just like a general site.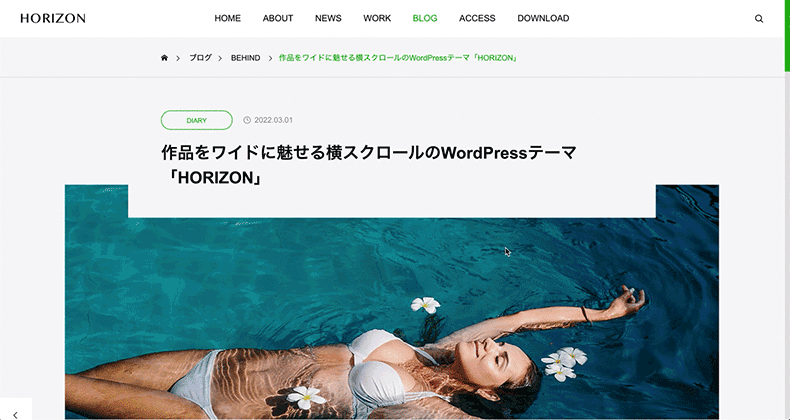 Other pages are designed to switch to vertical scrolling on small width devices such as smartphones and tablets to keep usability. Inquiry form page and landing page can also be created with normal vertical scrolling page specifications.
Feature overview of a WordPress theme "HORIZON"
Here is a feature overview of this theme. It is full of features designed with horizontal scrolling and usability.
Create responsive horizontal scrolling pages
You can easily create horizontal scrolling pages. TCD content builder make it smooth.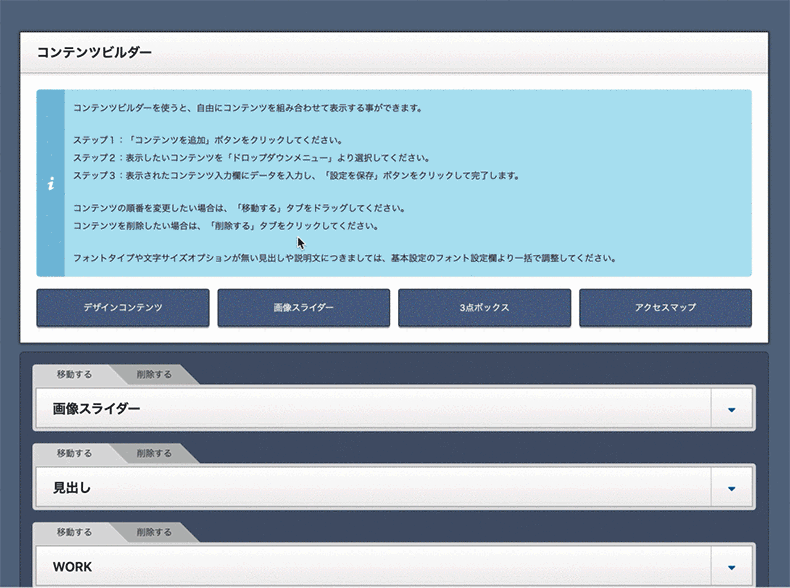 You can choose a layout for each content block and rearrange or add them freely. Each content will be set horizontally on the site.

There are two types of image sliders and six layouts to choose from for design content. UI is intuitive and easy to understand where and what can be set, allowing for smooth setup.
Types of image sliders
Types of design contents
Vertical scrolling on smartphones
On a smartphone, the contents are smartly responsive and displayed vertically.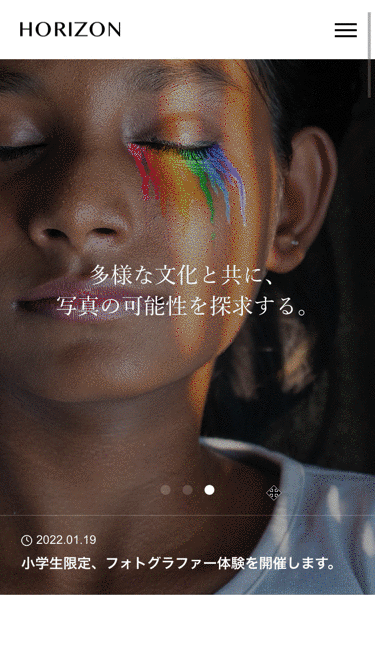 The ability to change to horizontal scrolling on PC and vertical scrolling on smartphone strongly supports the creation of horizontal scrolling sites.
Pleasant horizontal scrolling motion
Smooth scrolling motion is designed for usability and comfort of the user. Experience a pleasant motion that has been carefully controlled.
In addition, parallax effects can be applied at key points to add accents to the movement. On a PC, it can be applied to video as well as image. It's allowing you to create unique scrolling motions that catch the user's attention, as shown in the following.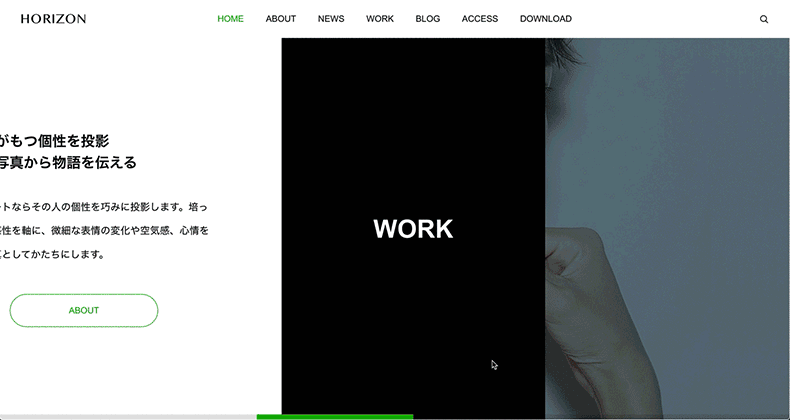 You can create a unique site by arranging images and video parallax as shown above.
Gallery to emphasize image content
"HORIZON" is a theme designed to make images look beautiful, so it is easy to create a wonderful gallery.
After selecting multiple layouts, you can set up the images of your choice. You can also preview the position of the image while setting it up in the admin dashboard.
The above samples are the screenshots taken with a browser with long vertical size. This theme uses a fluid layout. The size of images changes so that they can be viewed in the same layout in any browser size.
Detailed animations are applied to each area, so a unique and beautiful gallery is quickly created.
WordPress default captions for each image are also automatically applied, so you can smoothly and beautifully express the names of your artworks and products.
Fully functional loading screen
Due to the specifications of horizontal scrolling page, which tend to have a large volume of content, its loading may take a long time. "HORIZON" can handle this with the load screen function. It hides page collapses during loading and displays a loading icon.
In this theme, the loading screen has a motion that slides out to the side and disappears.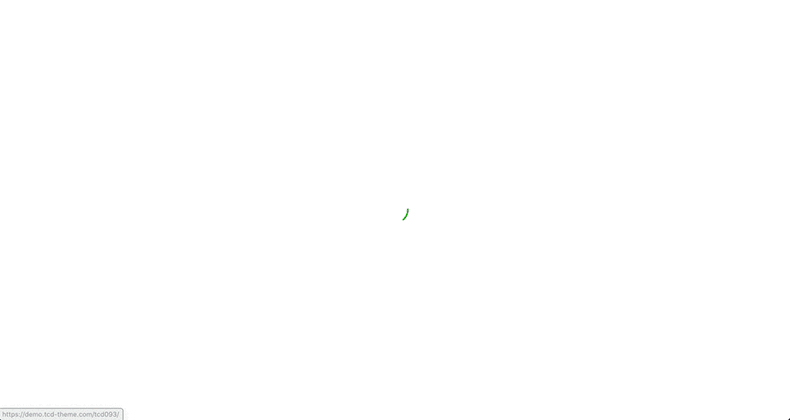 The page loads in a stylish motion, consistent with the horizontal scrolling.
"HORIZON" for creating horizontal scrolling websites
We introduced the features of a horizontal scrolling site and the functional overview of "HORIZON." You can easily create a wonderful website with it.
Pleasant horizontal scrolling, responsive on mobile devices and beautifully designed image gallery can all be created with this theme. You will be fascinated with "HORIZON."
It is perfect for a photographer's portfolio, art gallery site, or any other site where you want to emphasize your individuality. Please use this theme to create a horizontal scrolling site with full of originality.