Many people are using easy set-up online store platform to get their products known and to promote their brands. However, unless the product itself has a high brand value or is run by a celebrity, it is difficult to sell products right away.
It also needs operating costs to use the platform. So, it is not good way to increase brand awareness.
In this article, we will introduce the functional overview of Ankle, a WordPress theme that allows you to run an online store at low cost and increase brand equity.
Feature overview of "Ankle"
You can open an online store with a WordPress theme Ankle using WooCommerce.
The main functions and features are as follows.
Easy to change the design
Easy to link to a blog for SEO
Create original page easily
Well-organized product page
Make effective use of reviews
Promote featured products
Coupons and promotions
A WordPress site also reduces operating costs. By adding products and updating blog content over a long period of time, you can increase the value of your site.
Frequent updates will increase access to your website and increase brand awareness. This is the biggest advantage of creating an online store with "Ankle". Let's take a look at each function in detail.
How to use "Ankle"
Ankle comes with a wide variety of functions to operate an online store. Here are some of the features and how to use them.
Register your products and get started
To set up an online store quickly, you can simply activate Ankle and plugin (WooCommerce), register your products, and complete the settings (shipping method, payment method, etc.). This is the minimum settings.
For example, the simple online store looks like the following image. This is the most basic form, with only a list of products on the top page.
You can specify the products and number to be displayed on the top page. It's also possible to change the number of products to be displayed on smartphone.
Most of the people who run simple online stores operate with this kind of layout. You can easily differentiate yourself by using the features of Ankle.
Page creation function
There is a function that allows you to easily create about page or landing page for a promotion. You can choose the header type and easily change the layout from the most suitable for about page to the one for landing page.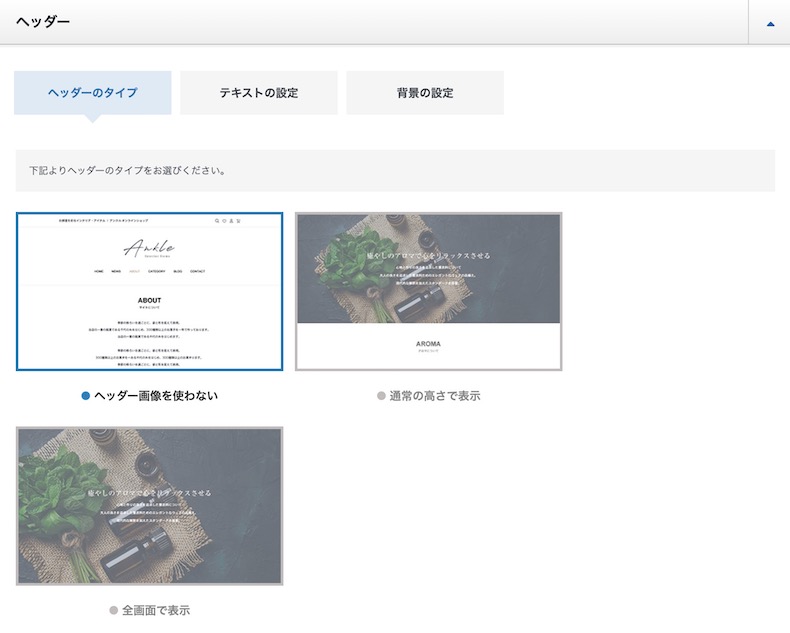 For example, the following pages are all created with the same template, but they all have different atmospheres.
You can easily change the base layout and show/hide of content to create a wide variety of pages freely.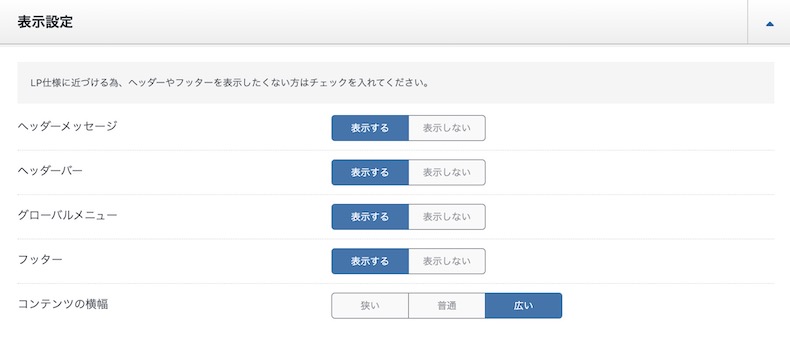 Display appropriate widgets in the side area to enhance the navigation. You can create a two-column layout without using a template.
It combines the efficiency of easily changing the layout with the flexibility of the content.
Three different designs
Ankle makes it easy to change the design. The demo site has a cute color scheme with pink-beige accents, but it can be changed to suit the products and concepts you handle. The structure of the top page can also be easily changed, please see the demo below.
In addition to show/hide the header slider and width, you can also change the blog carousel as you wish. Free space is also provided in various areas, so you can place your original banners.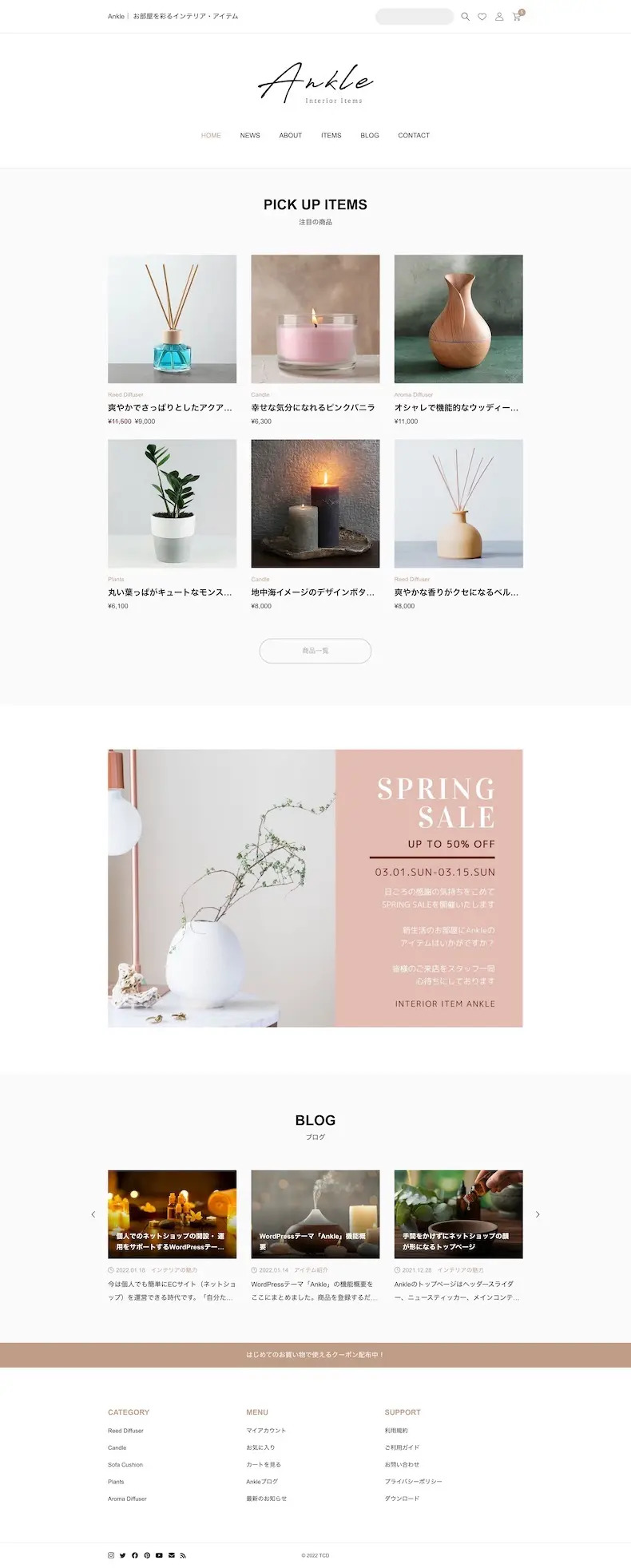 Three types of header designs + colors + free space for unlimited customization.
Organize the necessary information
You can use product pages that organize information and appeal to customers. Please take a look at our demo product page.
It can be organized with free space for additional information and banners, as well as a spec table for size and material information.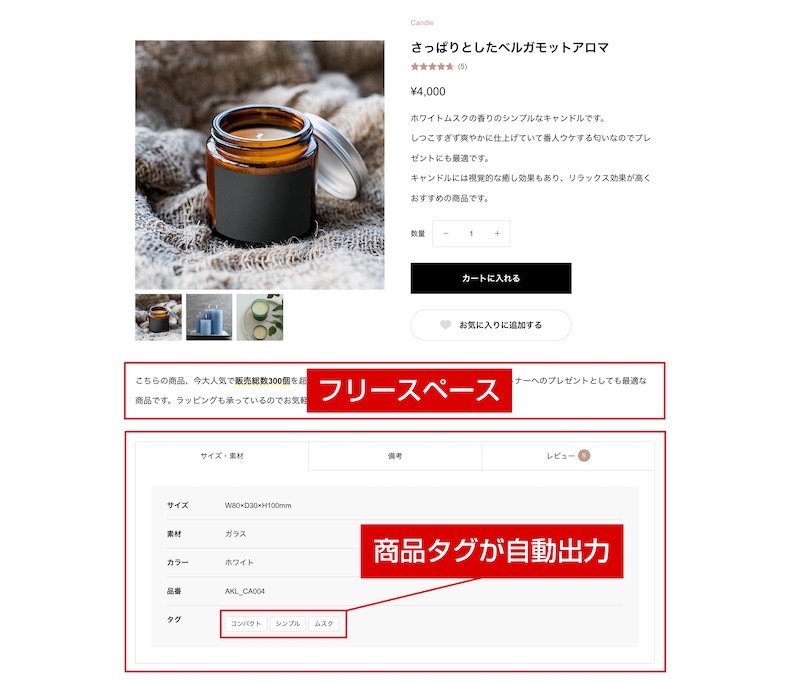 The product tag feature is useful. If you set a tag for each product, it will be automatically output here (multiple tags are possible). This makes it easier to find products with similar tastes.
Also, it can be displayed in a beautiful layout even if the product description is long.
Click below to see it in action on the actual screen.
Only the description scrolls, so there will be no extra space under the product image. You can introduce your products without worrying about the layout.
Display featured product labels
It automatically displays the following labels, so you can draw attention to the products.
New (released within 3 days)
Sale (with a sale price)
Recommended (specified in the admin panel)
Out-of-stock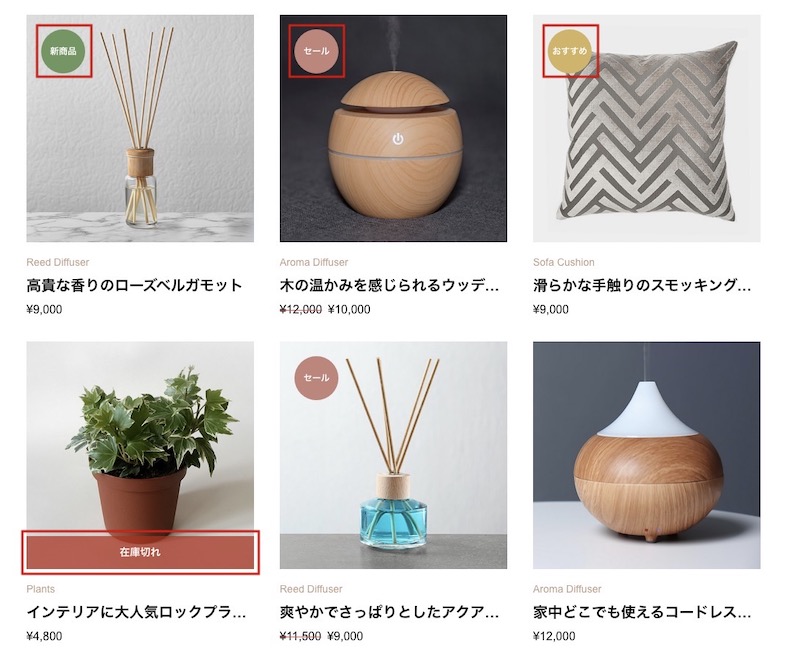 Basically, the labels are automatically displayed based on the settings made on the product side, so you don't need to make settings each time. The color and the text can be changed as you wish.
A star review to show the rating
You can use the function to display star reviews like Amazon. Multiple reviews are automatically averaged and reflected under the product title, so you can easily find out the rating.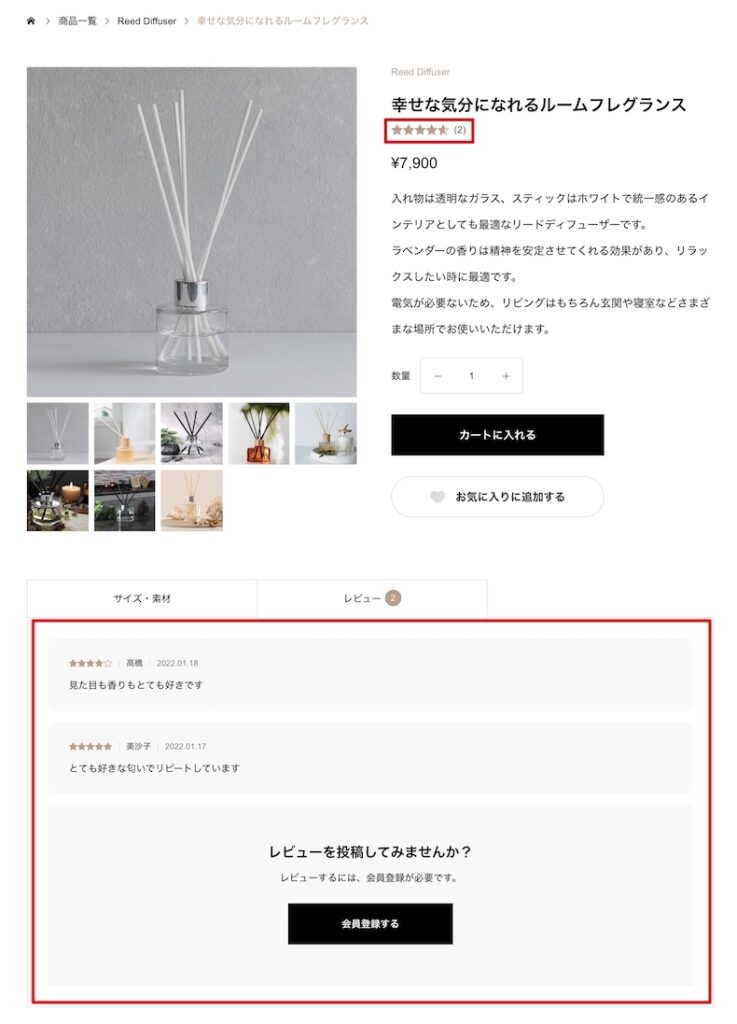 Only registered users can post reviews, and they must be approved by an administrator, so no spam or duplicate content will be posted.
Post information to increase access
To post information in your store, you can use blog and news functions. Since this is a WordPress site, the information you post here will be reflected in Google's search results. If you keep providing useful information, it will increase access to your store.
It can be used in the following ways:
The appeal of the products, etc. → Blog
Staff Diary → Blog
Behind the scenes of buyer → Blog
Sale information → News
New products information → News
Change of business hours → News
Ankle's news post can be used without featured image, so you can post information such as store relocations and changes in business hours immediately.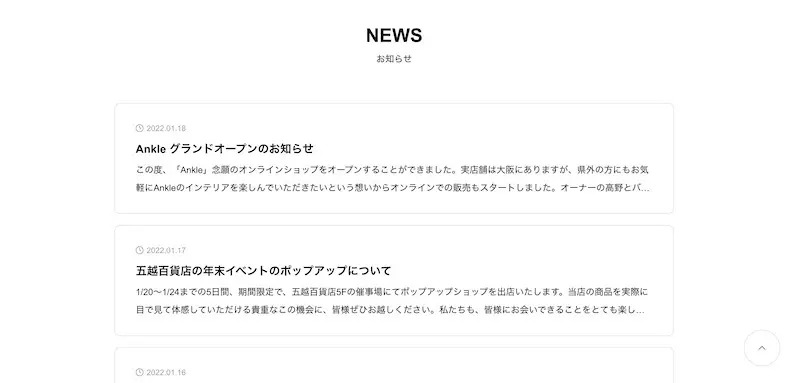 Information post here is the key to attracting customers online, and this is the point where you can make the biggest difference from other simple online store out there.
CTA function that can be used for coupons
If you want to display a link to a coupon or sale page on your site, you can use CTA function as below.
Under the blog post
Pops up in the lower right corner of the site
Full screen
Under post type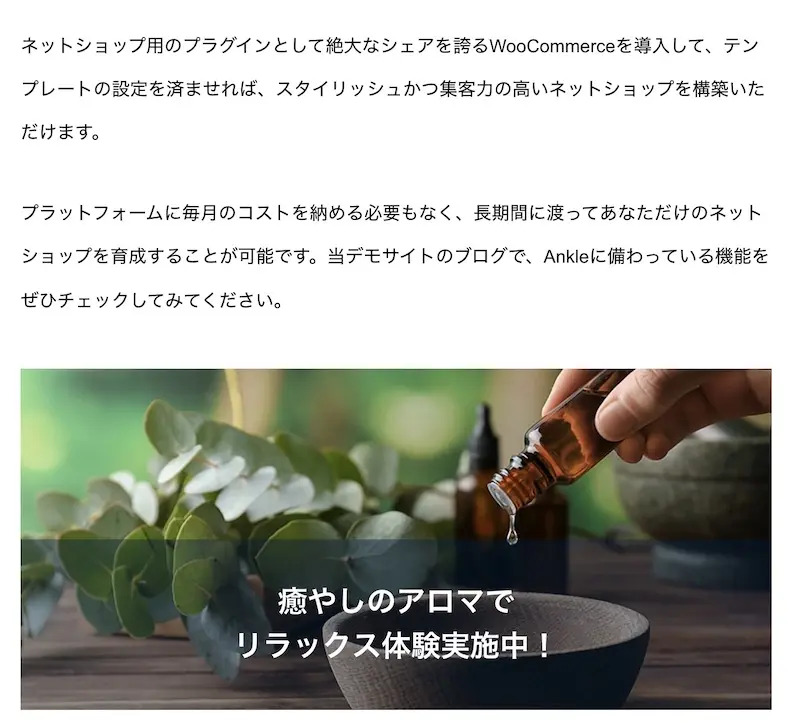 Since it can be displayed at the bottom of all posts , it is especially effective when there is a lot of access to blog posts. It can be easily designed in the admin dashboard using images and text.
Pop-up type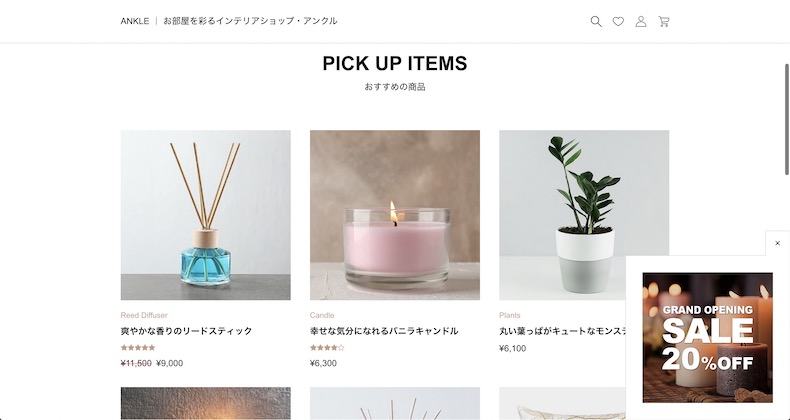 It can appeal to all users who visit the site. Ankle demo site shows this type. It is controlled by cookies, so once you delete them, they will not be displayed until you close your browser. You can easily use it by creating an original banner with Canva, etc .
Full screen type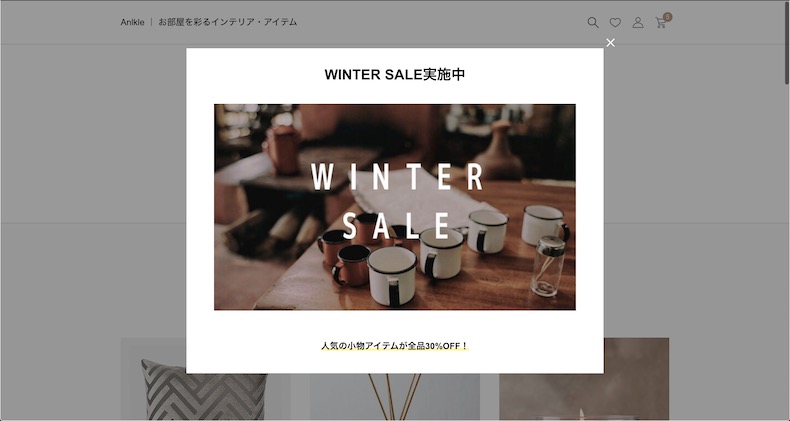 It is easy to create by placing images and text. Video ads can also be placed. While powerfully appealing, they interrupt the user's operation, so they are displayed only on the first page visited.
Create an online store with WordPress theme "Ankle"
We have introduced the overview of Ankle's functions that allow you to operate a full-scale online store.
You can start a simple online store and grow it for a long time at a low cost by using its many functions. The only costs are for WordPress theme "Ankle" and the rental server.
Another advantage of a WordPress site is that you can continue to update your blog and products to increase brand equity and awareness of your online store.
We hope you will use "Ankle" to create your online store. You will be able to make a big difference from simple online stores.